How to Make Origami Ornaments
Are your holiday decorations looking a bit ho-hum? If you're feeling uninspired this year, why not try making some festive origami ornaments to brighten up your home? Origami is the art of paper folding, and believe it or not, beautiful pieces of artwork can be created from just one square sheet of paper.
Not only will making origami ornaments give your space a unique flair, but the process also provides relaxation and creative inspiration – plus they make great presents! Here you'll learn about how to make origami ornaments. So take out that stack of scrapbooking paper and let's get started!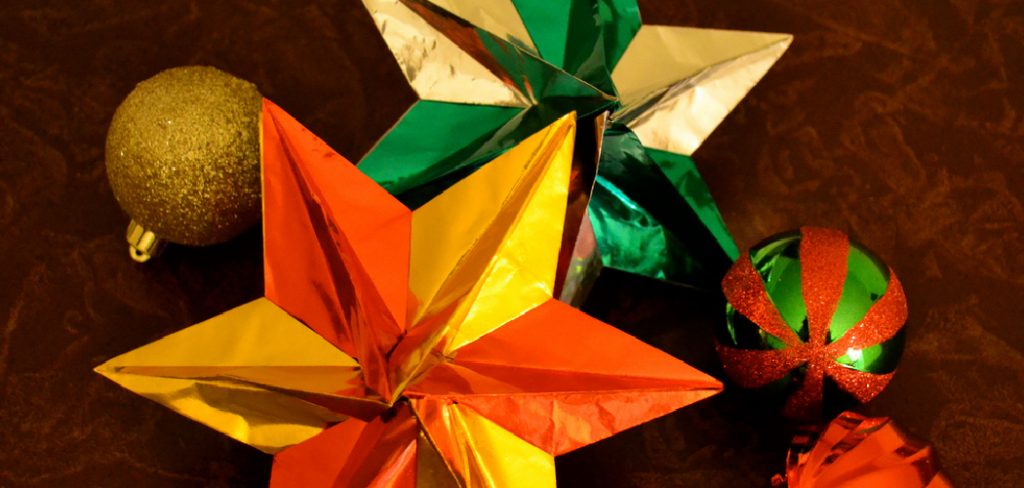 Origami is an ancient art form that has been enjoyed around the world for centuries and makes a wonderfully unique decoration each time. For those looking to make something special this season, origami ornaments are a great way to celebrate the holidays with style.
In this blog post, we'll cover everything you need to know about making delightful origami ornaments at home, from picking out supplies all the way to creating intricate shapes and designs of your own. Read on to discover how easy it is to create festive decorations with nothing but paper and patience!
Why May You Want to Make Origami Ornaments?
1. To Add a Personal Touch to Your Holiday Decorations
One of the best reasons to make origami ornaments is to give your holiday decorations a personal touch. By making the ornaments yourself, you can choose from a variety of shapes and colors that suit your decorating theme. Plus, you'll have fun creating these custom pieces and can proudly display them for friends and family to admire!
2. To Make Unique Gifts for Loved Ones
Origami ornaments also make for great gifts! You can customize each piece to match the recipient's personality and style. They serve as a meaningful reminder of your thoughtfulness throughout the holiday season and beyond.
3. To Spark Your Imagination
Making origami ornaments is an enjoyable creative outlet that helps you tap into your imagination. You can even challenge yourself by attempting more difficult shapes, such as spiral stars or Christmas trees. Whichever route you choose, you'll be sure to have fun and create some unique pieces!
4. To Use Up Extra Craft Supplies
Does your craft stash need a good cleaning? Put all those extra supplies to use by making origami ornaments! This is a great way to get creative and come up with fun pieces that will look beautiful on your tree.
Regardless of why you choose to make origami ornaments, they'll be sure to add a special touch to your holiday season! Enjoy the process and have fun!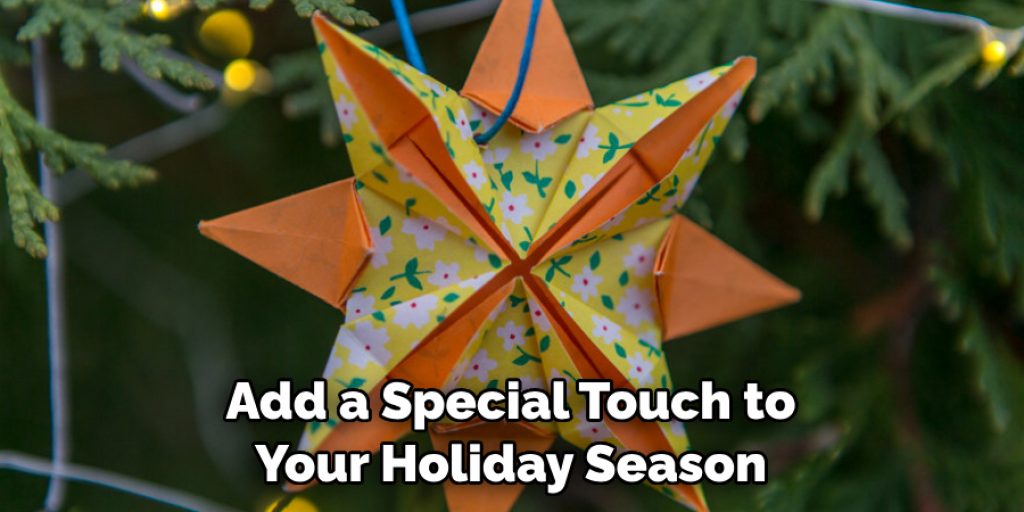 How to Make Origami Ornaments in 5 Easy Steps
Step 1: Gather All The Tools
The very first step is to gather the necessary tools needed for making origami ornaments. For this, you'll need some colorful paper, a pair of scissors, glue, and a ruler. You may also want to use a pencil if you want to draw the design before cutting it out.
Step 2: Cut Out The Ornament Design
After gathering all the tools, your next step is to cut out the design for the origami ornament. You can either draw it yourself or use a template from the internet. Once you have drawn your design, use scissors to carefully cut it out.
Step 3: Secure The Edges
Now that you have the outline of your ornament, use glue to secure its edges so that it doesn't fray when you start folding it. Once the glue has dried, you're ready to move on to the next step.
Step 4: Fold The Ornament Into Shape
Now that your ornament is secure and cut out, you can begin folding it into shape. Start with the four corners of the design and then work your way up toward the center. Use a ruler as a guide if you need to.
Step 5: Cut Out The Hanger
The last and final step is to cut out the hanger for your ornament. You can use a thin piece of wire or even a string for this. Once it's cut, loop it around the top of the origami ornament and secure it with glue.
Some Extra Tips to Make Origami Ornaments
1. Do Not Over-Fold
When folding the paper for your origami ornament, be careful not to over-fold it. Too much folding can cause creases and tears in the paper, making your final product look less than perfect. Also, you have to make sure that you fold the paper in the right direction.
2. Use Smaller Pieces of Paper
In origami, smaller pieces of paper are typically easier to use than larger ones. Using a piece of 8×10 inch or smaller will make it much easier to create accurately folded ornaments.
3. Cut Out Complex Shapes
If you want to add a complex shape to your origami ornament, it is best to cut out the shape from another piece of paper. This will make it easier to attach the shape accurately and create a more visually appealing ornament.
4. Use Double-Sided Paper
Using double-sided paper can add an extra level of color and detail to your ornaments. If you choose to use double-sided paper, make sure that the pattern and colors are aligned correctly when attaching them to each other.
5. Add a Little Glitter
Adding a bit of glitter to your origami ornament will give it an extra sparkle and shine. Be sure to use glue specifically meant for paper crafts so as not to damage your ornament. Also, you have to make sure not to over-apply the glitter, as it can quickly become overwhelming.
These are just a few tips for making origami ornaments. With a bit of practice and dedication, you will be able to make beautiful and unique pieces of art with paper! Have fun and happy folding!
Frequently Asked Questions
What Precautions Should Be Taken When Making Origami Ornaments?
The most important precaution to take when making origami ornaments is to use sharp, high-quality tools and materials. Make sure that all scissors and other cutting tools are free from rust or damage and always wear protective gloves when handling paper. To avoid crushing the paper, be careful not to press on it too hard when folding.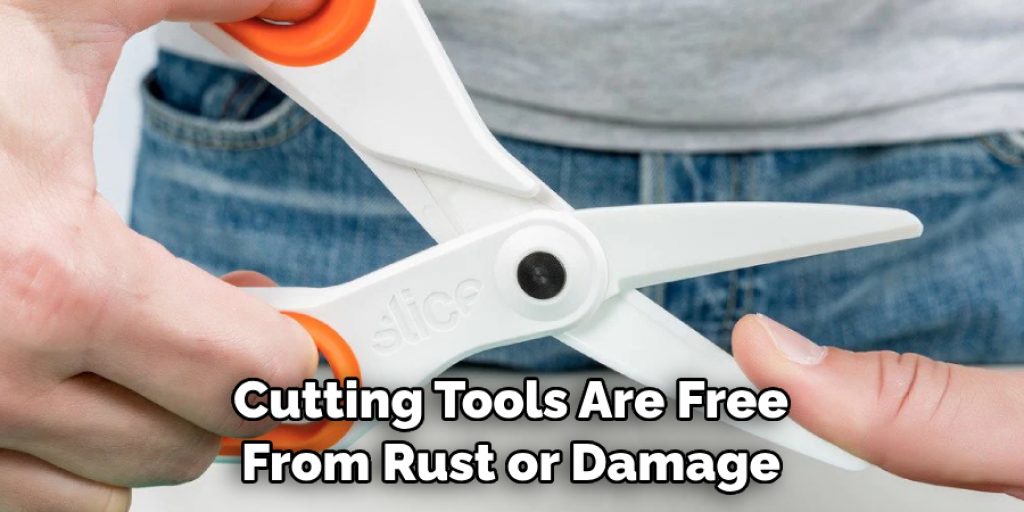 Additionally, make sure that the paper is pure white and free from dirt or grease, as this can have an effect on the finished product. Lastly, be patient! Origami ornaments take time and care to make correctly. With the right materials and techniques, you'll be sure to create a beautiful ornament that will last for years to come.
Are There Any Variations of Origami Ornaments?
Yes, there are many variations of origami ornaments. Some examples include paper snowflakes, star-shaped ornaments, and animals made from folded paper. You can also make more complex shapes such as flowers, birds, and miniature houses. The possibilities are endless! With a bit of creativity, you can make just about anything you can imagine.
Are Origami Ornaments Durable?
Yes, origami ornaments are very durable and will last for many years if they are cared for properly. The key to ensuring the durability of your ornament is to use high-quality materials and techniques when making it. Additionally, store the ornament in a cool, dry place and away from direct sunlight. This will help to ensure that the colors do not fade over time.
How Can I Make My Origami Ornaments More Unique?
The possibilities for personalizing origami ornaments are endless! You can use different colored papers, mix and match patterns, or even add glitter and other decorations. Instead of using traditional paper, you could also try working with fabric or even recycled materials to create an eco-friendly decoration. Finally, if you are feeling daring, you can always experiment with new folding techniques to create more intricate designs. The possibilities are endless!
Can I Hang My Origami Ornaments?
Yes, you can hang your origami ornaments! All you need is some string, twine, or ribbon and a hook. Simply tie the ends of the string to the top of the ornament to make a hanger and then attach it to your desired hook. Be sure that you use strong materials so that the ornament does not come off the hook. Additionally, you can use adhesive tape or glue to attach a loop to the top of the ornament if you do want to use string.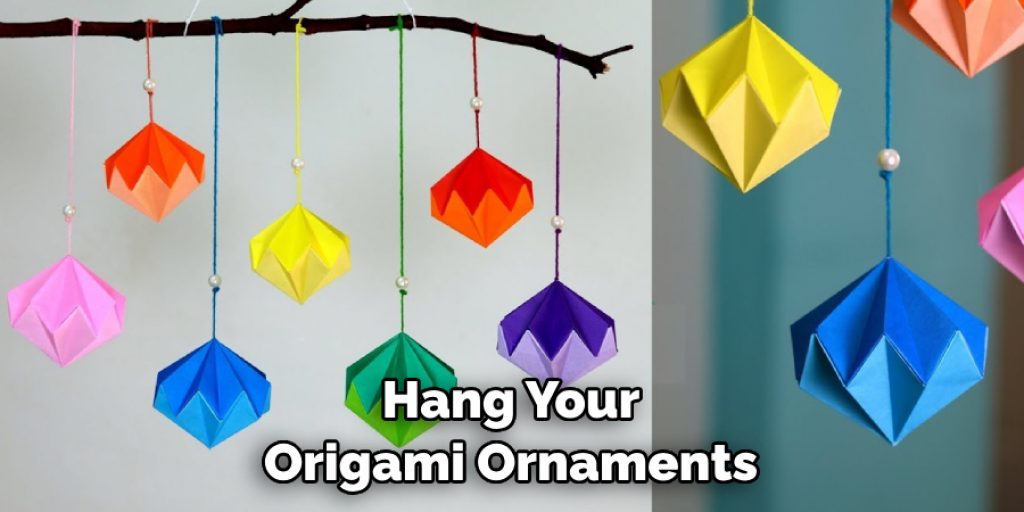 Conclusion
Crafting can be a delightful, fun experience filled with creativity and blissful accomplishment. Origami ornaments are a great way to enjoy this wonderful hobby because they require no prior skill and only the simplest of materials. With the accessible step-by-step instructions on how to make origami ornaments provided in this blog post, you now have all the knowledge you need to put your skills to use.
Whether crafting for yourself or as gifts for others, these simple yet elegant designs will bring joy to everyone who sees them. So don't wait any longer – grab some paper and get folding! After all, all it takes is an eager attitude and a little bit of patience to make origami ornaments that one could be proud of.