How to Build Canopy Frame
Do you feel like getting closer to nature this summer? Have you always wanted to have a canopy in your yard but haven't known where to start? Building a canopy frame is not as hard and time-consuming as it may seem.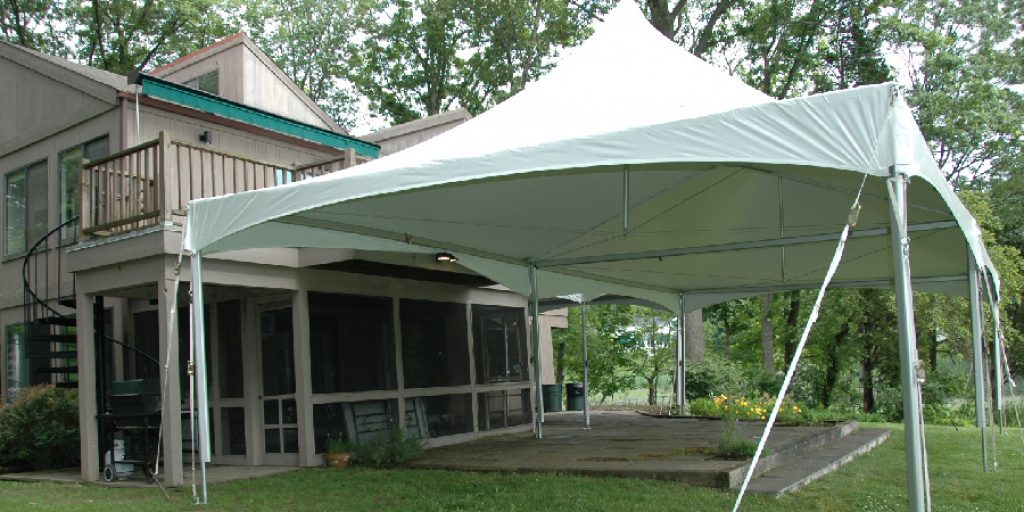 With some basic materials, tools, and steps provided here in this blog post, you can easily create the perfect backyard retreat for yourself or host backyard events for family and friends. In just a few simple steps, you will be able to enjoy the great outdoors without worrying about being overheated by direct sunlight – now that's something we can all appreciate! Read on to learn more about how to build canopy frame.
Want to have some DIY fun this weekend? Building a canopy frame is the perfect project – it's simple, low-cost, and adds a lot of character to any outdoor space. Whether you're looking for something decorative or functional, constructing your own canopy has never been easier. Here we'll provide you with easy-to-follow steps and all the materials and tools needed to build your custom canopy frame. So roll up your sleeves, and let's get started!
Benefits of Canopy Frame
1. Provide Stability and Support for a Canopy Structure
One of the main benefits of building a canopy frame is that it provides stability and support for the structure. A canopy may become unstable and unsafe to use without a proper frame. A sturdy, well-built frame can also help increase the life span of the canopy itself by providing reliable support for its roofing materials.
2. Easy to Build and Assemble
Building a canopy frame is relatively easy and can be constructed by nearly anyone. Depending on the size of the structure, some pre-cut materials may be required but otherwise, all that's needed are tools such as a saw, drill, hammer, and screws. The construction process itself is quite straightforward and clearly outlined in most instruction manuals and guides.
3. Cost Effective Way to Create a Canopy Structure
Canopy frames are an inexpensive way to create a sturdy canopy structure. Materials and tools will be the main cost involved in constructing the frame, but they are only one-time expenses that won't need to be replaced or repaired often. This makes the initial investment in a canopy frame much more cost-effective in the long run.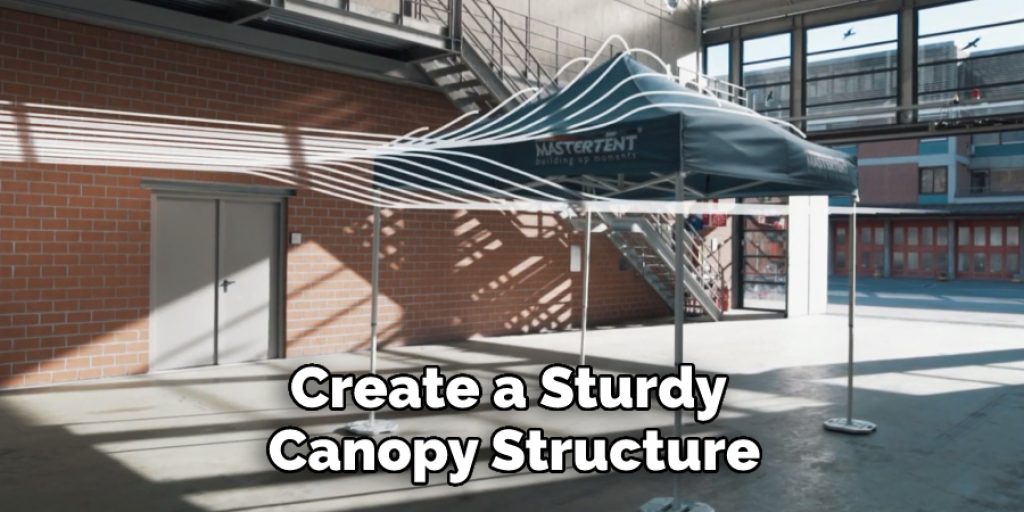 4. Customizable Designs
Canopy frames are also customizable, allowing users to create different designs and shapes depending on their preferences or needs. With some creativity and imagination, you can easily turn an ordinary canopy frame into something unique and stylish that will fit perfectly with your outdoor space. By being able to customize the frame, you can also make sure it meets any specific structural requirements or preferences you have.
Overall, building a canopy frame is a great way to provide stability and support for your canopy structure while also being incredibly easy and cost effective to create. With the ability to customize designs, you'll be able to create a canopy frame that perfectly fits your outdoor space.
How to Build Canopy Frame in 6 Easy Steps
Step 1: Measure the Area
The very step is to measure the area where you want to install the canopy. Measure it properly and make sure that there is enough room for the entire frame.
Step 2: Gather all Required Materials
For building a canopy frame, you need to have a few materials like PVC pipe or aluminum tubes, fittings (elbows, tees etc.), screws, and other tools. Collect all the required materials before you start.
Step 3: Cut PVC Pipe or Aluminium Tubes
Using a saw, cut the PVC pipe or aluminum tubes according to your measurements. If you are using a drill for cutting it, make sure that its depth is set correctly.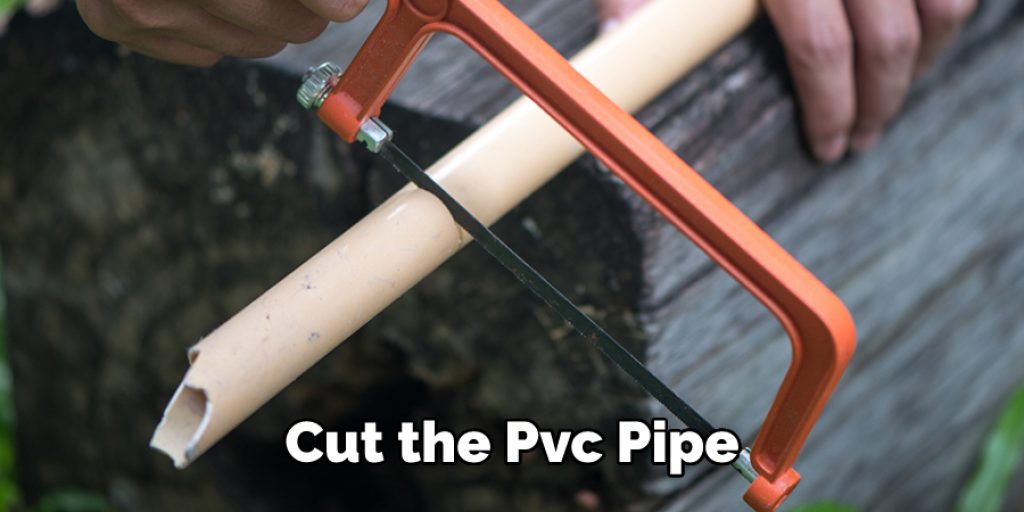 Step 4: Assemble Frame Parts
The next step is to assemble the frame parts. Connect all the elbows, tees, corner pieces, and other fittings with the PVC pipe or aluminum tubes. Make sure that everything fits perfectly.
Step 5: Attach Top Frame
Once you have assembled the frame, attach the top frame. This will provide support to your canopy, so it's important to do this part carefully. Make sure that the screws are properly tightened.
Step 6: Install Canopy
The last step is to install the canopy. Unfold the cover, place it on the frame and use screws or hooks for attaching it properly. Make sure that everything fits in the right place and your canopy frame is now ready for usage.
Some Tips to Build Canopy Frame
1. Do Not Forget the Measurements
When building a canopy frame, it is important to measure the dimensions of your space and plan accordingly. Make sure to take into account the length and width of your area, as well as factors such as height restrictions or existing structures that may impact how you build your frame.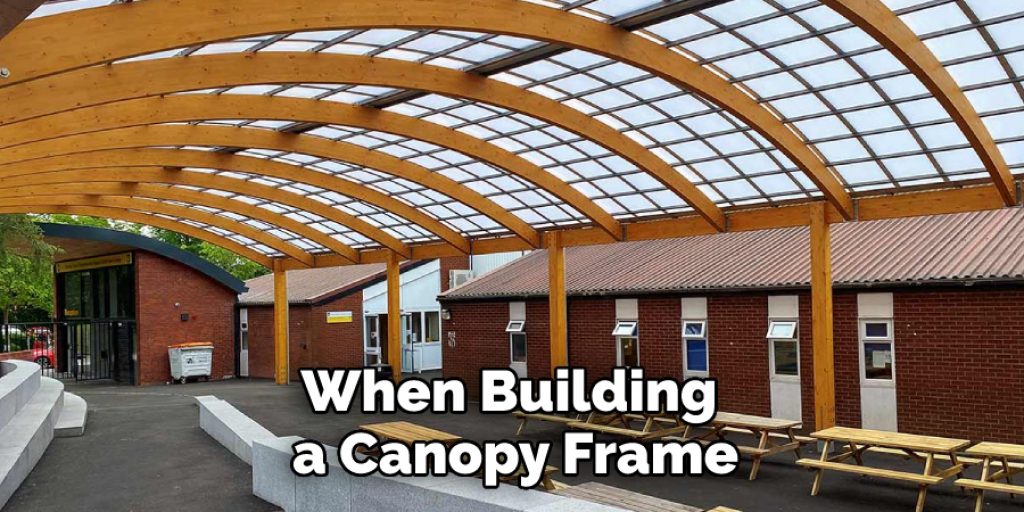 2. Gather Your Materials
Once you have the measurements of your space, you can begin to collect the materials needed to build a canopy frame. You will need poles or pipes for the frame and connectors and fasteners to hold it together. Wood can be used depending on the style of canopy frame desired, but metal is recommended for added durability and strength.
3. Assemble the Frame
Once you have your materials ready, start assembling the frame one piece at a time. Secure each piece with fasteners and ensure that everything is firmly in place. Once the frame is finished, add cross beams for added support.
4. Install Canopy Material
The last step in building a canopy frame is to install the canopy material. Depending on the type of canopy you choose, this can be a tarp or fabric sheeting. Secure the material in place with grommets and ties before securing it to the frame with bungee cords or rope.
Building a canopy frame is an excellent way to provide shade for your outdoor space without needing to invest in costly pre-made structures. With a little patience and the right materials, you can easily build your own canopy frame for any occasion. Follow these tips to get started!
Frequently Asked Questions
What Precautions Should I Take When Building a Canopy Frame?
When building a canopy frame, it is important to take the necessary precautions for safety. Ensure all connections are secure and all parts of the frame are properly secured together. 
Ensure that hardware and other fasteners used in constructing the frame are rated to handle the weight of your canopy fabric or tarp. Additionally, take into consideration any wind and rain that your canopy frame may be exposed to. Lastly, ensure the structure is placed on a level surface and tall enough for easy entry and exit.
What Tools Are Needed When Building a Canopy Frame?
Building a canopy frame does not require many tools. Typically, a drill, screws or bolts and nuts, an adjustable wrench or socket set and measuring tape are needed. Additionally, you may want to use a saw if you need to cut any of the frame components.
Are There Different Types of Canopy Frames?
Yes! There are several different types of canopy frames available on the market today. Common types include steel frames, aluminum frames and PVC frames. Different materials are better suited for different purposes.
Steel frames are very durable and can easily support heavy weights. Aluminum is lightweight but still provides strength and stability. Lastly, PVC is an affordable material that is easy to assemble and disassemble whenever needed. It's important to consider your specific needs when selecting the right frame for you.
Are There Any Tips When Building a Canopy Frame?
Yes! It is important to ensure your measurements are accurate and that all frame pieces fit together properly before securing them with screws or bolts. Additionally, it is always a good idea to practice assembling the frame at least once without using any fasteners before actually putting it together for use. Lastly, make sure the frame is secure and stable before installing your canopy fabric or tarp on the frame.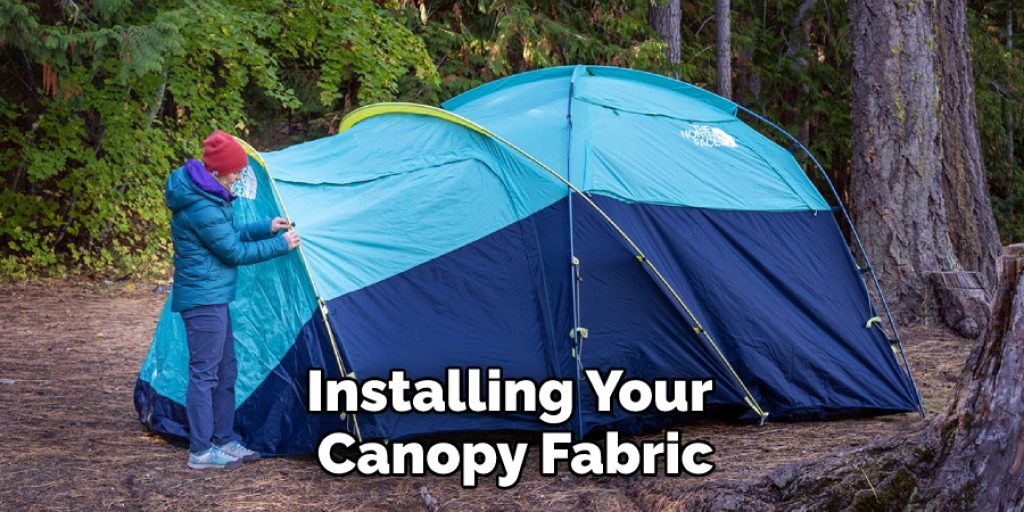 Conclusion
Now you know how to build canopy frame! You can easily construct an outdoor canopy frame that fits your needs with the right materials and tools. Remember to take the necessary precautions for safety, measure accurately, and make sure all connections are secure before putting it together. With a little patience, you will have a perfect canopy frame in no time!
Building a canopy frame is no easy feat, but with the right materials, design, and plan, it can be accomplished. 
Canopy frames can add a decorative element to your outdoor space while providing shelter from the sun and other elements. These frames can come in a variety of shapes, sizes, and colors. By following these steps, you have all the tools you need to construct a sturdy frame in no time. Once the frame is constructed, you can add beautiful fabric or even potted plants to customize your outdoor space further.