How to Fix Bedhead Without Shower
Bedhead is a common side effect of sleeping in which the hair becomes messy and chaotic due to natural oils being removed from the scalp during sleep. There are many causes for bedhead, including dryness, humidity, or simply lousy hair days, which makes it even harder to deal with in the morning when time is short!
Thankfully some easy fixes will have your locks looking picture perfect in no time at all! In this blog post, we will be discussing how to fix bedhead without shower. So stick to this blog post till the end!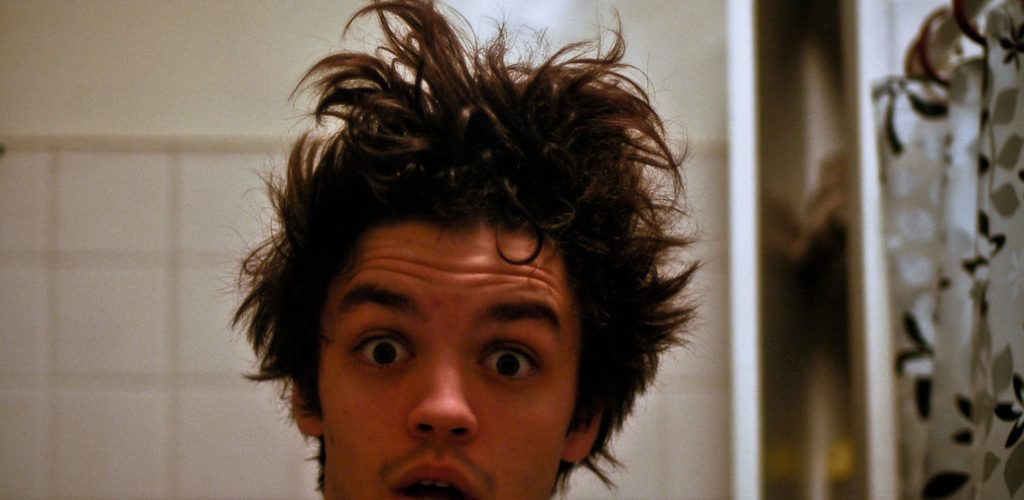 Reasons Why Bedhead Occurs?
Your hair can get messed up when you don't brush it properly, or if you sleep on one side of your head more than the other. This can cause your hair to be flattened against your head, which makes it tangle and knot up. Another common reason for bedhead is sleeping with wet hair. This also makes your hair twist and knot up, and it can start to smell bad.
Instructions: How to Fix Bedhead Without Shower
Here we have given a step-by-step guide on how to fix bedhead without shower.
Step 1: Run Your Fingers Through It.
If your hair is very tangled, you can try to gently untangle it by first separating the knots. To do this, you can either use your fingers or a comb. If there are only a few knots, you can try to gently loosen them by running your fingers through them. However, if there are many knots, you may need to use a comb or brush to slowly work through them.
Step 2: Use Your Favorite Detangling Spray.
This is an optional step, but if you don't want to brush your hair out, this is a good option for taming those tangles and knots. It also smells great!
Step 3: Brush Your Hair.
Now that you have sprayed your hair with a detangler, use a wide-tooth comb to brush through your hair from top to bottom. Start by brushing gently, and then work into a more firm grip if necessary. Avoid pulling the brush all the way through because that could lead to excessive breakage.
Step 4: Use a Flat Iron.
Now that your hair is straight, you can use a flat iron to make it extra sleek or spikey, or you can curl your hair using the flat iron. This hairstyle creates vertical curls, which look great with a messy bedhead!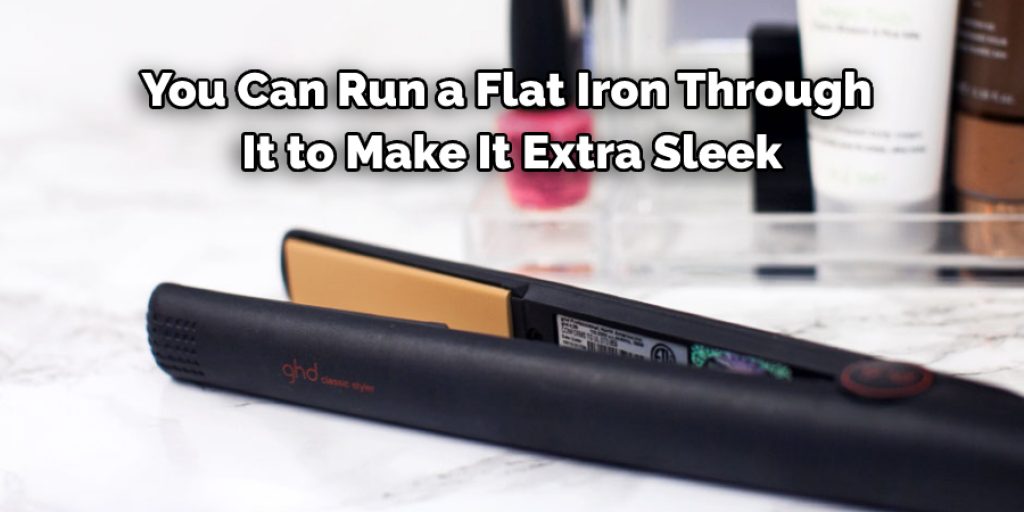 Step 5: Add Some Product.
Now that your bedhead is not a big knotted mess use a good quality dry shampoo or texturizing spray to give it a matte look and sturdy hold. Use this on the root of your hair all over, as well as some on the ends. This acts as building blocks for your style so you can further brush or smooth your hair to make it stay in place all day (or night).
Step 6: Style to Your Liking.
The hairstyle can be worn in many different ways, depending on the look you want to achieve. It goes well with almost any outfit, so you can wear it for a formal occasion or a more casual event.
Tips to Prevent Bedhead:
1. A silk pillowcase allows your hair to glide smoothly over the pillow, while cotton and other fabrics can create friction on the hair shaft
2. Use a satin or silk sleep cap or scarf, which has the same effect as a silk pillowcase
3. Place a satin pillowcase inside of another pillowcase for double protection against the bedhead
4. Take a shower before bed, with the hottest water that you can tolerate for up to 30 minutes. Wash your hair thoroughly to remove any residue or oils that are not absorbed by the body. This is particularly important if you use any oils in your hair after washing it, as residual oil could increase bedhead.
5. Wash your bedding often to prevent oil and dirt from becoming embedded in the fabric
6. Wrap a satin scarf around your head before going to sleep
7. Use a silk or satin pillowcase when you sleep
Other Alternative Methods to Prevent Bedhead:
1. Invest in a Good Pillow:
If you're having trouble with your hair looking messy when you wake up, investing in a good pillow may help. Look for pillows made from high-quality materials and with a brushed-satin cover. These pillows will keep their shape, which will help keep your hair under control at night.
2. Make Your Hair Gel:
You won't believe how easy it is to make your hair gel. You will need a cup of warm water mixed with one teaspoon of sugar and one-quarter teaspoon of baking soda; mix well. If you have light hair, add a bit of lemon juice to the mixture. Stir ingredients together until all ingredients are very well blended. The final ingredient you will need is one tablespoon of your favorite conditioner, which should be mixed in thoroughly. Apply to damp hair and blow dry for best results.
3. Use Your Blow-Dryer:
If you can't take a shower, you can use your blow dryer to prevent bedhead. First, shake your head side to side while drying it with the cool setting. Then, shake your head one more time and turn the dryer to the warm setting. Finally, use a metal brush to smooth your hair.
4. Brush Before Bed:
You should always use a wide-tooth comb or a thick, natural bristle brush to keep your hair tangle-free while you sleep. This will ensure that you wake up with hair that is easy to manage and won't have those annoying, impossible-to-tame tresses.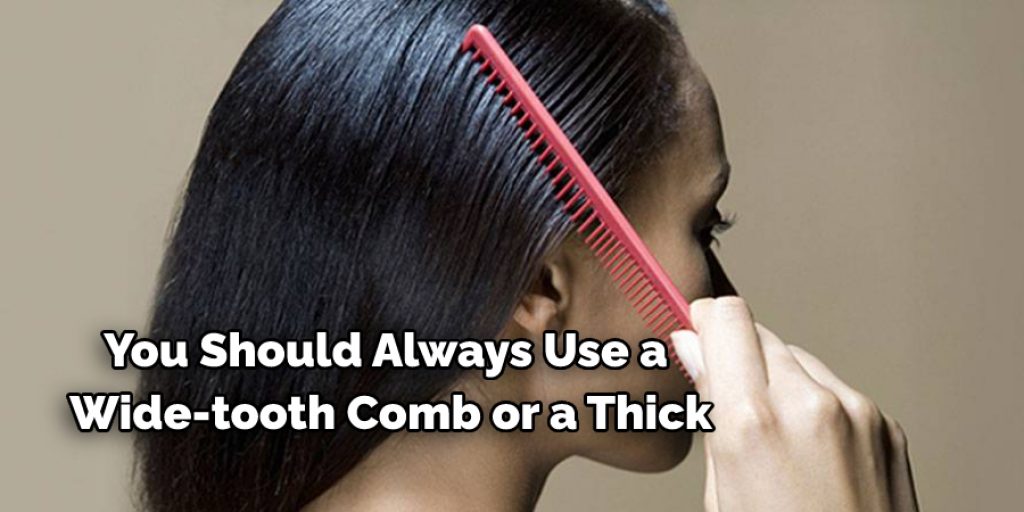 5. Make a Ponytail while Hair is Wet:
Make a ponytail while your hair is still wet, right before bed. Then, your hair will stay out of your face all night long and be easy to style in the morning.
Does Dry Shampoo Fix Bed Head?
Many people reach for dry shampoo when they have a bed head. This is because the goal of using dry shampoo is to absorb excess oils and sweat on the scalp, which can then help refresh your hair's look. However, dry shampoo may not be the best solution if you are trying to fix your bed head without showering.
One of the best ways to fix the bed head without showering is to use a hair mask. Hair masks can help replenish the moisture in your hair, which can help reduce the appearance of the bed head. If you do not have a hair mask on hand, a deep conditioner can also work well.
If you have bedhead, one way to fix it is to use hair oil. This will help add moisture to your hair and make it look better. Make sure to apply the oil evenly all over your hair.
Why Is My Bed Head So Bad?
The main reason why your bedhead is so bad is that you are not showering enough. This is the number one way to fix the bed head without showering. If you do not shower, the oils and sweat on your hair will mix with the dirt and sebum on your scalp, creating an environment in which the hair cannot grow healthy.
In addition to showering, you can also use a conditioner to help improve the health of your hair. Make sure that you use a conditioner made for your type of hair, and be sure to rinse it out thoroughly. If you do not have time to shower and condition your hair, you can also use a dry shampoo to help absorb the oils and sweat on your hair.
How Often Should I Shower?
For most people, showering once or twice a day is the right amount of hygiene. But there are some situations where you might not need to shower every day. For example, if you work out regularly or spend a lot of time outdoors, you might not need to shower every day.
If you don't have time for a full shower, there are ways to fix the bedhead without showering. One way is to use a wet towel to dampen your hair and style it the way you want. Another way is to use dry shampoo to add volume and texture to your hair. And finally, you can use a headband or scarf to hold your hair back while fixing it.
Conclusion:
This post has shown you how to fix bedhead without showering. We hope that these tips will help make your morning routine easier and more enjoyable! We can't wait to see what else you're working on for the blog this summer! So the next time you wake up with bedhead, try these tips for a quick fix.
More importantly, make sure to take the steps necessary to avoid this problem in the future by getting enough sleep and using your hair care products correctly! Finally, if you have any questions or comments about this post, please don't hesitate to reach out; our team is always happy to hear from readers like yourself.