How to Make a Gift Basket for a Man
Men are notoriously difficult to buy gifts for. If you want to make a man happy with the gift of something he can use, try making him a homemade gift basket with all his favorite things. An excellent way to get started is by finding out what kind of food and drink items he likes best from this list beer, wine, coffee beans or ground coffee, tea bags or loose leaf tea, fruit juice, or soda pop.
You can also include snacks like chips and popcorn. Include some treats like chocolate bars and salty snacks, too if you're feeling adventurous! Add in a bottle opener for his bottles of beer and some napkins so that he doesn't have to look around the house for them when he finishes his snack and drink items. If you want to know more about how to make a gift basket for a man read on to know more!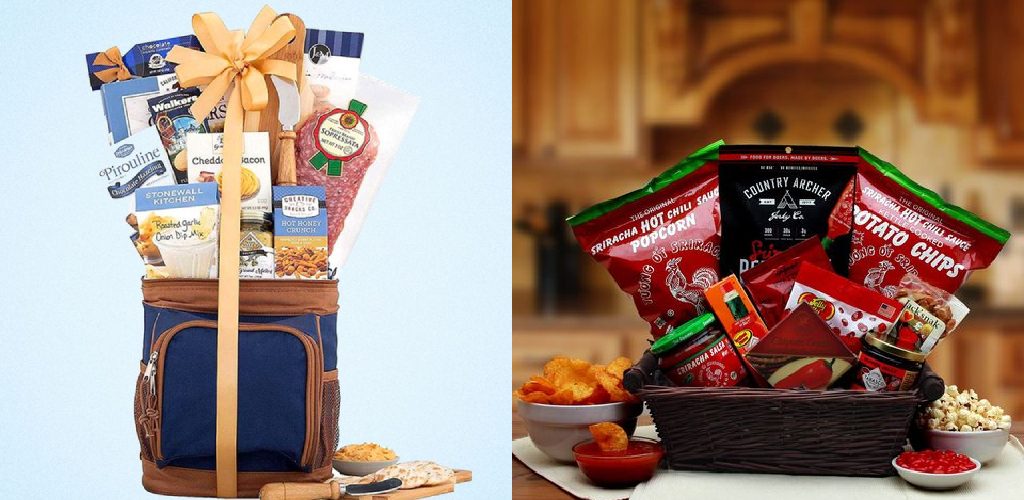 10 Creative Ways on How to Make a Gift Basket for a Man:
1. Sports Fan
If your man is a sports fan, consider making him a gift basket full of snacks and treats that are specific to his favorite team. You can put things like season-themed coasters, confetti, or streamers in the basket along with the snacks to tie it together. If your guy is not so much into sports but likes to watch a game or two with a beer and some snacks, you can also make him a more generic gift basket.
2. Coffee Drinker
When most people think about baskets for men, they think of beer drinkers. However, if your guy is into coffee instead of beer but still loves to kick back on the weekends with his favorite brew, you can create a basket that caters to his coffee drinking habits. Include things like a nice coffee mug, spoons, or stirrers in the basket, along with sweeteners and creamers for an added touch of flair.
3. Beer Drinker
Because this kind of gift basket is so similar to the one for coffee drinkers, you can create whatever type of beer-related gift basket you like. You can include things like glasses, bottle openers, and coasters in the basket, along with some good quality beers that your man will enjoy. If you're more crafty, consider making your beer calendars for him, which you can even include in the basket.
4. Hobbyist
If your guy loves to tinker around with things on his weekend, make him a gift basket full of items that will help fuel his hobby. Baskets made for hobbyists are usually best when they are tailored specifically towards the hobby your guy loves.
For example, if he lugs around his toolbox all the time, you can make him a gift basket full of tools. If he's more into his car than anything else, pack up some car-related goodies for him instead.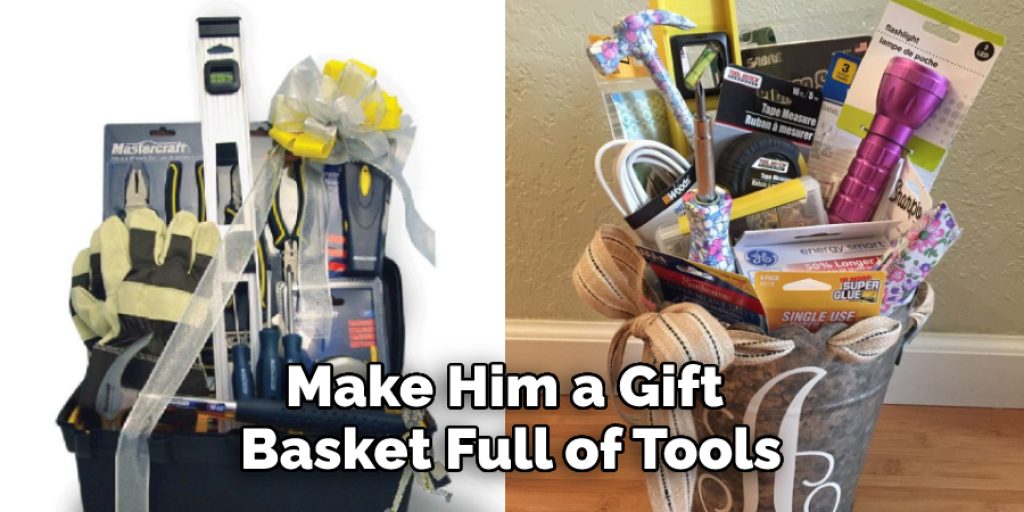 5. Traveler
Whether or not your guy likes to travel regularly, you can still create a perfect gift basket for his traveling habits. If he travels to faraway lands where he doesn't have access to all of the usual comforts, include travel-sized toiletries and snacks in the gift basket. Also, consider making him a little journal or notebook so he can document his trip.
6. Gourmet or Wine Connoisseur
If your guy likes to cook and experiment in the kitchen, you can make a gourmet gift basket for him. Fill a nice cheese board with some meat, crackers, fruits, cheeses, and even wine if he has been eyeing that vintage from his local liquor store. If he turns into more of a wine connoisseur, consider packing up a few bottles of his favorite wine for him.
7. Sweet Tooth
Most guys have at least one sweet tooth, so it's relatively easy to come up with something delicious for the gift basket you make for them. You can include things like dark chocolate or other treats that your guy likes in the basket, along with some coffee or other good quality drink to pair it with.
8. Movie Buff
If your guy has the latest movie DVD releases, make him a gift basket full of popcorn and candy to go along with them. Please put them in his favorite team's film container or other decorative containers for added flair. You can even put his favorite snacks or treats in the basket along with the movies.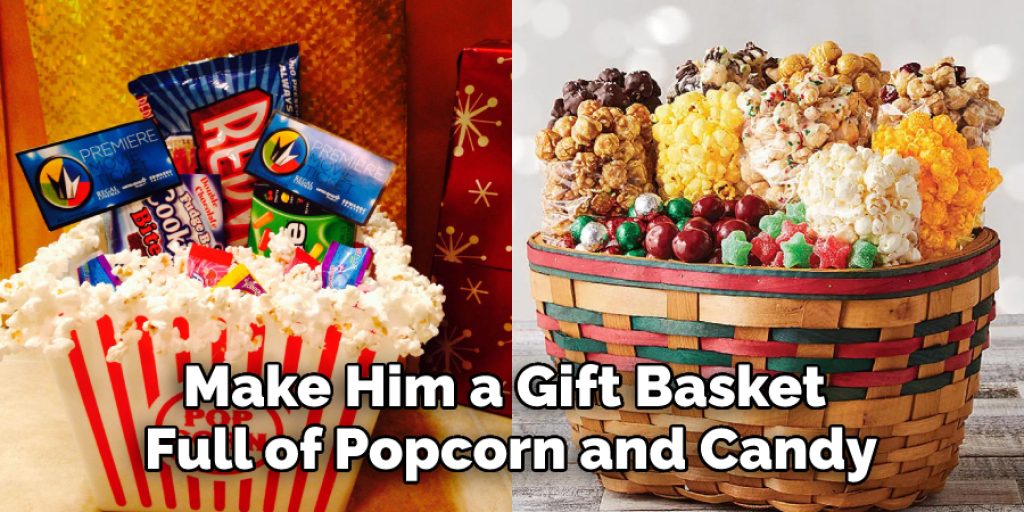 9. Coffee Table Book Lover
If your guy loves to kick back on the weekend and browse through picture books, look for a few of his favorite coffee table books online. Surprise him by putting them in a nice basket for him. You can also put other interesting baskets inside the coffee table book basket to make it more unique.
10. Gadget Lover
Whether your guy likes to tinker with things around the house or just loves the latest gadgets, you can create a basket full of different types of gadgets that he'll enjoy. Look for some of his favorite toys online and include them in the basket along with other snacks or treats that he likes.
Step by Step Guide: How to Make a Gift Basket for a Man 
Step 1: Learn About the Man 
Men are different from women, so you have to know some things about the man who will receive your gift basket. This is important because the gift must be something that he likes and appreciates.
Step 2: Gather the Materials 
There are many gifts you can choose for a man including something healthy, like fruits or snacks. Of course, you can also buy him more than one gift if he deserves it. But remember, limit your choice of materials to five of them so that you can make it look nicer.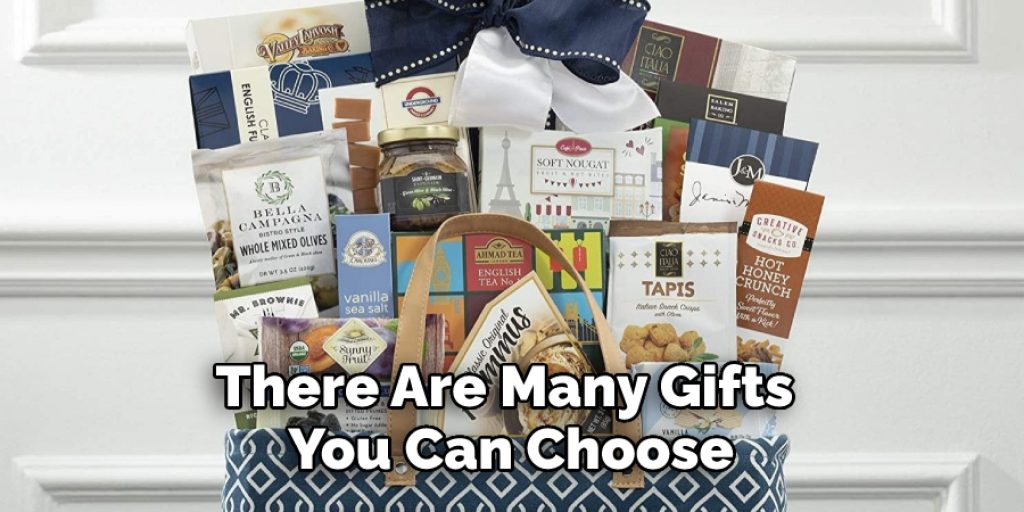 Step 3: Design the Box 
Take the paper that you want to use for the box's design and trace it on top of the box outline. For example, if you are using felt paper, cut out four pieces where all sides will touch each other when folded because it is stiff, so it would be hard to fold if only two pieces are used.
Step 4: Cut the Felt Paper 
After tracing, cut out all pieces using a cutter or scissors. Using felt paper, use an X-acto knife so the edges won't be torn up. After cutting, remove any excess paper scraps on the sides of each piece because it would look bad if these were seen when you are putting the paper on top of each other.
Step 5: Glue the Felt Paper Together 
After cutting out all pieces, glue them together, beginning with the smallest parts first. For this step, use Elmer's glue or any white craft glue that will dry fast so you can put the paper on top of each other right after gluing.
Step 6: Add the Gift 
After gluing together the lid, line it with tissue paper cut into a strip to fit on top of the inside box's width and length. Put this aside for now as you prepare for the next step. Then, place the gift inside but don't secure it yet because you have to put something heavier first.
Step 7: Add the Heavy Stuff 
Place something heavy such as rocks, on top of the gift to keep it stationary inside the box. Then, place another rock or two on top of this heavy stuff and make sure they can fit in properly if you want to close the lid of your gift basket.
Step 8: Place the Lined Top 
Secure the lid of your gift basket by placing it on top and closing tightly. Next, add tissue paper around the gift to make it look prettier. If you choose colored gift wrap, you can also use this as lining for your gift basket's lid. You can now decorate the lid using scrapbooking ribbons, stickers, or anything else that is pretty and will suit the recipient of your gift basket.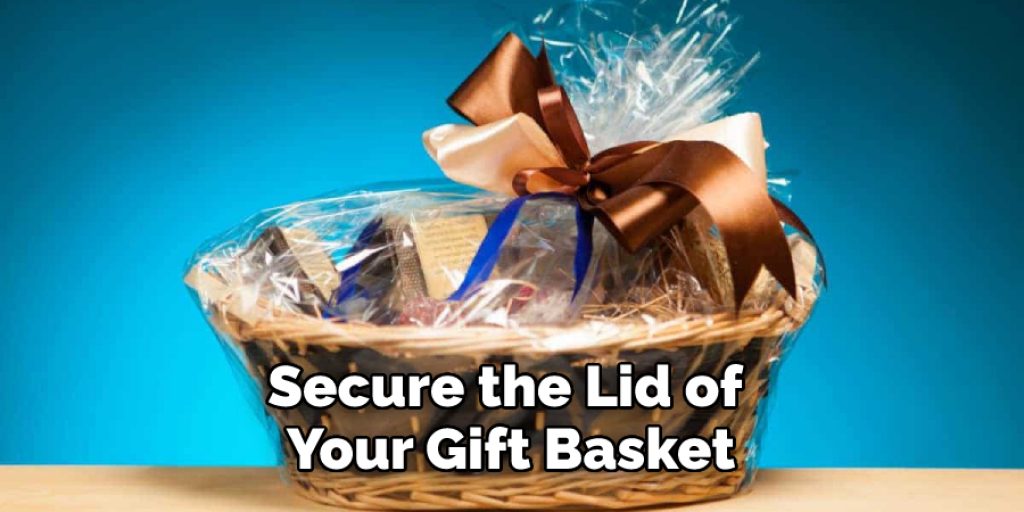 Some Tips and Suggestions:
Make sure that you take into consideration where the gift basket is going to be stored. If it is for an office, choose items that are small and do not require refrigeration. If it's for a garage or work area, think about tools.
Think of things that he will need and use. For example, if the basket is for an office, think about pens, notepads, coffee, snacks, or water bottles.
Think of things that he will enjoy but may not buy for himself, such as a few beers or a small bottle of wine.
Make it something different than just another travel mug with coffee in it.
If you have not had a chance to ask him what he likes, look at the gifts that others have given him in the past for ideas.
If you are sending this as a gift to someone else, make sure you know whether he likes chocolate, nuts, or other food items that may not be appropriate for the occasion.
If you are personally delivering the gift, check with the host to see if it's ok to have snacks at the party.
Conclusion:
If you are looking for a gift that will make him feel appreciated, then this is a perfect idea. All of these items can be purchased at your local grocery store or specialty shops around town. They are all affordable and easy to find, making it easier on both the giver and receiver of the present. And while most people might think about what they would want in their ideal basket, instead consider what he wants!
This way, you know exactly how to put together a fantastic gift without any guesswork involved. Do not forget to wrap up everything with bows, so it looks extra special when he opens his present on Christmas morning! After reading this blog post, we hope you have some idea about how to make a gift basket for a man. To give your man the perfect gift, consider these ideas. They are sure to be a hit!