How to Square a Board with a Table Saw
Doing woodworking will require for you to have all the equipment ready. What many woodworking lovers love about the work is that even if you do not have the right instrument, you may be able to do the wanted work with the other device you have. In case you are planning on cutting or squaring a piece of wood but do not have the wood saw with you, then why not used the abandoned table saw in case you have it. You can still do the work perfectly fine. Here we will tell you how to square board with a table saw.
Before you can move on to the actual tutorial of how to square board with a table saw, we will like to give you some heads up on the topic we are about to discuss. So, what do you understand by a square board and a table saw?
The squaring up board is cutting the edges of the board in the fair, straight line. When you are going for a woodworking project, you cannot make something without having your wood board straight. With a curvy and warped wood, whatever item you are trying to construct will not be able to put into together as they will leave unwanted holes. Squaring up the wooden board will let you have a fine line on those edges that you can use parallelly with other wood boards.
As for table saw, many of you may call it an old or grandpa instrument. The table saw is indeed the creation of a long time ago. It has its benefits of letting you work in a much comfortable environment. However, it will not eliminate the danger of working with saws. The design of the table saw is perfect in various ways to cut woods into whatever shape you want. And you can definitely square up a board with a table saw if you wish.
Learn: How to Square a Board with a Table Saw
Before you can learn the steps, you need to know a few more kinds of stuff that includes what sort of materials you selected to work with and what you are going to need for the whole project to be completed.
Selecting Your Piece of Wooden Board
The first thing about how to square board with a table saw you need to focus on the board you are going to work with. Now you may think why the type of board has anything to do with the actual work. Well, here is that thing, when you are working on the table saw, you need to have a board that has one side straight and flattened. The reason for this is because it will help you place the board onto the table saw and work progressively to achieve the squaring look. So, what should you do if you do not have that kind of board? In this case, you need to work on flattening on the side of the board before you can start with the actual work. For that, you may need another tool's help. That is why you need to make sure beforehand what sort of board you are working on. If you already have the board, then you need to see if it has a fattened side or not. And if you have not yet selected one, then make sure to get one of the boards with one flat side. It will surely quicken the process. As for our tutorial, we will show you both ways to do that work.Materials You NeedWhen doing a crafting project, you need to collect all the necessary items before you can touch your project. Remember that, with one item missing, you will never get to finish the work like you want. As for this one, you will need-
• Wooden board
• Table saw
• Lumber/ jointer/ sled
• Screws
• Screwdriver
Steps to Follow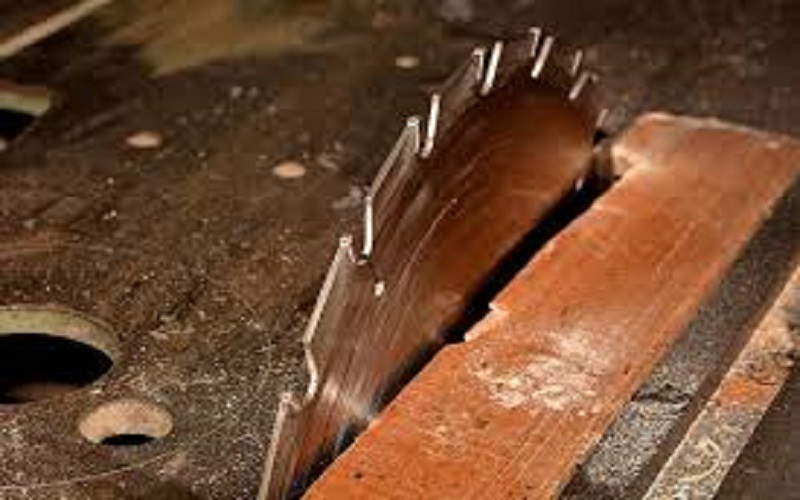 Step 1: Get the Board Ready
The first step will indeed include you to prepare the board. As we have mentioned, if you have a board that has a flattened side to it, then you can definitely skip this step and move on to the next one. But if you do not, then continue.
To get the one edge of your board straight and flat, you will need the help of a jointer. A jointer is basically a flat piece of wood that you can use for cutting another piece following the straight line. A jointer is usually made into a perfect shape to do the work. If you do not have a jointer, feel free to use lumber or even a sled.
So, the one you have. We will suppose you have a sled. What you need to do is, attach the sled with the side of the board that you are going to cut. Put the board on top of the sled and cut the board using the table saw. And you will have the side ready.
Step 2: Square up an End
Now that you have one side of the board squared up, you need to work your way to one of the ends. To do that, you need the help of the miter gauge of the table saw. If you are going to make a particular measurement, make sure you measure everything before you set out for cutting the end. Put your size in the right place and set the board on the miter gauge and cut it.
Step 3: Cut the Other Portions
You are done squaring up to one side and one end, your work will be done in no time. As for this one, you are going to work on the width. If the board has any requirement for measurement, you should point them beforehand of cutting the board.
Set the board on the miter gauge and set it according to the measurement. Cut the side as you did with the other sides and ends. After cutting the side, follow the same process for cutting the remaining end. And you are done squaring up the board.
Some Tips
Now that you know how to do the whole process of how to square board with a table saw, we will like to give you some tips on a few of the things that we believe you could get help. When you are using the sled for flattening the board, you need to attach the sled with the board. We have mentioned about using screws. But if you are not comfortable with that or do not have screws available, you can use glues for wood as well. As for doing the measurement, it is better if you do not use something strong for marking. Better use a removable marker or pencil to get the measurement on the board for work.
Final Thoughts
That was all for how to square board with a table saw. We tried to put everything into easy words for you to understand the process better. Doing wood works really requires one's patience. So, when you are doing the work, it is better never to rush the work. Also, as for this one, you are working with a table saw. It is better to work carefully as these instruments are dangerous to work with. Rushing will not lead to work faster or get the job done like you wanted it to be. So, take your time and follow our tips to get your perfectly squared up boards.
You May Read Also. How to Square a Board Without a Jointer