How to Waterproof Christmas Lights Connections
You may have planned to do something extraordinary this Christmas, and maybe that's with the Christmas lights. Well, that's great, like you many people express their craftworks with the Christmas lights and provides their houses with an eye-catching design. But this type of lighting isn't capable of withstanding the harsh condition of weather. These are electric equipment, and it is totally the hardest thing to run the Christmas lights during the rain. In fact, if you can't seal the connections properly, it can be dangerous during this type of weather. So, how to waterproof Christmas lights connections? Wanna learn? Let's find out!
It would be better if all of us were living in Australia and enjoy the Christmas season in the summer. But in reality, it is not possible. So, you have to depend on some preventive steps rather than just dreaming. The sky may seem to be clear without any chances of rain when you have started to set your Christmas lighting, but all of the sudden heavy rain can invade the entire place without any invitation. Thus, your beautiful Christmas lighting will be ruined in no time. Don't worry; with some simple tactics, you can get rid of this annoying problem. There are proven ways for waterproofing the Christmas lighting only by paying good attention to the connections. Let's have a look at them.
How to Waterproof Christmas Lights Connections
 Honestly, when I start working with the Christmas lights first, my initial waterproofing instinct made me wrap each and every connection, including the plugs and wire with electrical tape. It may sound funny, but most of the people follow this.
But that's not the right way to keep the water out. In fact, wrapping everything with electrical tape can hamper your design, and you may have to put additional effort into hiding them. Even if you wrap the entire wire and connections properly, still water will penetrate through the connections. Later I learned the correct way to prevent the water penetrating into the connectors. Instead of covering the connectors with different types of protective shields, we should go for the exact ways that can protect them at the time of raining. I am going to reveal every item in this article; you just have to stick to the end. So, let's get started.
Pixels and Christmas Lights
You should start with the lights first. They are the main part of our display and key of attraction so, you have to secure them first.
In this case, you can use some readymade waterproof lights like pixels. You can easily bring them from your nearest shops, or you can buy them online. Most of the pixel lights are designed to remain completely waterproof. They are injected with clear epoxy, which makes them 100% waterproof.  So, if you are buying this type of light, you won't have to worry about that.
But if you are using the ordinary ones that are exposed to water, you need to seal them properly so that water can't go inside of the lights. Or you can use different types of panels like P5 or P10. These displays are not only waterproof but also have an appropriate enclosure system. So, it will be better if you use one of them.
Your Wiring and Connectors
 This is where your wirings will connect together, but it can also be the biggest point of failure if water gets into it. So, you have to pay proper attention to these connectors.
If you are using standard Christmas lights and pass-through connectors, then you will need to secure it properly with electric tape. Make sure to wrap every connector with the tape properly so that water can't go through it. You can simply lay a small piece of electrical tape, and then put the connectors on to that tape by facing it downwards. Doing this will protect the connectors from water.
You can also use additional extension cord connections. It will raise the connections from the ground and keep them protected during the rain.
But if you are using a high-quality light like pixels or any other brands, you may get slightly better connectors. Although the sellers will say that they do have 100% waterproof connectors, actually, they won't. Remember, no connectors or Christmas lights are 100% waterproof.
The waterproof capability of an electronic item is usually measured through IP rating or "Ingress Protection." This rating ensures actually how much electronic equipment is exposed to dust and water.
The higher rating you can gain, the better product you will get. The common IP ratings are 65, which can provide tight dust control with additional protection to the high-pressure of water.
Do you know why I am saying all these?
Well, it's because marketers usually use the "waterproof" word as a technical term, but actually, they are not. So, instead of depending on the labels and product information, you should depend on the visual impacts. Okay, now let's have a look at the process of keeping every stuff dry.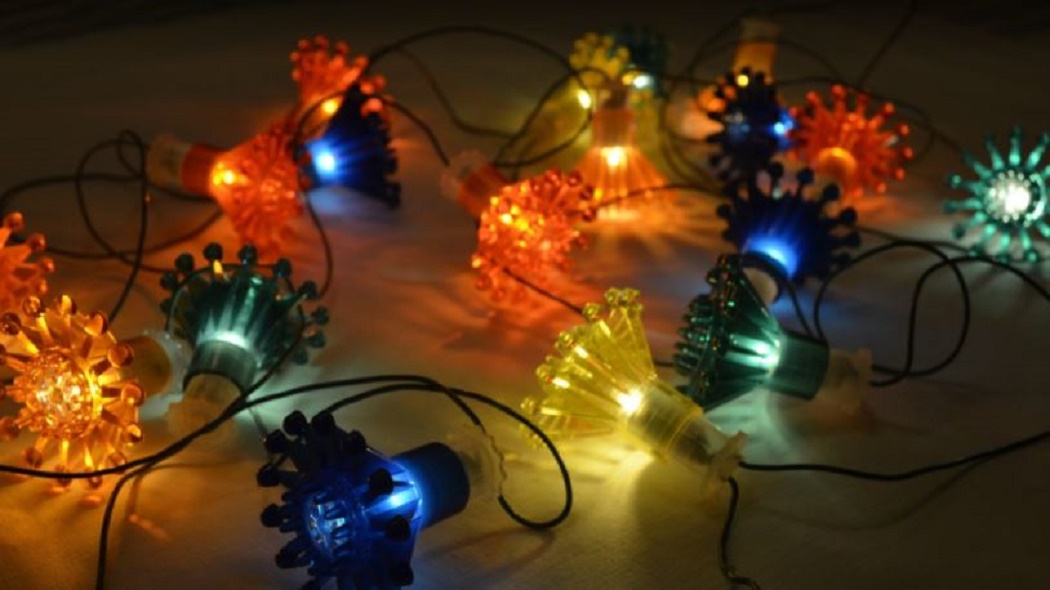 Tip 1 – Ensure Accurate Placement of the Connectors
An electrical connection usually has two plugs, male and female. You might be familiar with this. However, when you are about to place these connections outside, make sure to keep the female plug downwards. It will provide the plugs additional protection, but for this, you will also need zip ties.
Once you place the plugs in this way, the water will hardly get inside, and instead of that, it only pools in the male plug.
Make sure to keep the connections above the ground so that it can remain to save when water is draining out.
 Tip 2 – Dielectric Grease
This is a secret technique of keeping the connections safe from water. If you can put a gentle coat of grease over the connectors, it will repel the water and prevent it from going inside. In this case, Dielectric greases are way more useful for this purpose.
The applying process is pretty simple. You just have to add a coat to the male connector and then insert it into the female connector. Apply some more coats if needed.
Tip 3 – Keep the Connections to a Minimum
I will suggest keeping the connection to a minimum. If you can work with one extension, only there is no need to use a secondary one. For this, you are going to need a long extension to maintain the distance work. Reducing the use of additional connectors will also reduce the chances of water caused problems.
Conclusion
Hopefully, the above tips and tricks are going to be way more helpful for you to keep your connections waterproof, and you won't have to ask anyone how to waterproof Christmas lights connections. If you are still confused, or you have found something more enhanced, don't forget to inform us through the comment section below. We are eagerly waiting to hear from you.