How to Decorate a Gift Basket
Thinking of a unique and thoughtful gift for someone special? A gift basket may be just what you're looking for. Creating your own custom-made gift basket is an excellent way to show appreciation, love, and thoughtfulness. Not only does it involve putting together carefully chosen items that are meaningful to the recipient, but it also allows you to get creative in the presentation.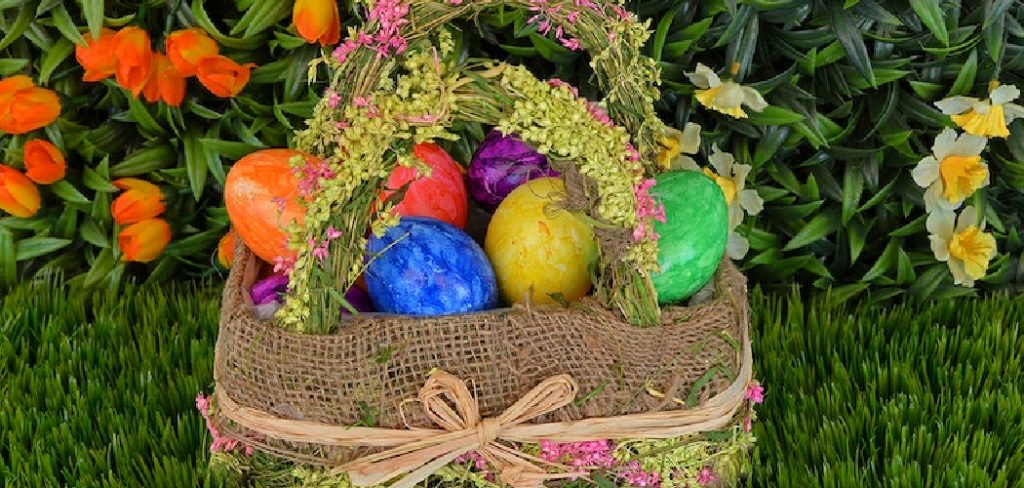 Crafting a beautiful DIY present doesn't have to require much time or effort either—all it takes is some simple creativity! In this blog post, we'll teach you how to decorate a gift basket they'll never forget, with step-by-step instructions full of handy tips and tricks along the way.
Why is Decorating Gift Basket Special?
A gift basket is a great way to show someone special that you've taken the time to think about their interests and put together something they'll truly appreciate. With just a few simple decorations, you can turn a plain gift basket into an amazing present! Plus, it's a fun activity for all ages—it can be as simple or as intricate as you'd like. You can easily customize your gift basket with the recipient in mind for a truly unique present.
The wonderful thing about decorating a gift basket is that you can use almost anything to create meaningful and interesting decorations. From ribbons, wrapping paper, and bows to plants, flowers, or even recycled materials—you're only limited by your imagination! Whether you have a specific theme in mind or just let your creativity lead the way, adding some decorations to your gift basket is sure to take it up a notch.
Benefits of Decorating a Gift Basket
Here are some of the advantages of decorating gift baskets:
It adds a personal touch to the present and shows that you care.
You can tailor it to fit any budget or occasion.
Decorations can be used to express a theme or interest as well as brighten up the basket.
You can make a beautiful presentation without breaking the bank.
Now that you know why decorating gift baskets is special, let's dive in and learn how to do it!
Needed Items for Decorating a Gift Basket
First, gather all of the necessary items for decorating your basket. You'll want to make sure you have everything you need in order to create your masterpiece: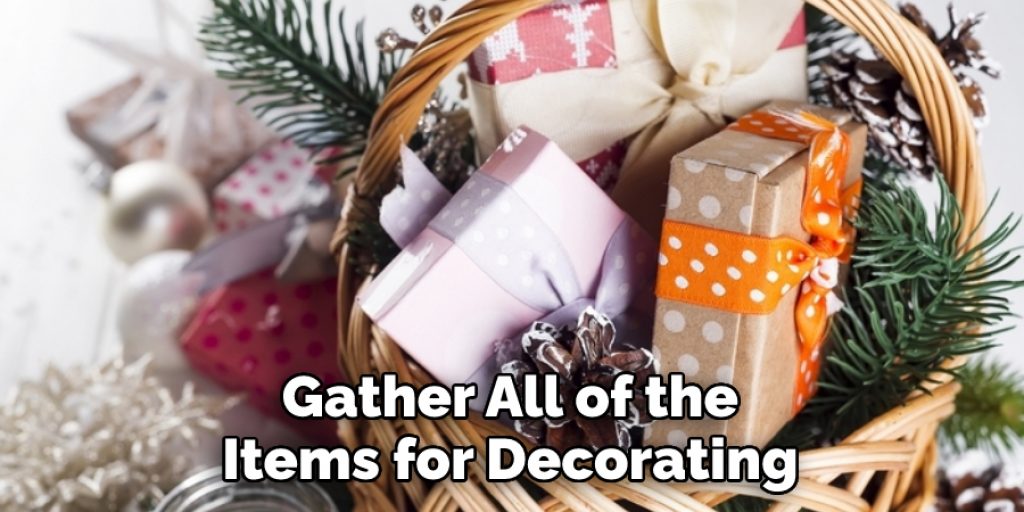 Gift basket
Wrapping paper or fabric
Tissue paper (optional)
Ribbons, bows, and/or twine
Scissors
Adhesive (glue, tape, etc.)
Decorative items (flowers, plants, recycled materials, etc.)
Once you have all of your supplies ready to go, it's time to add some decorations and create a unique gift basket that will be remembered for years to come!
10 Steps on How to Decorate a Gift Basket
Step 1: Choose a Theme
Choose a theme that best fits the recipient and their interests. This is the fun part! You may want to use the occasion, season, hobby, or even favorite color as inspiration for your decorations. Choosing the theme will guide the rest of the steps to come.
Step 2: Select Your Basket
Choose a basket that is both attractive and practical for your gift items. If you're looking for an extra special touch, why not try using a personalized basket as the base? You can find these online or in specialty stores.
Step 3: Decide How to Wrap the Basket
You can use wrapping paper, fabric, or even recycled materials like newspaper or wrapping paper. Or you can skip this step altogether and go straight to Step 4 if you prefer. Choosing wrapping paper will give the basket a more polished look.
Step 4: Add Tissue Paper
Tissue paper is a great way to add color and texture to your gift basket. It's also easy to use. Just make sure it's not too thick, so you don't hide the contents of the basket. The tissue will protect the items inside from shifting around and will also help fill in any gaps.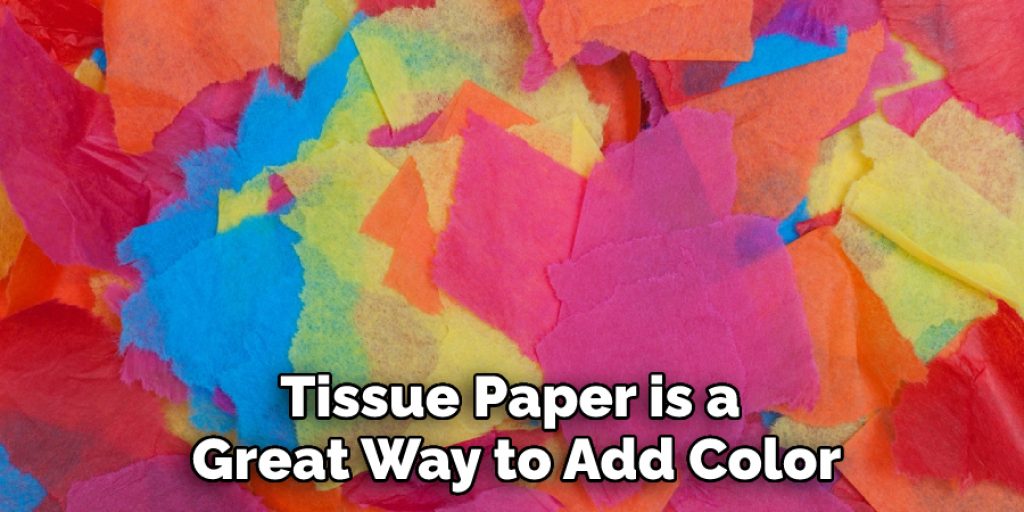 Step 5: Decorate the Basket
Once you've decided on a theme, it's time to start decorating the basket. You can use ribbons and bows to give the basket a finished look. Add other decorative elements like flowers or plants for an extra special touch. Or, use recycled materials like buttons or bottle caps for a truly unique presentation.
Step 6: Arrange the Gift Items
Once you've decorated your basket, it's time to arrange the gift items. Place them in an aesthetically pleasing way so that they can be easily seen and enjoyed. Make sure to leave enough room for the ribbon or other decorations you plan on adding.
Step 7: Secure the Items with Ribbon
or twine, secure the gift items in place. This will help prevent them from shifting around during transport and give the basket an extra touch of charm. The ribbon or bow will also help tie the overall look of the basket together.
Step 8: Add Finishing Touches
Now that the gift items are securely in place, it's time to add some finishing touches. You can use adhesives such as tape or glue to secure any decorative elements you've chosen. This will help ensure they stay put and won't fall off during transport.
Step 9: Wrap the Basket
Wrap the entire basket in clear cellophane or plastic wrap to give it a polished look. This will also help keep the items inside secure and protected from dust and dirt. Wrap it tightly and securely, making sure all of the edges are tucked in.
Step 10: Add a Personal Note
The finishing touch is to add a personal note. A heartfelt message will make the gift even more special and shows that you put thought and effort into the gift. The note will also serve as a reminder of your gesture long after the basket has been emptied.
Creating a beautiful gift basket doesn't have to be difficult or time-consuming. With just a few simple steps, you can create something truly unique that is sure to impress! how to decorate a gift basket is an easy and fun project that anyone can do. With the right supplies, a little bit of creativity, and these simple steps, you'll be able to create something truly special that will be cherished for years to come.
8 Best Gift Ideas to Put in the Basket
1. Chocolates
Chocolates are always a great addition to any gift basket. The variety of flavors and shapes make them an ideal choice for any occasion. It is liked by everyone and is a classic way to say, "I love you."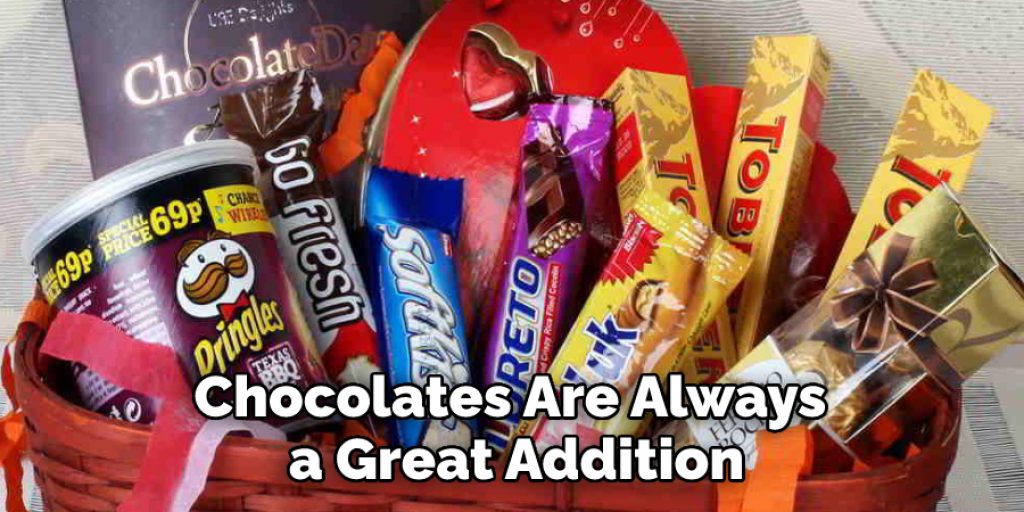 2. Candles
Candles are a great way to add some warmth and light to the gift basket. They come in many shapes, sizes, scents, and colors that can match whatever theme or occasion you have in mind for the basket.
3. Bouquet of Flowers
A bouquet of fresh flowers is an excellent way to brighten up any gift basket. Whether the flowers are for a birthday, holiday, or just to show someone you care, they will bring a smile to anyone's face and surely be appreciated.
4. Stationery
Stationery items like greeting cards and note cards are always nice to have. They can be used for many different occasions, from sending thank-you notes to writing down reminders and ideas.
5. Gift Cards
Gift cards make great additions to any gift basket. Whether it's for a favorite store or restaurant, you can find the perfect one that the receiver will definitely appreciate.
6. Snacks and Treats
Snacks and treats are always a great way to show someone you care. You can choose anything from their favorite candy to baked goods, all of which will be sure to make them smile.
7. Gift Books
Gift books are ideal for any occasion or person. Choose one that best suits the recipient's interests or hobbies, and you can be sure that it will be cherished for years to come.
8. Personalized Items
Personalized items like coffee mugs, keychains, or t-shirts are a great way to show someone how much you care. Not only will they appreciate the thoughtfulness of the gift, but they'll also enjoy the special touch of having something with their name on it. These items can be found in many different stores and make a great addition to any gift basket.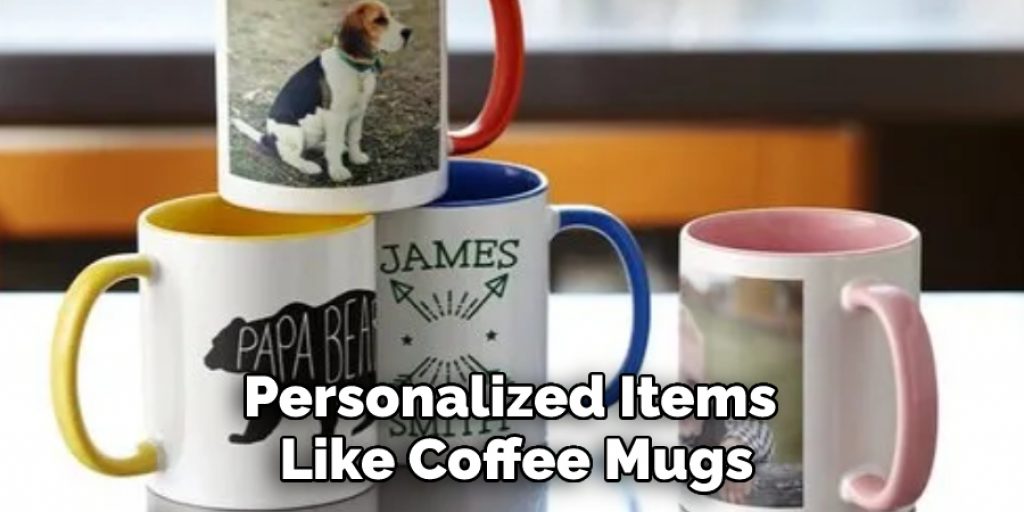 Overall, these eight ideas are all excellent choices for including in your gift basket. With a little bit of creativity, you can customize the gifts to fit any theme or occasion. So if you're wondering how to decorate a gift basket, these are some of the best ideas to get you started!
Conclusion
Creating a gift basket can be an incredibly thoughtful and personal way to demonstrate your appreciation or affection. It can also be a great way to make a meaningful yet affordable statement. With the right materials, you can fully customize each basket with items relevant to the recipient and show that you put time and intention into the present.
Whether it's a fun, colorful surprise or something more sophisticated and elegant, every element is up to you! Always remember that customization is key when it comes to making your gift basket look as distinctive and special as possible. Use these tips on how to decorate a gift basket as a guide for creating something truly unique and chic for someone special in your life!