How to Laminate Paper with Plastic Wrap
Laminated your document is a way to protect them from getting ruined by water, ink, or even fingerprints. It will also allow them to stay straight and not get wrinkled over time. However, the most important thing about the benefits of laminating paper documents is to store them safely for years without worrying about them being ruined.
Usually, people get paper documents laminated with a machine, but not everyone has it at home or can always run to a laminating shop in urgent time. Therefore, people need to develop ideas on how to laminate paper with plastic wrap at home.
You do not need to own a laminating machine to laminate your documents. You can do it at home with some DIY methods that we are about to tell you. As time has passed, people have come up with so many innovating ideas that can save time and work.
So, laminating your documents urgently with the machine is long gone and has been replaced by at-home plastic wrap laminating. But, if you do not have much idea about how to do it, we are here to tell you the ways. So, keep reading ahead if you want to know.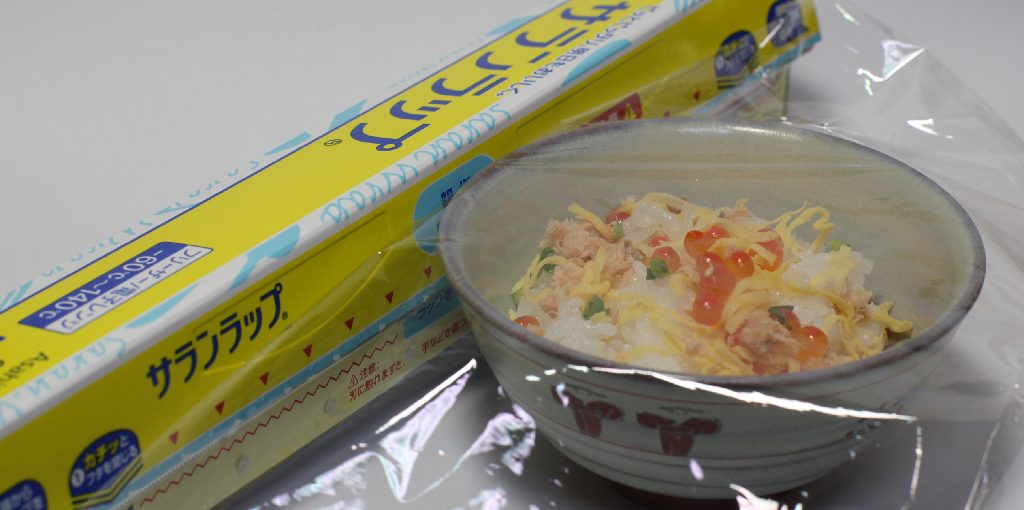 How to Laminate Paper with Plastic Wrap
If you think there is only one specific way to laminate your paper, then you are wrong. There are a few ways and methods that you can follow to laminate your paper at home with some ready-to-available materials completely. Here we are going to mention three common and easy ways to laminate paper using plastic.
Using self-adhesive sheets
Using synthetic paper and iron
Using clear packing tape
Using self-adhesive Sheets to Laminate Paper
The first way that we are mentioning is using self-adhesive sheets to laminate paper. It is one of the most common and easy ways that people call self-adhesive sheets laminating sheets. You can easily find this paper in your nearby stationery shops.
The sheets are transparent and quite sturdy so that they will protect your documents easily. To laminate one paper, you will need at least two sheets as one sheet can cover one side of the paper. We are describing the process step by step below.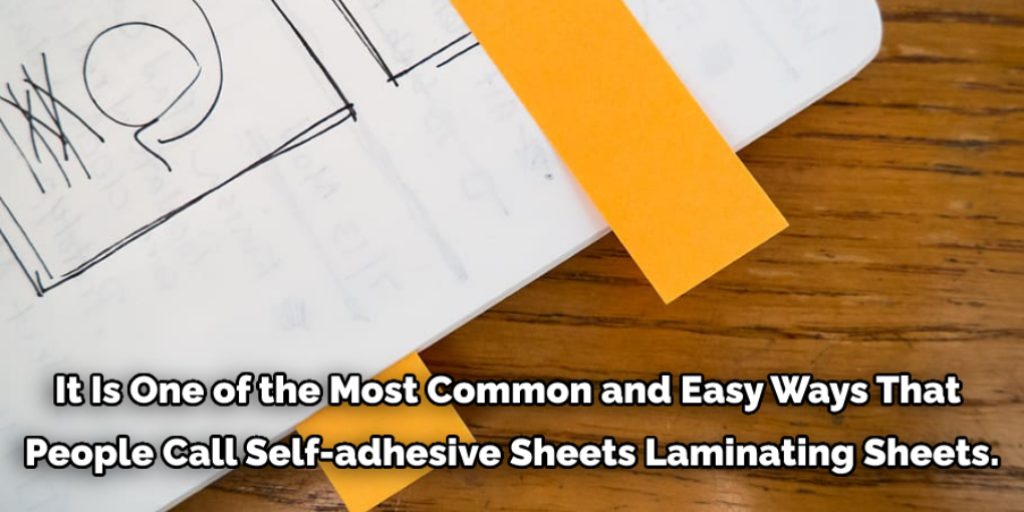 You need to take one self-adhesive sheet and work on one side of your paper. The adhesive sheet will have two parts; one will be sticky and another normal. It would be best if you separated the sheets using your nail.
You have to work quite quickly yet carefully once you have separated the sheets. Then, after placing the paper on a flat surface, you can put the adhesive sheet on top of the laminating paper.
Before you place the sheet, you have to be careful about the alignment. If the sheet is not more significant than the paper, you will not get the chance to resize it if the alignment is wrong. You do not want any part of the sheet to be exposed.
After placing and aligning the sheet, you have to carefully rub the sheet onto the paper so that the glue of the sheet can attach to the paper properly. Try to get rid of any air bubbles that can form between the sheet and the paper.
After one side is done, repeat the same process on the other side, and your paper laminating will be done.
This is one of the most effective ways you can laminate the paper at home. In addition, the materials are easy to find, so you will not have to run around a lot.
Laminating with Synthetic Paper and Iron
Another popular way of laminating paper at home is using synthetic paper and iron. If you do not have any idea about synthetic paper, it is a special kind of paper that might feel like regular paper when you touch it, but it is made out of plastic.
You can easily find them in the stationary shop as they are used for various art projects. The synthetic paper can be used for laminated with the help of the heat from an iron. Below we will tell you the process, so keep reading-
The synthetic paper will come like a pouch, which means you can fit things inside. The pouch is what you are going to use for laminating the paper. So, the first thing you have to do is place the paper inside the pouch.
You need to position the paper properly. When you put the paper inside the pouch, make sure it is in the middle, and there are additional spaces around it.
Now it is time to do the next step, and for that, you will need to lay the paper on a flat surface. You have to make sure that there are no bumps or debris on the surface to harm the process.
The next step is to put a towel on top of the paper on the flat surface.
The next step is the most crucial part of the process, where you have to use iron and heat. You need to heat the iron to medium level and place it on the towel where the synthetic paper and the document are. Then, slowly iron the towel to let the heat melt the adhesive from the paper to be attached to the document. You have to make sure you are heating each part equally.
Remove the towel after some time, and you will see that your paper has been laminated.
If you are happy with this process, then let's see the final method.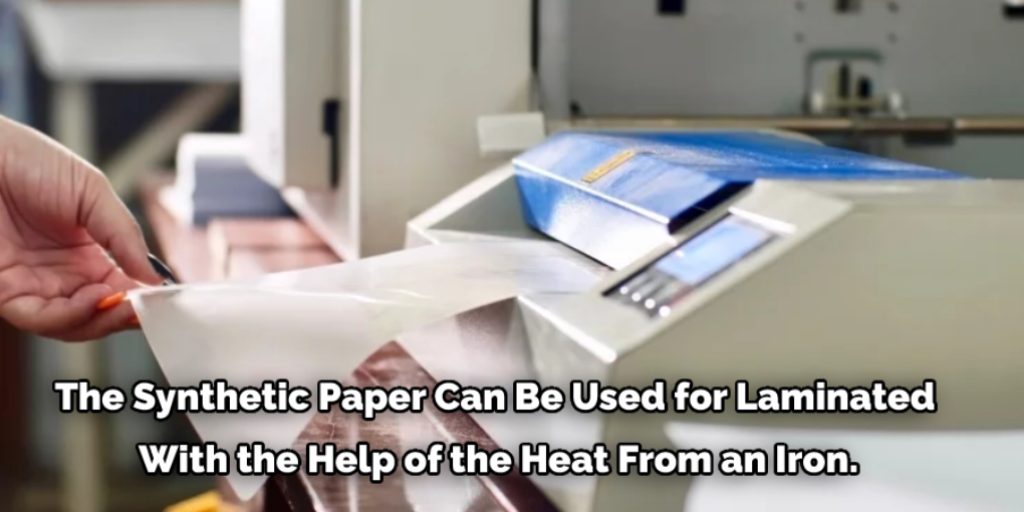 Using Clear Packing Tape for Laminating
The last method is using clear tape for laminating. These clear packing tapes are always available at home, or you can get them from any stores nearby. They are very handy in terms of many things. This process is the easiest of all as it does not require any heat.
But the down mark of this process is that you cannot laminate significant documents with it. If you are looking to laminate name tags, cards, bookmarks, etc., you can use these tapes for this purpose. Let us see how to laminate with the tape.
The clear tape has only one layer of adhesive on one side of the tape. So, it would be best if you kept it in mind before you can get started.
You need to put the document that you want to laminate on a flat surface.
Pull out some of the tapes according to the measurement of your document and place them on top of it. You can do as many layers as you want. You have to make sure that there is some loose length on each side of the tape.
After you have done that one side, you need to repeat the process on the other side as well.
Afterward, smooth out the paper with your hand and get rid of any air bubbles.
Finally, a trip of the access and you are made.
Conclusion
That was all for how to laminate paper with plastic wrap. We hope that all the solutions we have mentioned with help you to laminate your document to keep them safe for the time being. These DIY methods should come in handy when you cannot find a laminating machine in urgent time. So, keep those steps in mind and laminate your paper.
So in this article, you know about how to laminate paper with plastic wrap.