How to Make a Removable Tiled Bath Panel
Removable bath panels are an excellent choice for people who love to keep their homes clean and tidy. They can be easily removed when you want to give your bathroom a thorough clean, and they're available in a range of different styles to find one that's perfect for your home. Here we'll show you how to make a removable tiled bath panel in some simple steps.
Bath panels make an excellent replacement for traditional shower screens as they provide a more luxurious feel while also being easier on the environment. However, some homeowners may not know how to make a removable tiled bath panel; if you're someone who has asked themselves that question, then read on!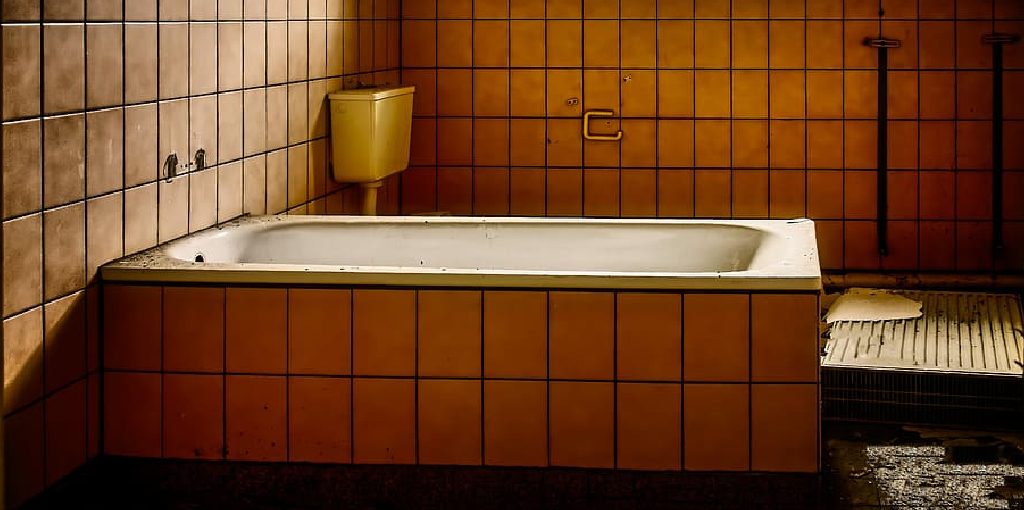 10 Ways on How to Make a Removable Tiled Bath Panel:
1. Create a Mortar Sub-Panel
This panel is easy to make using a waterproof cement board and a wooden frame. Cut a piece of waterproof board to fit the tub's width, and cut it lengthwise so that it overhangs each long edge by 2″ on both sides. Next, screw the panel to a 1×4 frame that's been glued and screwed to the tub.
2. Make Your Tiling Panel
Removable bathroom tiles panels like this one are easy to make using thin plywood (oriented strand board or lauan) and cement backer board. First, cut two pieces of plywood 2″ more significant than the tub on all sides. Glue cement backer board to each plywood part, then screw them to the mitered corners of a 1×4 frame (which will be attached with masonry screws to the inside of the tub).
3. Make Removable Tiles Out of Planks
A planks-and-blocks panel like this is straightforward to make. Assemble the planks-and-blocks frame on a flat surface, form it around the tub, and secure it with deck screws driven through the bottom side of the blocks into the rim joist. Finish off with wood putty or waterproof caulk.
You Can Check It Out to Stop Rats Getting Under Roof Tiles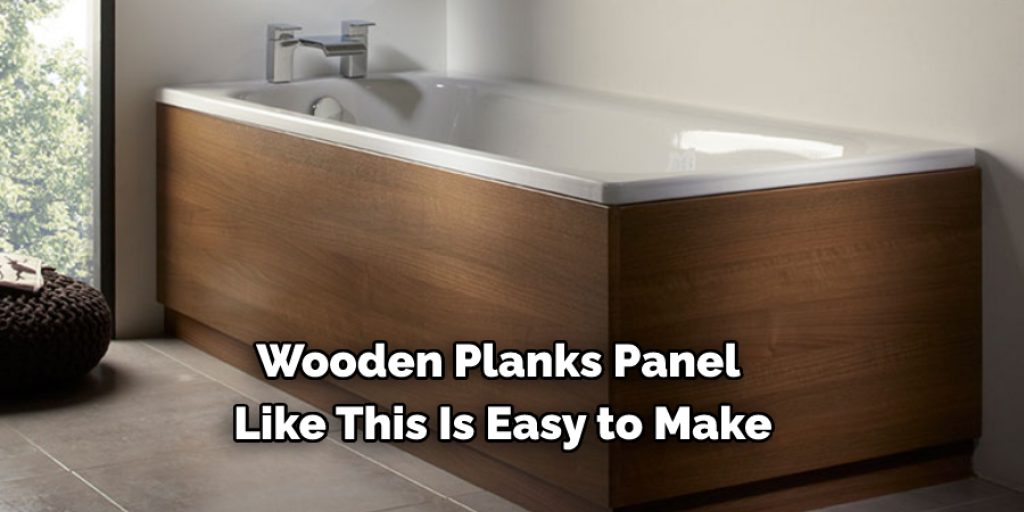 4. Build a Wooden Planks Panel
A removable wooden planks panel like this is easy to make and looks great. Cut a few 2x4s to fit between the tub and wall on each long edge. Then, cut 1x8s and screw them together on their ends to form a box that fits inside your frame. Fill in with thin hardboard or plywood planks.
5. Add a Built-in Seat
A removable panel with a built-in seat is an excellent option for small bathrooms, and it's easy to make. Cut plywood sheets slightly larger than the width of your tub on all sides. Glue them together into one big panel that will fit inside the frame. Nail 2×4 cleats along each edge, then screw 1×4 cleats around the perimeter.
6. Make a Tiled Seat Panel
A tiled seat panel is a nice decorative touch. First, install a 1×4 cleat on each long edge of the back and seat pieces. Then, cut a backer board 3/8″ smaller than the width of your tub on all sides to allow for grout spacing. Glue it to both boards with construction adhesive.
Fit the seat panel together and attach the first and last tiles to the backer board with construction adhesive. Position and attach tile strips around the perimeter, leaving a 3/8″ grout joint.
7. Make a Panel out of Masonite
A removable pencil-edge masonite panel is easy to make on your table saw. 1″ narrower on all sides than your tub first, then round the corners with a router and chamfer bit.
Glue backer board to one panel with construction adhesive, leaving 3/8″ between grout joints, and screw the two panels together along their edges with 1″ pan head screws.
8. Build the Frame
This removable bath panel was made using a simple frame like this one (attached to the rim joist with galvanized nails or lag screws). Screw plywood over the entire frame, then build your sub-panel on it. Make sure you leave enough space at the top for tile.
9. Veneer the Frame
This removable bath panel is made using a simple frame and some thin plywood panels (which can be veneered with 1/8″ hardboard or water-resistant decorative laminate).
Cut the frame as described above, then veneer it with plywood that's been cut 1″ smaller than the tub on all sides. Next, saw a 45° miter at each corner, attached it to the frame with construction adhesive and countersunk screws, and round over the top edges.
10. Add a Wainscoting Panel
A mitered wainscoting panel is easy to make and looks great in small bathrooms. First, cut strips of thin plywood to fit between the tub and wall at each long edge, then cut them so they overhang the front by 1/4″. Glue them into one large panel that fits the frame, then attach it to the cleats with construction adhesive.
You Can Check It Out to Build a Bath Frame
Some Tips and Suggestions: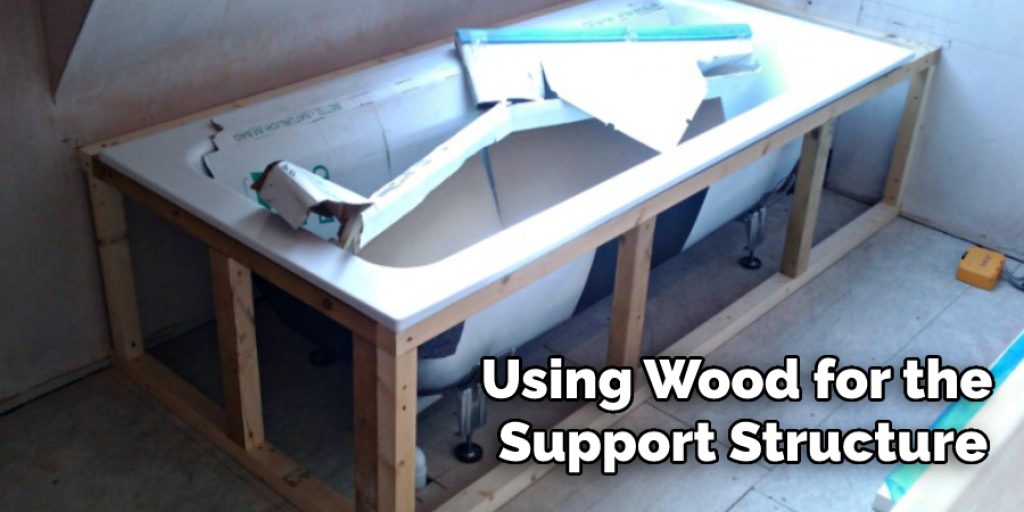 Use bath sealant to create a waterproof coating on the back of the tiles, preventing water from leaking around the edges.
If you are using wood for the support structure, use at least 2×2 boards instead of 1x1s so that there is more support.
Ensure your screws are flush with the wall; this will prevent water leaks around the edge of the tiles.
If you are using mortar for your tiles, use a grout bag so that it is easier to fill in between your tiles.
Use masking tape on each side of each tile, so they stay on the panel when being pulled off and on.
Use drywall screws for your support structure; they will be stronger than wood screws intended to hang pictures.
A good contractor is essential when you need to do a project like this one; make sure they know how to tile before asking them to help you with this type of project!
Conclusion:
A custom-made tiled bath panel is an easy DIY project that requires little more than patience and elbow grease from the do-it-yourselfer. Whether you want something simple or elaborate, this guide gives step-by-step instructions on making a removable tiled bath panel so you can create one of these panels yourself.
If you're looking to upgrade the look of your bathroom, this is a simple and inexpensive DIY project that can be completed in the afternoon. Give it a try! With these easy steps, your new tiled bath panel will be installed and ready to enjoy in no time!