How to Make Dog Toys Out of Fabric
Are you looking for an easy and eco-friendly way to provide entertainment for your pup? Whether they're curious puppies or aging seniors, making them toys with fabric can be fun, and creative, and lets you customize something just for their needs. Not only that, but it is often much cheaper than buying ready-made dog toys from the store! Here, we'll break down how to make dog toys out of fabric so that your furry friend has new playtime adventures.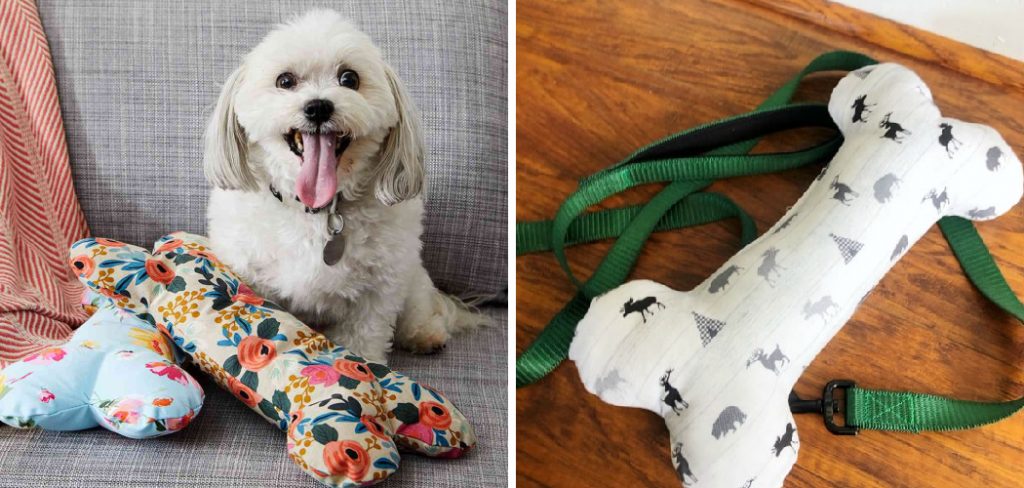 Crafting your pet's favorite toy from pieces of colorful fabric can be a fun activity for both you and your four-legged companion. Not only will it take virtually no effort and minimum materials, but also bring lots of joy to your beloved pooch.
So if you want to learn how to create unique, durable DIY dog toys out of fabric, this blog post is just what you need! Here we provide step-by-step instructions on how to design lovely, long-lasting fabric playthings – so let's get started!
Why is It Important to Make Dog Toys Out of Fabric?
1 . To Keep Your Dog Entertained
If you want to keep your dog entertained on a budget, making your own fabric toys is an easy and cost-effective way to do it! Fabric toys are often more durable than store-bought toys, meaning that they will last for longer and provide your pup with hours of entertainment.
2 . To Stimulate Your Dog's Natural Instincts
Fabric toys can be made with a variety of textures, shapes, and sizes that can help to stimulate your dog's natural instincts. Whether you make a squeaky toy, tug-of-war rope, or stuffed chew toy, these kinds of fabric toys are perfect for getting those canine brains working!
3 . To Keep Your Dog Safe
Making your own fabric toys is a great way to make sure that your pup stays safe while playing. By using non-toxic materials, you can guarantee that your dog won't accidentally ingest any dangerous chemicals or toxins. Plus, it gives you the opportunity to ensure that the fabrics are strong enough to withstand tough playtime.
4 . To Reduce Waste
Making your own dog toys helps to reduce waste in the world since you will be using fabrics that would have otherwise gone unused or been thrown away. This is a great way to help conserve resources and show your pup how much you care for them!
5 . To Bond With Your Dog
Making your own fabric toys is a great way to bond with your pup! It's an activity that you can do together, allowing you to get creative and personalize the toy according to your dog's preferences. Plus, it allows you to show them how much you care by making something special just for them.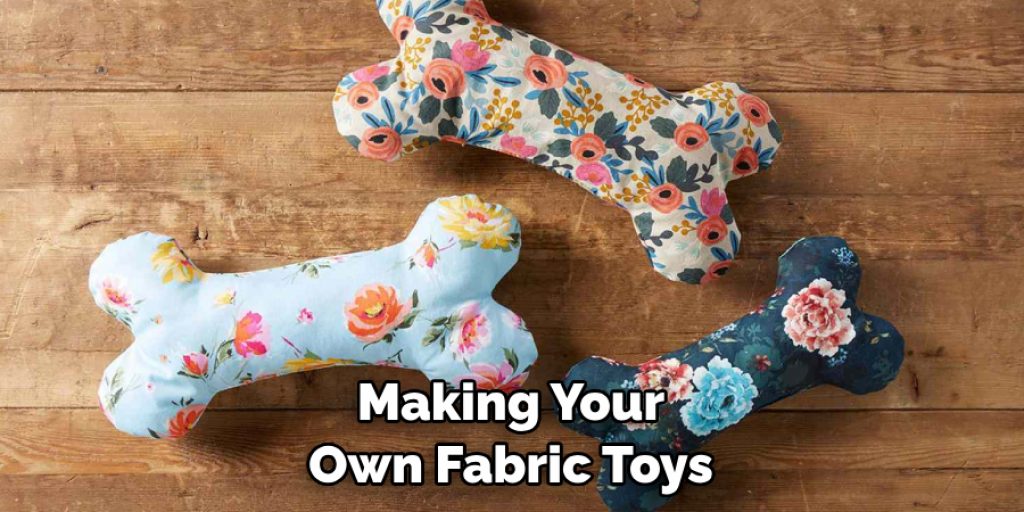 How to Make Dog Toys Out of Fabric in 5 Easy Steps
Step 1: Choose Your Fabric
The first step in making your own dog toy is to choose a fabric that is durable and safe for your pet. Look for materials such as canvas, chambray, or fleece. Consider colors that won't fade over time and can withstand wear and tear from repeated playtime.
Step 2: Cut Out the Fabric
Once you have selected your fabric, you'll need to cut out the pieces for the toy. If you're making a simple rope-style toy, begin by cutting one long strip with pinking shears or regular scissors. Make sure that the fabric is firmly secured and will not easily stretch or tear during playtime.
Step 3: Sew the Pieces Together
Now it's time to sew the pieces of fabric together. Depending on the type of toy you're making, you may need to use a sewing machine or hand-sew the pieces together with strong thread. Make sure each stitch is secured tightly and that all components are firmly attached to one another.
Step 4: Stuff Your Toy
Next, you'll want to stuff your toy with a safe and soft material. Consider using polyester fiberfill or even an old t-shirt that you no longer want. Make sure the stuffing is firmly packed into place in order to provide durability and shape for the toy.
Step 5: Decorate and Enjoy!
Finally, it's time to decorate your toy and get ready for playtime! Consider adding a few knots or ribbons at the ends of the fabric to create texture. You can also add squeakers or bells for extra fun. Once you have finished making your dog toy, your pup is ready to enjoy!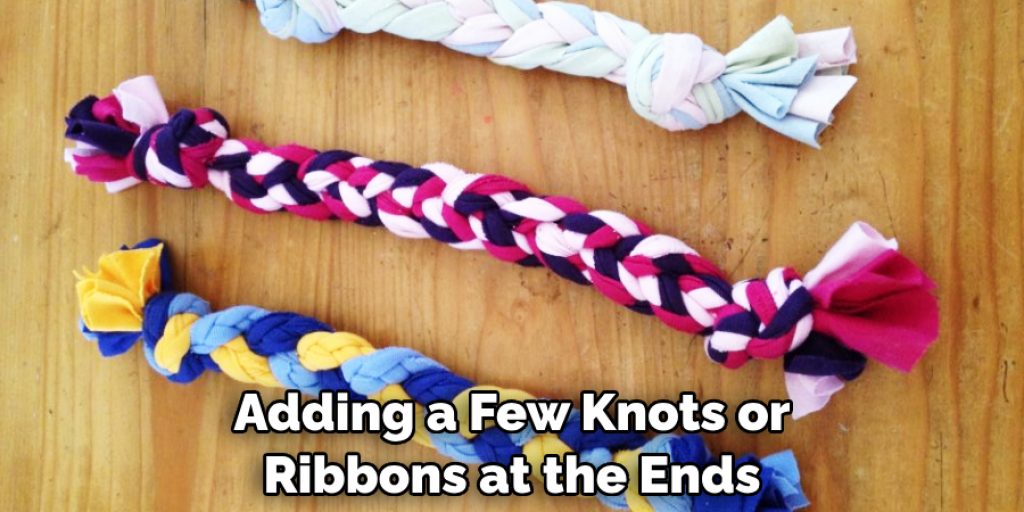 Some Extra Tips to Make Dog Toys Out of Fabric
1 . Do Not Use Dangerous Fabrics
When selecting fabrics for your dog toy, select fabrics that are safe and non-toxic. Avoid using fabrics like wool or synthetic materials that could cause skin irritation. Stick with cotton and other natural fibers that are both comfortable and safe for your pup.
2 . Buy High-Quality Materials
When it comes to making a dog toy out of fabric, you want to invest in high-quality materials. Fabrics that are durable and long-lasting will ensure that your pet has a toy they can play with for years to come. You also want to select fabrics that won't stretch or fray easily, as this could be dangerous for the pup.
3 . Use Non-Toxic Glue
If you're planning to use glue when making your dog toy, be sure to use a non-toxic variety. This will ensure that the glue won't cause any irritation or other problems if your dog happens to chew on it.
4 . Personalize Your Dog Toy with Color and Design
Making a personalized toy for your pup is a great way to show how much you care! Choose colors and patterns that reflect their personality, and make sure the design is simple enough that they can still play with the toy. You can also add special details like ribbons or bells to really make it unique.
Frequently Asked Questions
What Precautions Should I Take When Making Dog Toys Out of Fabric?
When making homemade dog toys out of fabric, there are several important safety precautions that should be observed. First, always make sure to inspect any fabrics closely before using them to create a toy. Look for any signs of wear or fraying edges which could lead to pieces of the toy breaking off and being swallowed by your dog.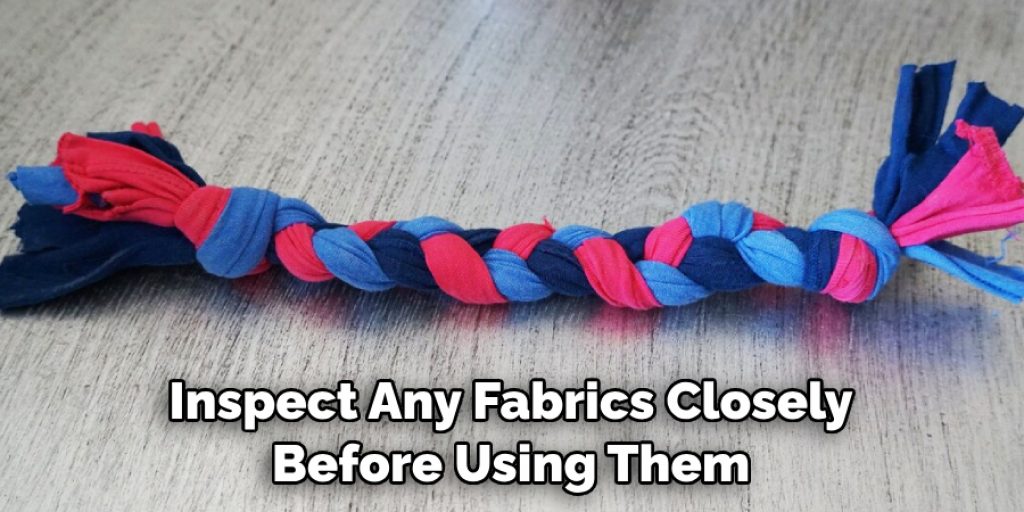 Additionally, all pieces of the toy should be securely sewn together, and any small parts should be avoided to prevent them from being swallowed. Finally, always supervise playtime with these homemade toys to ensure your pup stays safe!
What Are Some Popular Dog Toy Fabric Patterns?
When making a dog toy out of fabric, there are plenty of patterns to choose from! Some popular fabric patterns for homemade dog toys include gingham, checkerboard, polka dots, stripes, florals, and plaid. These vibrant colors and designs are sure to bring joy to your pup's playtime!
What Are Some Tips For Making Dog Toys Out of Fabric?
When making a toy out of fabric, it's helpful to use a tightly woven material that is durable and won't easily tear. Additionally, always be sure to double-stitch all seams for added strength. If you plan on stuffing your toy with filling, such as cotton batting or fiberfill, it's important to securely seal the opening so the filling doesn't spill out. Finally, avoid using any buttons or small pieces that can be swallowed by your pup.
What Are Some Ideas For Homemade Dog Toy Shapes?
When making a dog toy out of fabric, the possibilities are endless! Popular shapes for homemade dog toys include balls, cubes, rings, and chew sticks. You can also create unique shapes, such as a carrot or bone, to add some extra fun to your pup's playtime.
No matter what shape you decide on, make sure it's large enough so your dog can safely enjoy their new toy! With these tips in mind, you and your pup are well on your way to creating a fun and safe homemade fabric dog toy. Enjoy making memories with your pup that will last a lifetime!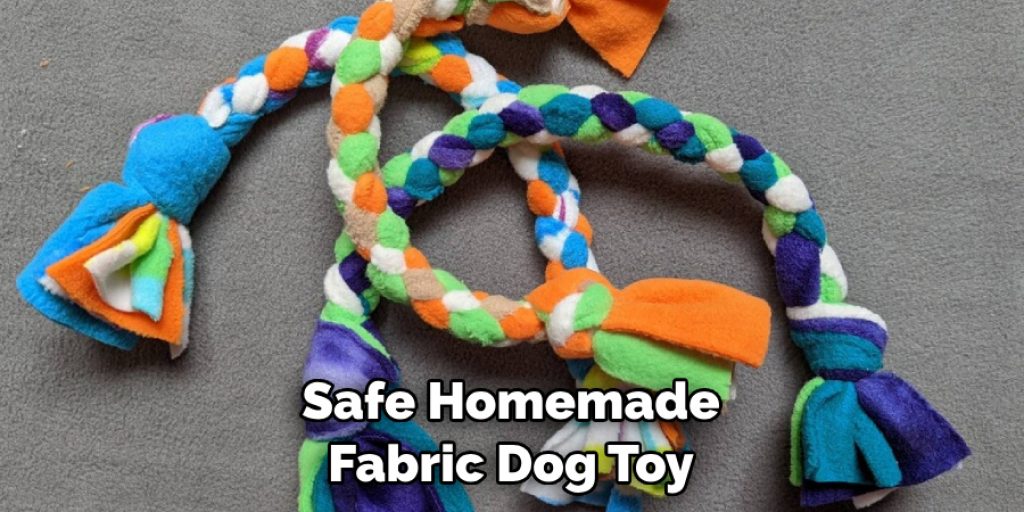 Conclusion
Now you know how to make dog toys out of fabric! Crafting homemade dog toys out of fabric is not only an easy and fun task that yields rewarding results but is also a great way to keep your pup entertained and active. Making simple fabric-based dog toys can add loads of joy and stimulation to warming canine hearts across the country and the world.
Through experimenting with different fabrics, shapes, colors, and styles, you'll be able to create custom designs that are tailored to your pup's personal tastes for hours upon hours of playtime bliss. So grab some scissors, pull out your needle and thread, and choose a beloved fabric pattern or that old t-shirt from your childhood closet – it's time to create something special for your pup today!