The beauty products out there aren't reliable anymore. There is always a competitive situation among the best brands, and for reaching the top in the easiest way, most of the brands are losing their quality. And that's why these beauty products are becoming harmful for most of us. The body butter is one of those necessary items that has lost its quality. Honestly, body butter has several benefits on skin, more than you have seen visually. So, risking these benefits on some those unpleasant products isn't really ideal? Well, instead of feeling overwhelmed on what to choose and what-not, you simply make your own body butter. So, stop looking for more and ask me how to make homemade body butter?
 Body butter always offers a luxurious feel in your skin. It softens the skin, forms a protective layer, and moisturizes the skin. In fact, it's way more helpful for reducing wrinkles, improving skin rashes, sunburn, eczema, and much more. Well, because of having this much benefit, body butter is one of the highly demanding products in the present market.
But some dishonest suppliers took advantage of its popularity. Although it's easy to make, it requires some natural ingredients. It would be better if they did the same, but instead of using natural products, they increased the use of chemicals and harmful ingredients inside of these products.
 One day when I was using this item, as usual, I saw that it caused rashes on my skin. So, I searched deep about to find out the reality. After knowing these, I took a step forward and tried to make the buttercream by myself. Honestly, it is nothing, not even a bit hard as it seems. You may have also faced the same problem. That's why I am here to share my experience and show you the simplest way to make your own homemade body butter.
What Is Body Butter?
In order to make your own body butter, you have to first know what it actually is, what ingredients are used to make it? You might be familiar with it, but it can be a newer item for those who are just doing a little research before using this item. That's why I am going to start step by step. If you really know all these things, you can skip to the next section, but if you are one of those as I am thinking, let's sort things out!
The body butter is actually a thicker form of lotion. It is generally used for nourishing, hydrating, and soften the skin. If you have dry and cracked skin, then nothing will be as ideal as the body butter. It contains different types of antioxidants that work for the well-being of the skin.
The best thing is that all these ingredients come from natural sources for which it is completely safe on the skin. If I just say about its beneficial components, I can fill the next ten pages easily. So, I am not going to extend this section on that. However, when you are about to prepare a homemade body butter, you need to ensure these sources near you, right?
The good thing is that you may already have them in your kitchen and if not you can get them easily from your nearest shop. So, let's what these ingredients are?
What Are You Going to Need? How to Make Homemade Body Butter with the Household Ingredients?
 As I am here to show you the simplest way, you are gonna only three ingredients. But it's not the actual way; you can customize it based on your requirements and increase its efficiency with some added ingredients. But remember, I just stated that there might be some new audience learning about the process. So, I am going to end up the entire process quickly by using three ingredients only. These are
Shea Butter
Shea butter is a rich source of fatty acid, and fatty acid is essential for our skin. It melts easily with our body temperature and acts as a lotion for maintaining the moisturizing part. That's why it will be a great item to add with the body butter. Yes, it has a high-fat content, but it is also comedogenic; thereby, it will be a great item for treating oily skin and acne.
On the contrary, if you are a bit concern about your stretch marks, scars, and different types of imperfections more than oily skin, then you can use something special. In this regard, you can use cocoa butter instead of shea butter. It is because cocoa butter is a rich source of vitamins and acids, which will make those skin issues disappear within a short time.
I am leaving this part for you; you can use any of these ingredients. It is up to you now. Okay, if you have ensured your desired one, let's move to the next ingredient.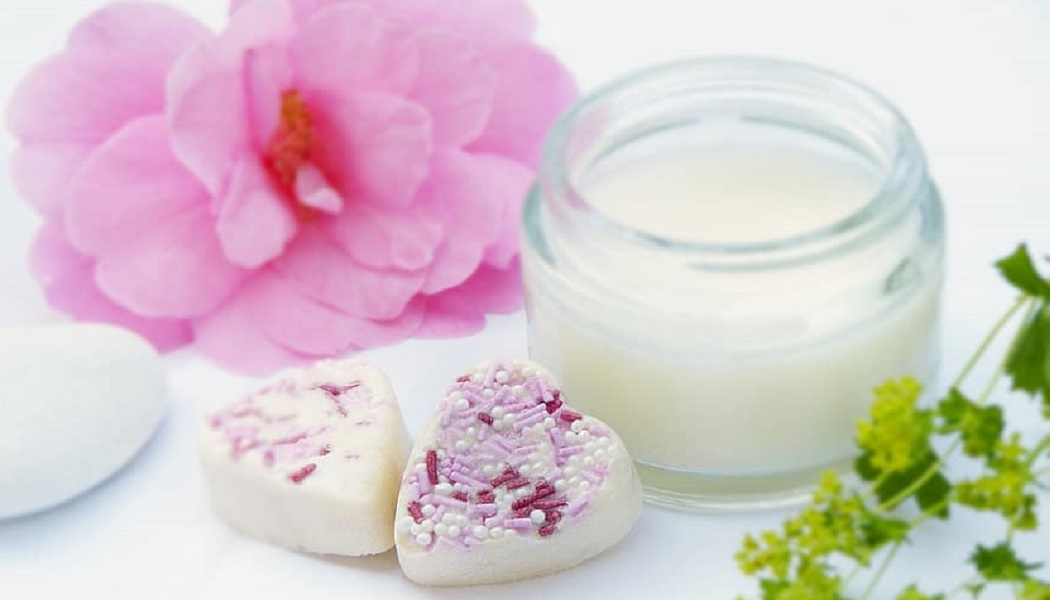 Coconut Oil
 It is a user-friendly ingredient and found almost every house. So, you won't have to struggle while finding this item, especially in this pandemic. Whatever coconut oil handles the moisturizing part of our skin. You may have used this item for moisturizing your hair, but believe me, when you will use it on your skin with body butter, you will surely get more benefit. Coconut oil also has antibacterial properties that are going to protect your skin. And it has a wonderful smell too. Now, let's see what we have got next on our list.
Almond Oil
 Wondering what role almond oil is going to play in this process and how to make homemade body butter with almond? Well, almond oil also provides the required amount of moisturizer for the well-being of skin and hair. But unlike others, it has a light and non-greasy texture. Its nutty smell is loved by all, and it absorbs properly in almost every skin. Well, that's the reason for using almond oil.
If you wish, you can use other oils too. In this case, jojoba oil or olive oil will be a great replacement for almond oil. So, if you fail to acquire almond oil, you can make the job done with these items.
Essential Oils (Optional)

Now, you might be saying, this much oil? Seriously? Look, these are for proper nourishment of your skin. In fact, it is going to create a nice scent in your body butter. In this case, lavender oil is a great addition, and people love its scent more than others. So, if you have lavender essential oil, you feel free to use it. Anyway, this item is completely optional; it's only for additional fragrance and nourishment. If you don't prefer to use this item, you won't have to. Now, it is time for the main point.
How to Make Homemade Body Butter?
Have you bought all of the ingredients? Hurry up! We're going to dive deep now! Once, you have gathered the above ingredients, take them at the following measurements:
1 cup shea butter
½ cup of coconut oil
½ cup almond oil
30 drops of essential oils
Now, follow these steps.
Step 1 -First of all, melt the shea butter and the coconut butter together. For this, you can use a double boiler's top part or over a use a suspended bowl over a pan of simmering water. If you have melted them down together, remove it from the heat and wait for around 30 minutes to make it cool.
Step 2 – While it is cooling down, you can utilize the time by stir in the almond oil. If you are using an essential oil, then mix it with almond oil. Continue the process until it begins to solidify.
Step 3 – Next, you need to use a hand mixer. Whip the mixture with your device for few minutes. Within this time, it will reach a butter-like consistency. If not, then continue whipping until it turns into that.
Step 4 – The final outcome will be your desired homemade body butter. Now, transfer the body butter into a clean glass jar that has a lid. If the temperature of your houses rises up to 75 degrees, then you may need to store the body butter in a fridge.
 In order to keep it whipped, you have to store it at a lower temperature. Your homemade body butter is now ready. You can keep it for yourself, or you can give it to your best pals. It is up to you.
How to Use the Homemade Body Butter You Have Made?
 There is nothing special. It is as simple as other creams you have used. Just rub the body butter over your hand and other places of your skin. Allow its essential to mix properly with your skin. Within a few moments, it will obviously meltdown and soak into your skin.
My favorite time for putting this cream is after the shower. When you get out of your shower, it will soak in while you will get dressed and dry your hair with a hairdryer. You can also put it at night time. Apply it whenever you get the time and feel to moisturize your skin.
Some Other Ingredients That Can Be Used in This Process (How to Make Homemade Body Butter With Other Ingredients)
This one was the simplest process of making body buttercream. But if you can master this simple process, you can mix up your own ingredients too. Let's what more can be mixed with the homemade body butter.
Magnesium
Magnesium has greater benefits on the skin. So, you feel free to use it with this therapeutic process of body butter.
Vanilla Mint Chocolate
This item is suitable for use in the body butter when you wish to have a couple of home massage.
Mint Chocolate
Mint chocolate is a favorite item for many users. Some of my friends like its fragrance and smell. You may also like it. So, mixing it up with the body butter won't be a bad idea.
Three Kings Christmas Body Butter
You can use some additional touch up for your holiday gift. If you really wish to that, you can use the above recipe, and after completing the entire process, just add ten drops of both frankincense and myrrh essential oil. And then one tablespoon of gold mica powder. That's all; it will increase the efficiency of your body butter so that you can enjoy its beneficial components to the fullest.
Orange Blossom Body Butter
Well, it also works as an additional fragrance like the previous mint and herbs. So, if you like the flavor of orange blossom, you can use it in the recipe of your homemade body butter.
Frequently Asked Questions About the Homemade Body Butter
Will It Be Greasy Like Most Other Creams?
You can't compare body butter with other lotions and creams. The emollient and texture of body butter are heavier than ordinary lotions. So, it will feel a bit greasy for the first time. But soon, you will notice that your skin will penetrate the essential oils, and there won't be anything that can make you feel greasy.
How Long is It Going to Last?
With the above ingredients and the guided amount, the homemade body butter will last for around 6-8 months. Interesting right? You will get good value for your investment. It is recommended to use a spoon instead of dipping your finger into it. It will increase the life of the body butter.
Conclusion
I have tried to cover the interesting facts about the body butter and showed the easiest way of preparing it in your home. Hopefully, you won't have to ask anyone again, "how to make homemade body butter?" from now on.