How to Pack Boxes for Shipping Overseas
Whenever you are gonna need to move from one place to another, you will definitely need to pack your belongings so that they won't get harmed. But is it really as simple as heard? Of course, not. Packing can be tricky. And as it is going to contain your precious items, improper packaging damage or break them completely. The case can be more dangerous when you are sending them overseas. That's why it is crucial for you to learn how to pack boxes for shipping overseas. With this in mind, I have prepared this guide to show you how to pack boxes for shipping overseas. So, if you are really willing to learn the exact yet simplest tactic, I will suggest you leave all your works for a couple of minutes and concentrate on the article till the end.
By the way, some of us also work on house shifting or packaging companies. If you are also one of them, your job will require you to pack tons of household items. Do you really know how to pack boxes for shipping overseas? The homeowners rely on shifting companies to get wonderful home shifting services. They rely on the packaging services to the fullest. But what will happen if their precious utensils break down due to your improper packaging? They are surely going to lambast you and the entire company. That's how you can lose your job too. Do you really want to risk your job for this? Obviously not, so come and let's show you the exact ways of accomplishing the job with a breeze.
How to Choose the Correct Packing Material
Well, this one is the most crucial item. The packing material is the thing that's going to hold your utensils and keep them protected. In this case, if you select something cheap and improper, the items can get damaged with a blink.
When you are going to pack the fragile item, you need to wrap them in double corrugated boxing. After that, you have to double wrap the item with bubble wrap and any other items that can absorb the bumps throughout the movement. They will definitely need some special care, and that's how you can provide them with the essential protection. So, keep these things in mind when you are moving those breakable items.
How to Pack Boxes for Shipping Overseas
Before you start packing your clothes, you have to first determine the place you are moving to. In this case, if you are moving to a place where it remains a tropical climate all year-round, then it will be better if you say goodbye to your winter clothes. It is because they will be unusable in those warm places. So, donate them, sell them, or do whatever you prefer to get rid of them.
Okay, now wash the dirty clothes (if any) so that they don't catch any musty smell. Remember, if you pack dirty clothes for shipping, they are going to smell a lot. However, make sure to group all the cloths into several categories so that you can find them easily. Once you have prepared every item and ready to shift them, you have to now ensure the right type of box. So, let's have a look at what type of box can be used for this purpose.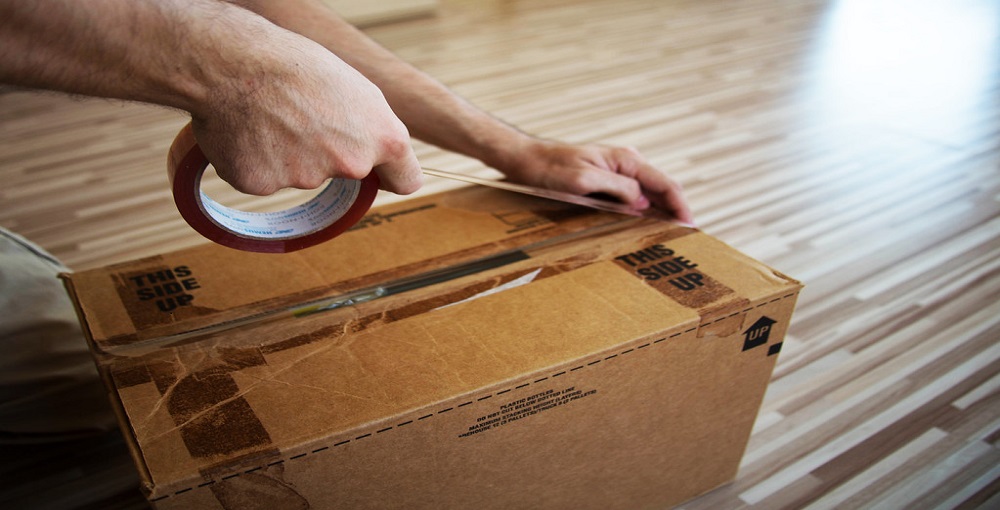 1. Using a Garment Box
Well, you are really gonna need a sturdy box when you are shifting your household items and clothes. And for that, nothing is as ideal a garment box. It will enable you with an easier way to pack your clothes, and you won't even have to fold them while doing that. In fact, a garment box will allow you to hang your clothes in it. It also has plenty of rooms for storing folded items, shoes, and clothing.
But that doesn't mean that you can overload the garment box with numerous items. If you do that, it will become heavier than other boxes, and you won't be able to carry them to your respective places. You would never like to pay additional charges for carrying these boxes.
2. Using Garbage Bags
Plastic bags won't do any goods to your clothes, but if you can use a high-quality garbage bag, they will create a protective barrier around your clothes. The good thing is that they are a cost-effective item and can be wrapped with clothes easily.
The only downside of the garbage bags is that they can easily rip off while using. They are also a bit more slippery than other items, for which they are a bit harder to stack on other items. But if you are looking for a cost-effective item, no other items are as good as the garbage bags.
3. Some Household Items
If you have got additional suitcases, you won't have to spend money on buying the additional boxes or the plastic bags. They are easy to identify and sturdy enough to keep your clothing safe. They are capable of giving your clothes more protection than boxes or plastic bags. In fact, you can also overstuff them if needed. The best part is you won't have to pay any additional charges for overstuffing them; your shipping charges will always remain at a flat rate when you are using your suitcases.
Conclusion
Well, these are the items that can be used for shipping. Once you get them, wrap them up with the bubble sheet, put them inside of the box, and then seal them off by using the tapes. It is really easy. Hopefully, the above guide will help you a lot to choose the correct packing material and accomplish the job in an easier way. If you are still confused, feel free to use the comment section.
You may read also –
1. How to Ship Candles without Melting
2. How to Make Cardboard Hard Like Wood