Are you looking for a way to spruce up the look of your living room? Painting your tv stand is an easy and inexpensive way to transform the look of your home. Not only can it bring new life into an old piece of furniture, but painting can also help tie together the decor in a room with bold colors.
Whether you're looking to make a statement or just give yourself something creative and fun to do on a weekend, painting your tv stand is certainly worth considering. In this blog post, we'll walk through all of the tools and supplies you need as well as some tips and tricks on how to paint tv stand like a pro!
Supplies You Will Need to Paint TV Stand
Painter's Tape
Sandpaper
Primer
Paintbrush
Interior paint of your choice
Polyurethane (optional)
Dropcloth or plastic sheeting to protect the floor
Step-by-Step Guidelines on How to Paint TV Stand
Step 1: Start by Prepping the Surface
You'll want to use sandpaper to remove any dirt, dust, or buildup on the tv stand that could interfere with painting. If there's any peeling paint, you should scrape it off and sand the entire surface to make sure everything is even. This step will also help to ensure that the primer and paint adhere properly.
Step 2: Apply Painter's Tape
Using painter's tape, cover any parts of the tv stand you don't want painted like handles, knobs, and hinges. You can also use it to create a crisp line if you plan on painting strips or designs. While Applying the tape, make sure there are no gaps or bubbles so that paint doesn't seep through.
Step 3: Prime the TV Stand Surface
Before you start painting your tv stand, it's important to apply a coat of primer first. This will help the paint adhere better and give you a more even finish. Make sure to read the instructions carefully and apply the primer in even strokes using a paintbrush or roller.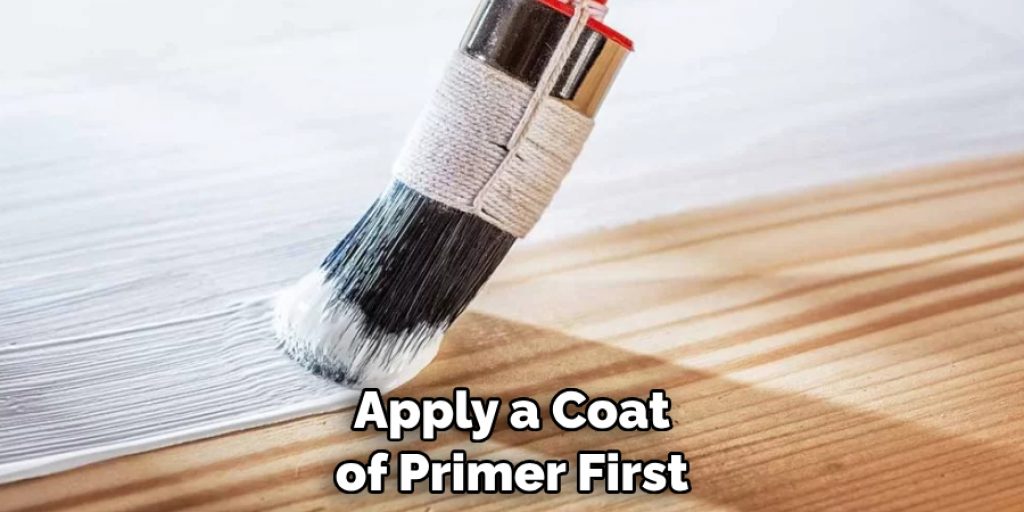 Step 4: Paint Your Tv Stand
Now it's time for the fun part! You can choose any type of interior paint you want, from gloss to matte finish. Start by painting one side at a time with even brush strokes. Make sure to wait for the paint to dry before flipping it over and painting the other side. This will help prevent any smudges or streaks.
Step 5: Add a Polyurethane Finish (optional)
Applying a polyurethane finish is optional but it will help to protect the tv stand from dirt and scratches. You can use a spray or aerosol polyurethane or you can brush it on with a foam paintbrush. Remember to follow the instructions carefully and wait for the finish to dry before moving your furniture back into place.
Step 6: Enjoy Your New Look!
Congrats, you've successfully painted your tv stand! Put it back in its original spot and admire your handiwork. The transformation will be sure to give your living room a refreshed and stylish look.
Painting your tv stand is an easy and affordable way to spruce up the look of your home. With some basic supplies, you can transform an old piece of furniture with a few simple steps. Jump into this project head first and enjoy your new look!
Additional Tips and Tricks to Paint TV Stand
Prepare the surface of your TV stand before you start painting. This means cleaning it thoroughly and sanding any rough areas to make sure that the paint will stick better.
Choose a primer for your TV stand to help the paint adhere better and last longer. Make sure to read the instructions on the can of primer and apply it according to the manufacturer's directions for best results.
Select a latex or acrylic paint for your project. Latex is generally cheaper but less durable than acrylics, so decide which one you prefer.
Using a brush or roller, apply the paint in thin even coats with light strokes. Make sure to cover all surfaces evenly and allow them to dry between each coat for best results.
To make your TV stand look extra special you can add stencils, decals, or other decorative elements onto the surface of the paint.
Once your TV stand is completely dry, apply a clear sealer or varnish to help protect and preserve the finish. Make sure to read and follow all instructions on the can for best results.
To keep your painted TV Stand looking its best, be sure to clean it regularly with a damp cloth or other non-abrasive cleaning solution.
If you plan to move the TV stand after it has been painted, be sure to secure it with moving straps and dollies for safe transportation.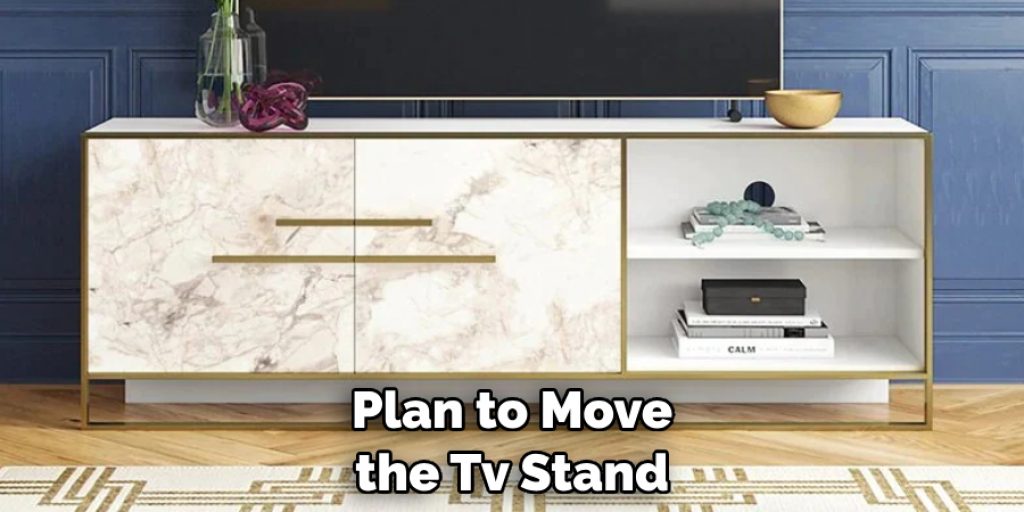 With these tips in hand, your newly painted TV stand will become a beautiful addition to your home! With just a few simple steps and supplies, you can give an ordinary piece of furniture an amazing makeover. So don't be afraid to get creative and turn your TV stand into something truly special! Good luck!
Precautions Need to Follow for Painting TV Stand
Before getting started with the painting process, there are a few important precautions that you must take into consideration.
Ensure that the surface of your Tv Stand is clean and dust-free. Wipe down any dirt or debris before beginning to paint.
If your TV stand has been previously painted, make sure to sand off any rough edges and remove any old paint residue before starting the painting process.
Wear protective gear such as face masks, eye protection, gloves, and clothes that you don't mind getting stained/painted on while painting your TV stand.
Use a drop cloth to protect the floor surface from paint drips or spills.
Make sure to keep the area well-ventilated during painting by opening windows and using fans.
Keep any pets, children, and/or other family members away from the painting area to ensure their safety.
Following these precautions will help you create a safe and successful painting experience. Now, let's move on to the actual painting process!
Frequently Asked Questions
What Type of Paint Do I Need to Use?
For best results when painting your TV stand, you should use high-quality latex or acrylic-based paint. These types of paints provide a durable and long-lasting finish that resists scratches and chips better than other types of paints. Additionally, avoid oil-based paints as these can cause the paint to yellow over time.
Do I Need to Sand the Surface Before Painting?
Yes, it is recommended that you sand the surface of your TV stand before applying any paint. The goal is to create an even and smooth finish for your paint job so make sure that all surfaces are properly sanded prior to painting. Additionally, you may need to apply a primer to help the paint adhere better.
How Long Will the Paint Last?
The longevity of your painted TV stand depends on several factors, such as the type of paint used and how often the surface is exposed to everyday use. Generally speaking, if you apply quality paint and maintain the stand properly by lightly wiping it down with a damp cloth every so often, your paint job should last for years to come.
What Tips Should I Follow for a Professional Finish?
When painting your TV stand, make sure to use quality supplies and tools. Invest in good paintbrushes and at least two coats of paint so that it will look just as good years from now. Additionally, be sure to wait the recommended drying time between each coat and avoid rushing the process.
Finally, don't forget to apply a sealant over the paint when you are done for an extra layer of protection. With these tips in mind, you should achieve a professional-looking finish with your TV stand!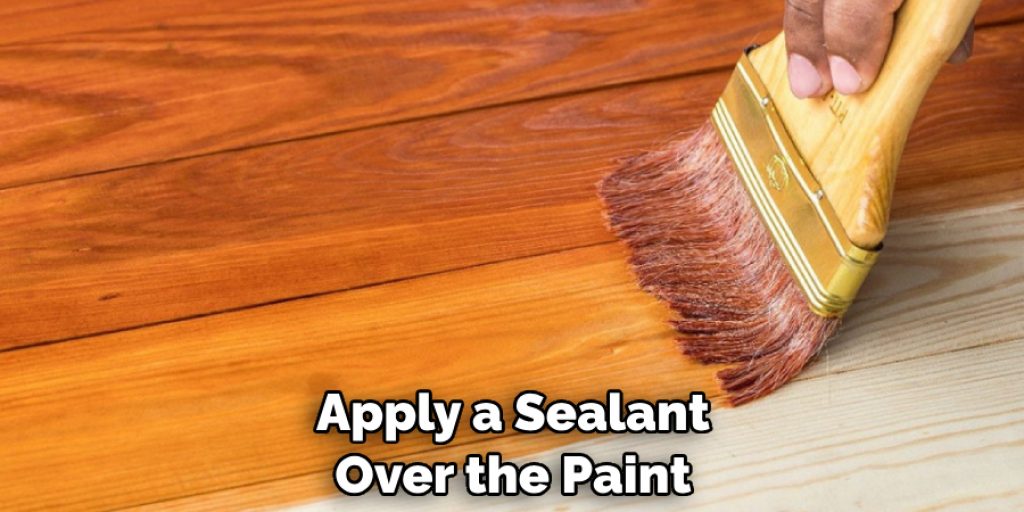 Conclusion
With so many options for how to paint an old tv stand, you have no excuse not to get started. If DIY is not your style, you can always hire a professional painter who specializes in painting furniture to do the job for you. It is important to remember that whatever method of painting you choose, the right prep work will go a long way to giving your old tv stand a really professional look.
Once you've determined which painting option best suits your needs and skill level, take some time to check out our step-by-step instructions for how to paint tv stand in order to be successful in your project. By following these steps closely, you can transform an outdated piece of furniture into something fresh and new. Not only will it look great in your home, but it also adds functionality and value all while saving money!