How to Remove Sealer From Granite
Granite is one of the widely used materials that can ensure a stylish appearance. Maybe you have brought some beautiful granites and installed them on your countertops. That's great; you will get a modern look that can change the overall design of your home.
After your home remodelers finish their tasks, you notice some annoying sealers on the granite. Well, that's where the complication starts. What are you going to do now? Are you going to call the experts and spend another 100 bucks to remove the messes? Or are you going to learn how to remove sealer from granite and do this all on your own?
Look, bringing the experts for this simple task isn't going to be worth the investment. It may seem to be a complicated task but believe me, with a little, you can accomplish the entire cleaning stuff on your own.
If you follow these tips, you won't have to spend extra money on damages that may occur during the working process. Isn't that great? All you have to do is read this article until the end.
What Are the Methods of Removing the Sealers?
There are several ways to remove sealers. Among them, the easiest ways are dependent on:There are several ways to remove sealers. Among them, the easiest ways are dependent on:
1. Chemical Based 2. Mechanical Based There is a problem with the mechanical based process. It requires a lot of sanding or grinding, and that's why if you fail to accomplish this appropriately, you may end up damaging the surface. So, you have to be careful while following this method. Your granite countertops are exposed to several types of damages, and it can get damaged while scrubbing too. Even this method also creates a lot of noise, which is also a matter of concern.
So, if you are not an expert, I will recommend you to follow the chemical-based technique. I am going to show you how to use chemical strippers for removing the sealers from the granite countertops. But before that, let's have a look at different types of chemical strippers.
Types of Chemical Strippers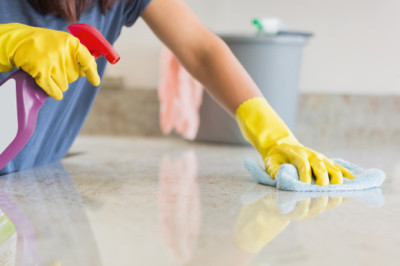 There are a variety of chemical strippers on the market that can be sorted into three categories. These are:
1. Solvent-based 2. Biochemical 3. Caustic
Each of them has different effects, and each of them has a different process of applying. So, I will suggest you read the instructions properly before buying any of these products. Since they contain harsh chemicals, it can be dangerous for you or the young members of your family. So, it is crucial to take proper measurements while applying these chemical-based products on your granite surface. Even if you have bought an environmentally friendly stripper, you should handle it carefully.
How to Remove Sealer From Granite With Solvent-based Strippers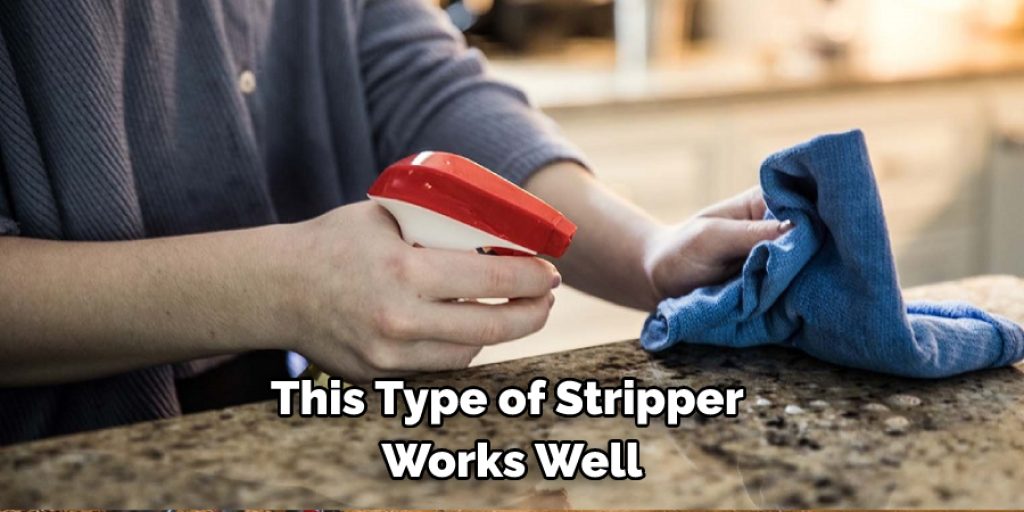 Most homeowners use solvent-type strippers because they work faster than other products. You can finish the job with only a small amount of stripper, so if you're willing to use one of these solvents, I recommend choosing a methylene-chloride-based stripper. It's a universal product that works well on any type of countertop.
This type of stripper is best used in wet conditions. You must be careful not to let the solvent evaporate. It is also best to scrub the surface with soap and water before applying the Methylene-chloride based stripper. After removing the sealers, rinse the area with clean water to restore the granite surface.
The stripping process will be slowed down if the solvent is used under cool conditions instead of warm conditions.
How to Remove Sealer From Granite With Biochemical Strippers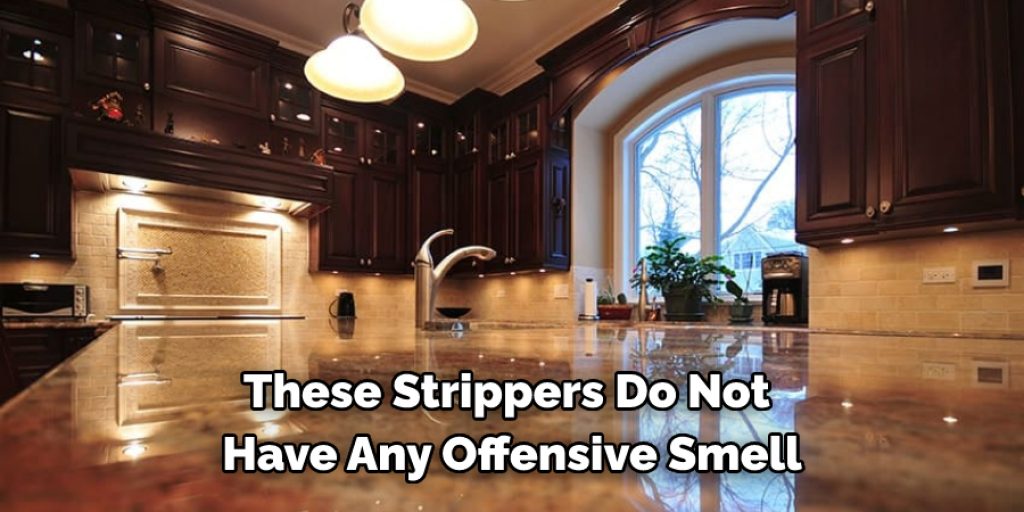 This type of stripper is the latest in the sealer remover market. But it has gained much popularity from many professionals. It is because they are produced in a natural way with different types of plant materials. That's why these strippers don't cause any harm to the environment.
This type of stripper is free of harsh chemicals, additives, and solvents, so you won't have to worry about health concerns. You can use these products without hesitation. The acids that are obtained from plants are the main ingredients of biochemical strippers. However, the professional suggests using biochemical strippers only in environmentally sensitive areas.
Another good thing about these strippers is that they do not have any offensive smell. In fact, it is also less aggressive compared to the chemical-based stripper. But they remain on the countertops for an additional period of time until the sealer is finally removed. Keep this in mind that the thickness of the coat plays a significant effect on the effectiveness of this stripper.
How to Remove Sealer From Granite With Caustic Strippers
This stripper is made of chemicals that help to remove sealers from surfaces. They are easy to use and easy to remove, making them a good choice for anyone looking to remove sealers from their countertops.
How to Identify an Appropriate Chemical Striper?
When you are about to use any chemical striper, you have to consider several things. Otherwise, you may end up damaging the surface instead of removing the sealer from the surface. The first and foremost thing you have to ensure is to figure out the type of sealer before selecting any chemical stripper.
As I have mentioned above, each of the strippers is made for accomplishing different purposes; if you can ensure a perfect match, you will be able to remove the sealers from the surface without any complications. In fact, a high-performance sealer works faster than the ordinary solvent-based strippers. But the most important thing that you need to remember is that you should use strippers according to the type of surface.
So, if you want to accomplish the job quickly, you can bring one of those. On the other hand, if you have to remove a thick layer of sealer, then nothing will be as ideal as the biochemical sealer. This means the types of stripper usually depends on the sealer and its thickness. So, you have to select a proper based on your requirement.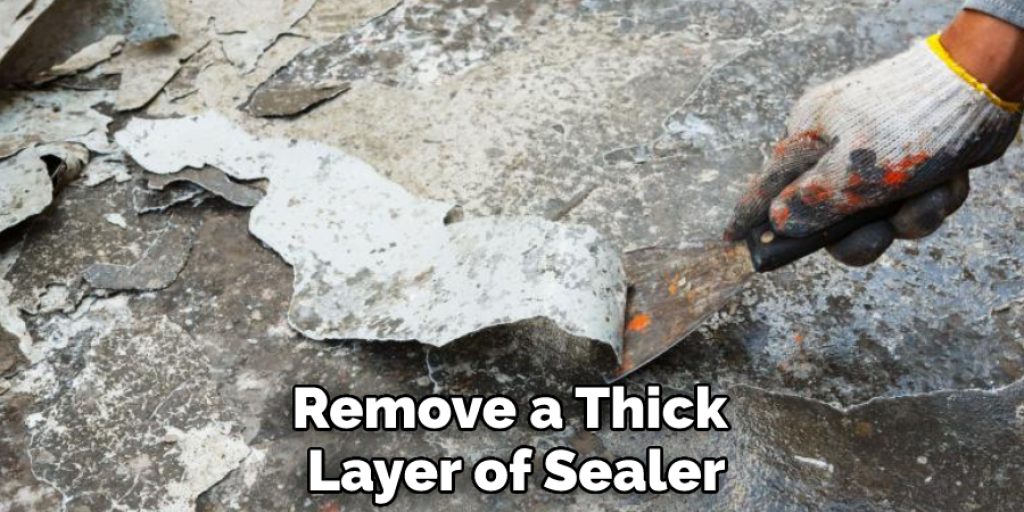 Tips for Preventing the Chemical Stripper From Drying Off
1. Use a damp cloth or sheet to cover the entire area. It will slow down the evaporation process of the stripper
2. After applying the chemical strippers, make sure not expose the surface directly to wind or sun
3. You can also use a plastic sheet to prevent the chemical strippers from drying off. In this case, make sure not to place the plastic sheets in a way so that it can't get directly contacted with the stripper. If it happens, the plastic sheet will be destroyed completely.
Check it out to learn to drill into granite steps.
Conclusion
How to remove sealer from granite? Is it clear to you know? Hopefully, the above discussion will help you to understand the facts, and you will be able to acquire the proper product for cleaning your granite surface. If you need further assistance or if you have got something more enhanced to share with us, don't hesitate to use the comment section. I am eagerly waiting to hear from you.