How to Use a Shower Chair
Do you have mobility issues that make it difficult to stand up from the shower? Do you have a disability that makes it impossible for you to get in and out of the shower without help? If so, don't worry! There is an affordable solution. A shower chair can be used as a safety mechanism when getting into or out of the bathtub or shower.
A shower chair is a piece of equipment that can be very helpful when you have mobility issues. The chair makes it possible to shower without having to use your hands, and it can also prevent falls in the bathroom.
But how do you know if a shower chair is right for you? There are many reasons why you might need a shower chair. Maybe you have mobility issues, or perhaps you want to be more comfortable in the shower. Whatever your reason, there is the correct type of shower chair for you, and we can show you how to use a shower chair. This article will discuss how to choose a good one and how they work. Read on for more information about this product!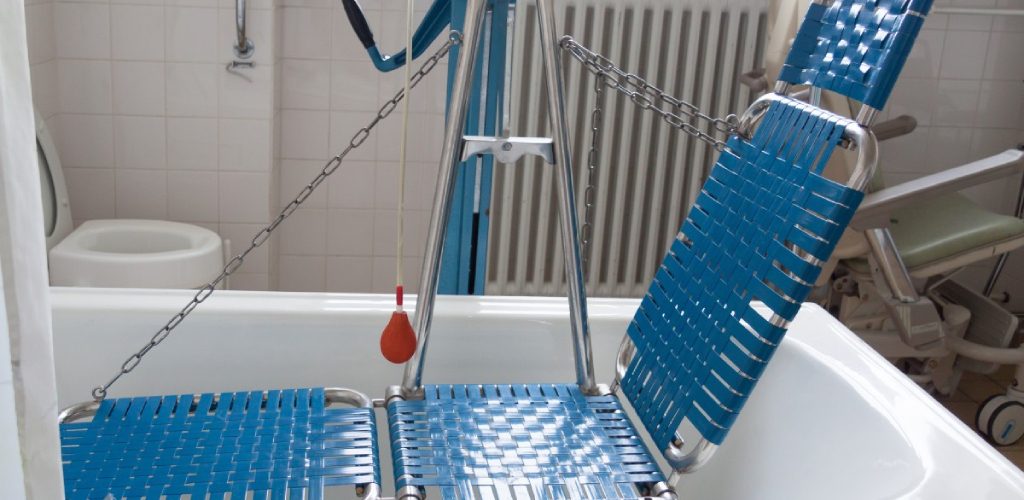 10 Reasons Why You Need a Shower Chair?
1. Balance issues:
If you have trouble with your balance or suffer from vertigo, taking a shower can be difficult. A shower chair gives you the security you need to bathe safely.
2. Difficulty standing:
If you're not suffering from balance issues but find it difficult to stand for long periods, using a shower chair makes bathing easier on your feet and legs.
3. Mobility issues:
Whether you have a temporary injury or suffer from a permanent disability, using a shower chair lets you bathe in comfort and safety.
4. Aches and Pains:
Taking a shower can be tough on your body if you have chronic health issues. A shower chair makes bathing more accessible and more comfortable.
5. Short-term injury:
If you slip and fall in the shower or bathtub, a fall can cause pain and damage. Using a shower chair prevents this from happening when you're injured and unable to stand.
6. Loss of shower privileges:
Some rehabilitation facilities require you to use a shower chair to prevent injury when bathing. This means that you would sit in a chair in the shower instead of standing up. You might use one of these at home so you can visit your family and friends without feeling self-conscious about needing help in the bathroom.
7. Muscle Spasms & Cramping Issues:
Taking a shower can be difficult if you experience muscle spasms or cramping problems. A shower chair keeps you safe, so bathing is relaxed and comfortable.
8. Stroke Recovery:
Some people must use a shower chair to prevent falls after a stroke. Find an affordable model you can use at home so you can recover in comfort.
9. Multiple Sclerosis:
If you have multiple sclerosis, your safety needs to take your medication on time. A shower chair prevents falls and makes bathing more comfortable.
10. Arthritis or limited range of motion: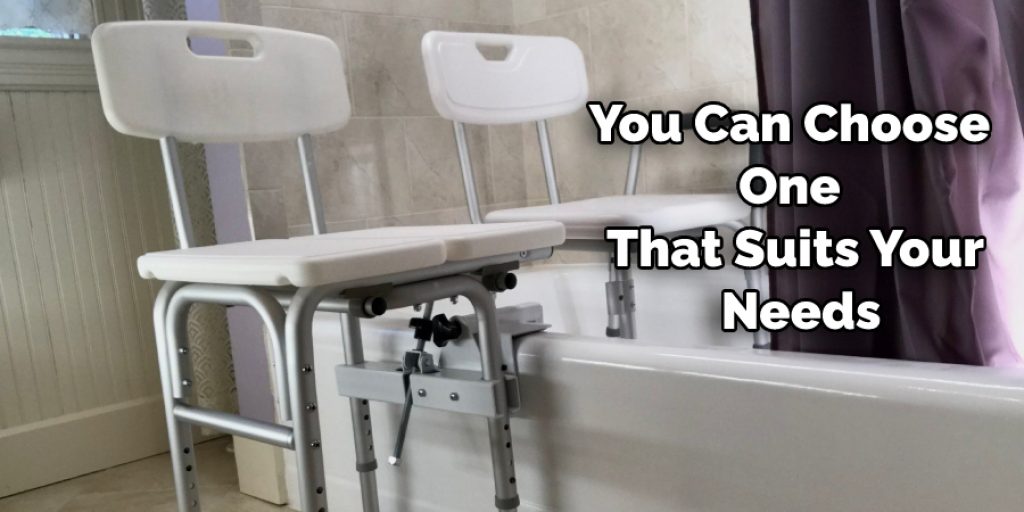 If you have arthritis, a shower can be tricky. A shower chair makes bathing more comfortable and gives you peace of mind.
Instructions: How to Use a Shower Chair
Here is the step-by-step guide on how to use a shower chair. If you follow these steps, you can use your shower in a minute.
Step 1: Buy a Shower Chair.
Different shower chairs are available today; you can choose one that suits your needs and is most comfortable for you. A common type is a foldable kind, which is very light and portable. It has back support and tilts, making it easier to stand up after use. Another is the sling type, where the person who uses it leans back and sits into it.
This type is often recommended for those with limited leg movement because it keeps the legs up. However, there are also luxury kinds that you can rent from your hospital or clinic. These kinds have a tray included making them much more functional than foldable types, yet they too could be moved and adjusted.
Step 2: Place the Chair in the Shower.
Make sure to place it on a flat surface, of course. You can put non-slip mats underneath so the chair will not move whenever you try to stand up or sit down. This is very important because you don't want an accident waiting to happen, do you?
Step 3: Strap Yourself in!
By now, you should know that the chair will not hold your weight without a strap. So buckle one on and make sure it is snug and secure. Also, ensure that no water gets into the belt because this could cause some problems for you when getting out of the shower and trying to stand up.
Step 4: Have Fun!
You can now shower without worrying about the floor getting wet. The chair will take care of it, and nobody will get into any accidents (except maybe you when you sit on your bum instead of your backside, but that's not very likely). Make sure to use this chair for its intended purpose. Do not help others out of the shower by getting into the chair with them. This is an accident waiting to happen, and nobody would want that.
Step 5: Clean Up!
When you are done with your shower, make sure to clean up the chair and store it somewhere safe. Remember that this is a medical product, and bacteria can increase on it. Make sure also to dry yourself thoroughly before sitting down in the chair again. This will prevent colds and infections in the long run.
Step 6: Enjoy Your Shower!
Now that you know how to use a shower chair, you can now enjoy your time in the bathroom. Feel free to experiment with other bathing activities like shampooing your hair or shaving that leg that has given you some problems lately. You are now stress-free and happy!
Some Tips When Using Shower chair:
1. Do not sit in a wet shower chair; the water dripping from the bottom of a shower chair can cause the floor to become slippery.
2. Shower chairs are for showers only! A person could injure themselves if they used a shower chair in the bathtub or anywhere other than in the tub/shower itself.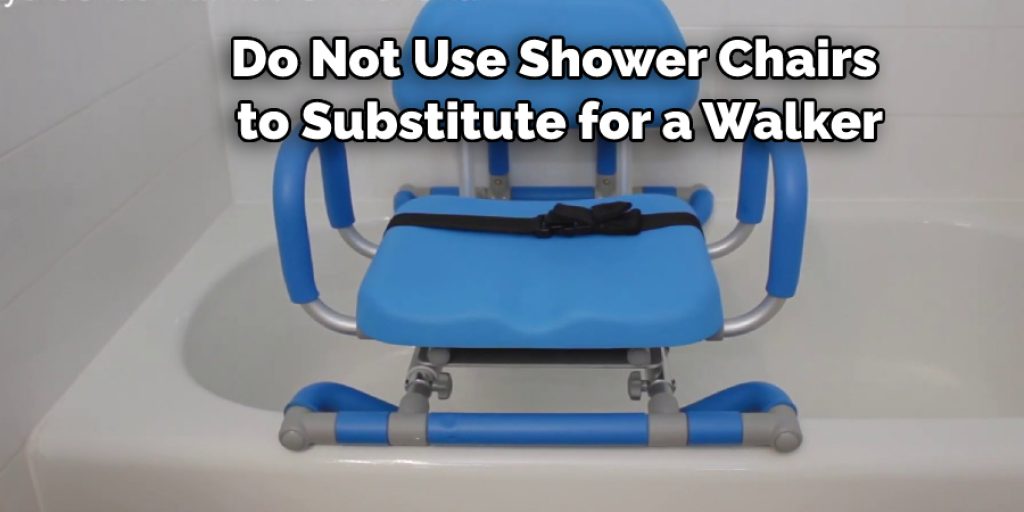 3. Do not use shower chairs to substitute for a walker, wheelchair, cane, or another assistive device.
4. If you have had hip replacement surgery and will be going to the hospital for a shower chair, please notify them ahead of time to prepare.
5. Shower chairs are very convenient when you want to sit down for a little while, but they should not be used in an attempt to cheat your way out of exercising. If you use the chair more than four days per week, it is time to look at your activity and exercise program.
6. Many shower chair users find that putting a small hand towel or washcloth on the seat helps keep them from slipping around in the shower, especially when they get out of the shower and stand on their feet for long periods before they are completely dry.
Shower Chair vs. Shower Stool – What is the Difference?
A shower stool and a shower chair can seem like the same thing, but they are quite different. The main difference is that a shower chair needs to attach to the wall of your tub while it sits on the floor, whereas a shower stool only raises you above the floor without an attachment to the wall. Therefore, a shower chair should not be confused with a bath bench.
A shower stool is similar to a toilet seat, whereas a shower chair can include waterproof pillows and other features that will support you as you bathe. A shower bench is often made of molded plastic and has armrests and back support.
If this sounds like what you need in your bathroom, make sure the shower bench you purchase is durable enough to handle your weight and support you. You can buy a shower bench online at retailers like Amazon, eBay, and more.
Conclusion:
Shower chairs are a great way to make sure you can shower safely. They come with many different features, and you must find the one that best suits your needs and preferences.
A shower chair will allow someone with an injury or illness such as arthritis, MS, Parkinson's Disease, stroke, or spinal cord injury to enter and exit the bathtub/shower area more efficiently without needing assistance. The person sits on the chair while they take their shower, so they don't have to bend over too much to get wet.
This makes standing up from sitting down easier than if there wasn't any chair. Ultimately, they are great tools to assist the elderly with mobility problems, making everyday tasks more straightforward.
This is particularly helpful in seniors with arthritis or other ailments that make bathing difficult. We hope this article has provided you with some helpful information about how to use a shower chair. If you have any questions, please contact us; we will be happy to help!