How to Decorate a Piano Top
Having a large piano in your living room will surely make the whole house look more expensive and suitable. But if you are going to keep your piano top empty, it may look a little sad. There are various ways to decorate the top, and we will tell you some ways on how to decorate a piano top.
The piano top has lots of space, and you can make it work to keep some items. But you should never put some weird things on them as it can ruin the piano's whole beauty. You can make the whole piano corner look gorgeous by just adding a few things on top of it. So, let's get started with how to decorate a piano top.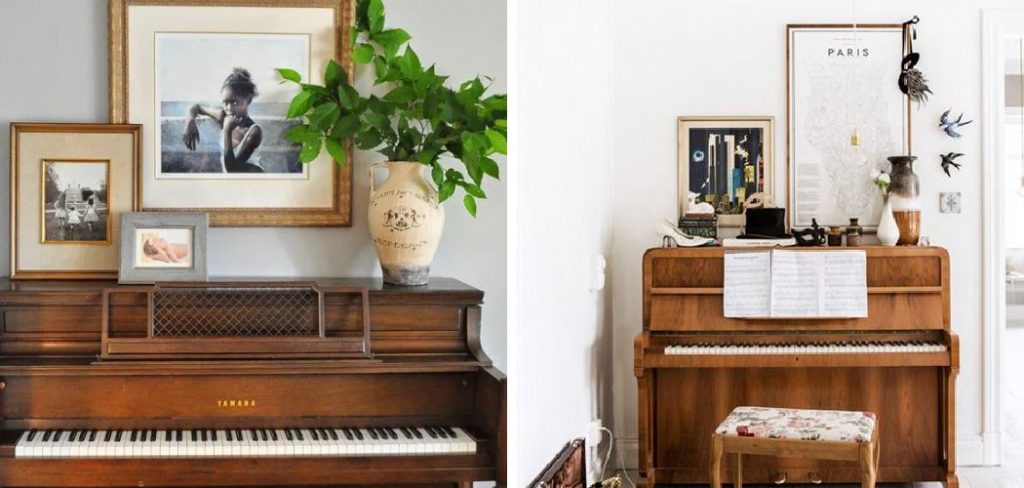 DIY: How to Decorate a Piano Top
Choose a Theme:
You need to choose a theme before you can start decorating. If you already have a theme in your living room or house, then you don't need to worry about deciding. But if you don't have a theme and you want to try something new, you should choose one before you start.
If you want your living room to look old-fashioned, you can use shabby-looking wooden furniture. If you want a more modern look, you can use minimalistic furniture or go for a black and white color scheme. Choose the theme that best goes with the look of your living room and the color of your piano.
Things to Keep on Top:
There are many things you can keep on top of the piano. There is a large space on it. One thing we will suggest is that you have to keep some musical notes and sheets as it will enhance the true meaning of a piano.
You can add photo frames of your family, you, or your pets. Little photo frames matching the piano will look fine on top of it.
You can even have some quotation framed and put it on top that will inspire you to play music.
Another good item to decorate is by keeping your vinyl CD on top. The vinyl will make it more musical.
You can always keep some fresh flowers in some glass vases, and the glass vase will look much better than any other vases.
If you are a book lover, you can add some of your books on top of the piano to indicate your passion for books and music.
You can also decorate the top with your favorite showpieces. Add a snow glove or a sand timer to make it more aesthetic.
As long as there is space left on the piano top, you can decorate it with anything you like. Whether you choose to keep several items or just one, we are sure anything will make the piano look good. You can even decorate with nothing but some musical notes to show that you are all about music.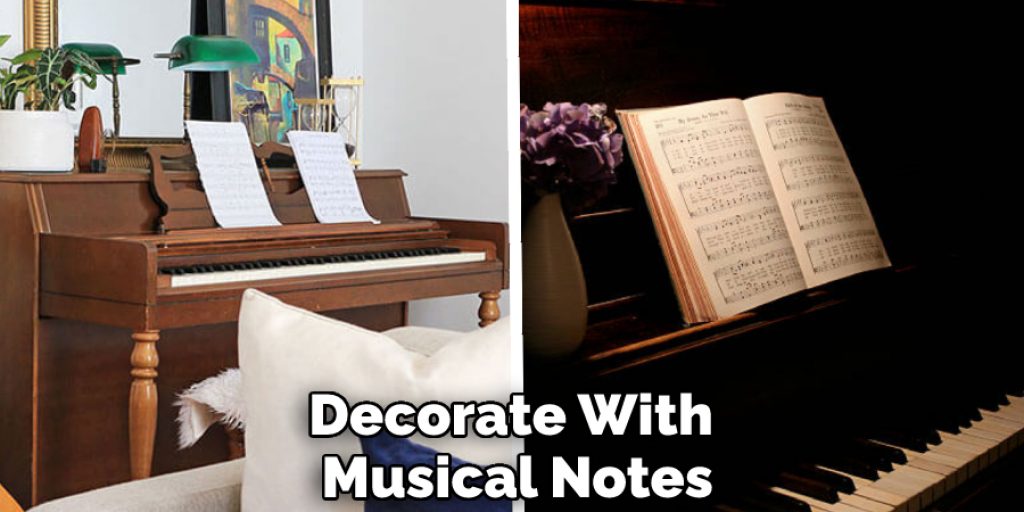 Final Thoughts
That was all for how to decorate a piano top. We hope that you will find our tips helpful enough to decorate your previous piano top and make it look good.
You May Also Read – How to Install a Piano Hinge on a Bench