How to Decorate an Adjustable Bed
When it comes to decorating your bedroom, the adjustable bed can be both a blessing and a curse. On the one hand, you're able to adjust your sleeping position for maximum comfort, but on the other hand, styling your room around an adjustable bed can be difficult at times.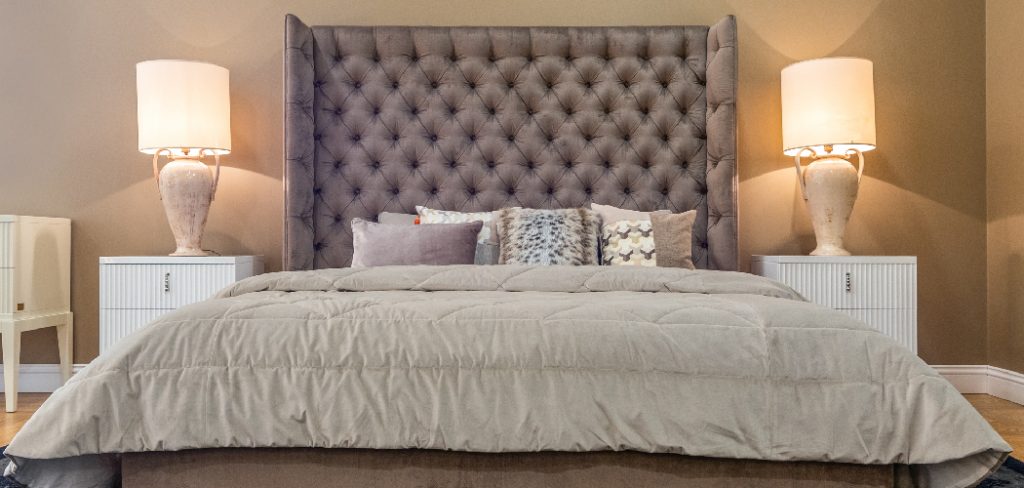 You want to make sure that it's not only comfortable but also stylish and inviting. Whether you're looking for small adjustments or complete redecorations of your entire space, don't underestimate the power of design – with just a few easy tweaks here and there, you can have a mattress that fits into any aesthetic!
In this blog post, we will take you through all the steps necessary to make sure every aspect of adjusting is working in balance with beauty – read on to learn how to decorate an adjustable bed like a pro!
What Do You Put behind an Adjustable Bed?
What you put behind an adjustable bed depends largely on your personal preference. For a more traditional look, hang wall art or install wallpaper behind the bed. To create a cozy, eclectic atmosphere in the bedroom, opt for fabric headboard panels hung from floor to ceiling.
These can even be used as makeshift drapes if you wish to hide the adjustable bed posts and base when not in use. If you want a softer look, place several throw pillows or plants behind the bed for added texture and warmth. You can also use decorative rugs to break up the metal frame of your adjustable bed and add color to draw the eye away from it.
Finally, hanging shelves filled with books, small decorations, and photos creates a homey feel and gives you more storage space. Ultimately, when it comes to decorating an adjustable bed, the possibilities are endless! With a little creativity and imagination, you can create a stylish, comfortable bedroom that truly reflects your personality.
There are many ways to use curtains to beautify an adjustable bed. Consider using sheer fabric window panels or drapes hung from the ceiling behind the adjustable bed. Curtains can be a great way to bring in color and texture, as well as add privacy when needed. Sheer fabrics allow natural light into the room while still providing a sense of intimacy and seclusion within your bedroom.
For added flare, add tiebacks or tassels for a touch of elegance that will make your adjustable bed stand out in any space! Just make sure you hang them high enough so they won't drag on the floor when you adjust your bed height.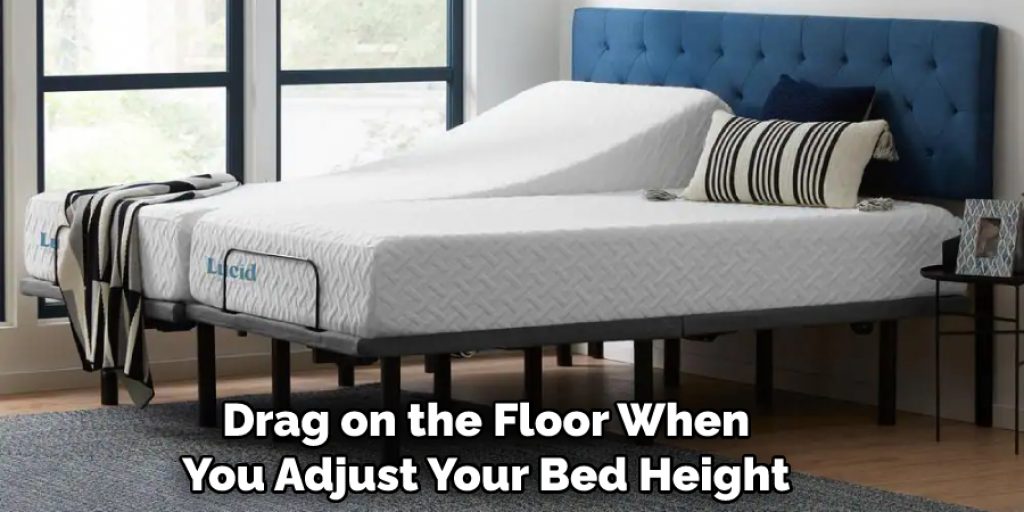 The wall behind an adjustable bed is also a great place to express yourself. Hang photographs, artwork, or even an accent mirror to add depth and visual interest to the space. You can also install wallpaper or a wall mural to create a one-of-a-kind design that reflects your personal style. Finally, don't forget about the bedside tables! Place lamps and other decorative items on top of them to create a warm and inviting ambiance in your bedroom.
9 Methods How to Decorate an Adjustable Bed
1. Add a Headboard.
One way to decorate an adjustable bed is to add a headboard. Headboards come in a variety of styles and can be made from a variety of materials, such as wood, metal, or upholstered fabric. Adding a headboard can give your bed a more finished look and can also provide a place to lean back when you're watching television or reading in bed.
If you're using a metal-framed adjustable bed, look for headboards with similar materials to match your bed frame. Although headboards are an easy way to make your bed look more finished and customized to your tastes, you can also opt for an upholstered fabric headboard that can be tailored to your exact style preferences.
2. Add a Footboard.
Another way to decorate an adjustable bed is to add a footboard. Footboards serve the same purpose as headboards, but they're placed at the foot of the bed instead of the head. Like headboards, footboards come in a variety of styles and can be made from different materials.
Footboards are a great way to add a touch of luxury to an adjustable bed and can also help keep the sheets in place. Some adjustable beds come with a footboard included, but if yours does not, you can easily pick one up from your local furniture store.
3. Use Bed Skirts.
Bed skirts are another way to accessorize an adjustable bed. Bed skirts are pieces of fabric that are placed between the mattress and box spring (or between the mattress and frame if your bed doesn't have a box spring).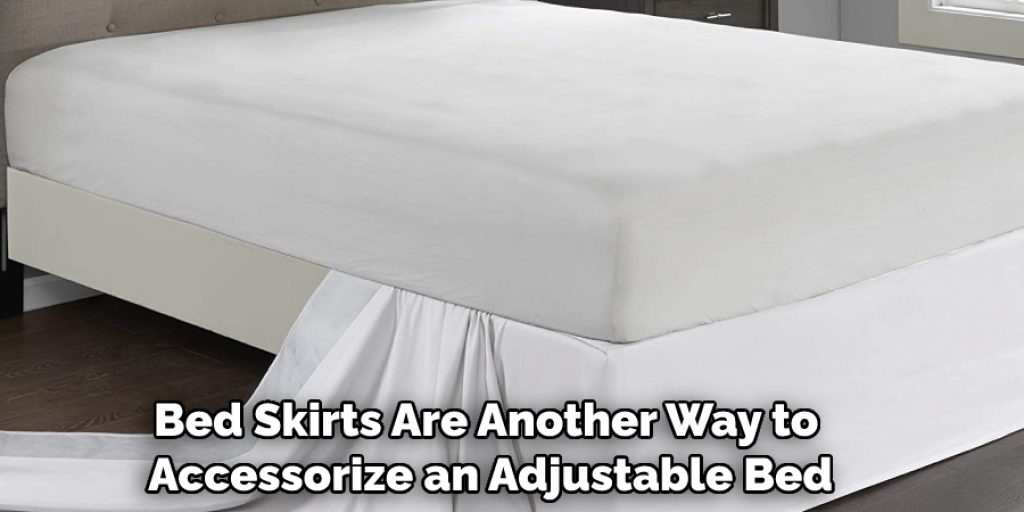 They come in a variety of colors and patterns and can help to give your bed a more finished look. Additionally, they can help to hide any items that you may have stored underneath your bed, such as extra blankets or pillows.
When choosing a bed skirt, make sure it is long enough to cover the legs of your adjustable bed. This will keep it tucked in and looking neat. However, be mindful not to make the bed skirt too long. If it is too long, it may bunch up and look unkempt when the bed is adjusted.
4. Add Throw Pillows.
Throw pillows are another easy way to accessorize an adjustable bed. Throw pillows come in all shapes, sizes, colors, and patterns and can be used to add both style and comfort to your bed. You can use them to create a cohesive look with your other bedding, or you can use them to add a pop of color or pattern.
Try to choose pillows that fit the feel of your room and bed; for example, a more subtle patterned pillow may look better with an adjustable bed than a bright neon one. When placing the pillows, it's best to place them near the head of the bed since they won't get in the way of any adjustable mechanisms. Additionally, adding throw pillows can make your bed more comfortable by providing extra support for your neck and head.
5. Add a Comforter or Duvet Cover.
Adding a comforter or duvet cover is another great way to decorate an adjustable bed. Comforters and duvet covers come in many different colors and patterns and can help you create the perfect look for your bedroom.
They also add an extra layer of warmth, which can be nice on chilly nights. When choosing a comforter or duvet cover, make sure that it is the correct size for your adjustable bed and looks good with the other décor in the room. Also, be sure to wash it before you put it on your bed since it can attract dirt and dust.
6. Add Sheets with Fun Patterns or Colors.
Plain white sheets might be boring, but they don't have to be! Adding sheets with fun patterns or colors is an easy way to add some personality to your adjustable bed. There are tons of different patterned sheets available, so you're sure to find something that you love. Plus, if you get tired of one pattern, you can always switch it out for another one!
7. Use Colorful Blankets.
Like sheets, blankets are another great way to add some color or pattern to your adjustable bed. There are tons of different blanket options available, so you're sure to find something that you love. Plus, if you get tired of one blanket, you can always switch it out for another one!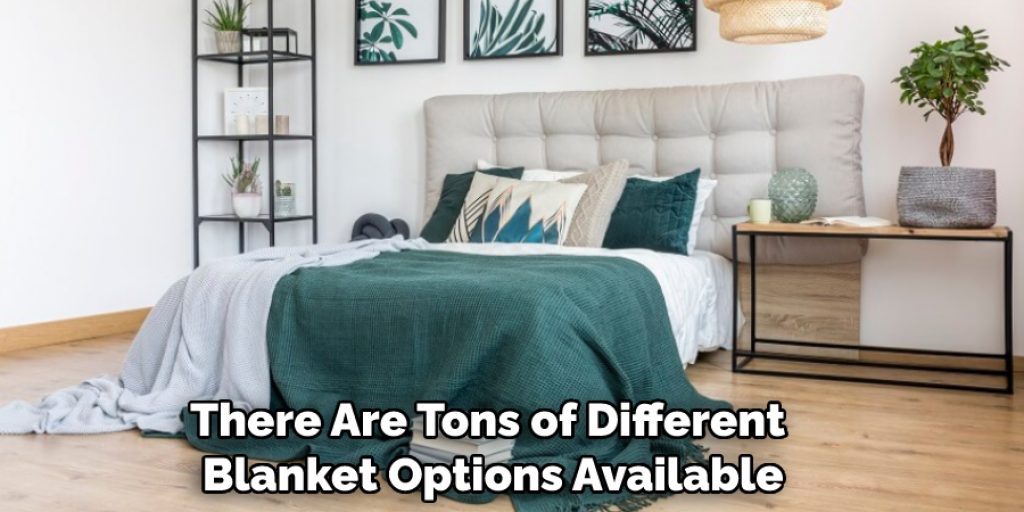 And, since adjustable beds come with different head and foot sections that can be adjusted independently of each other, you can use different blankets on the two sections to create a bold statement. Lastly, make sure that the blankets you use are lightweight enough to be comfortable when you adjust the bed.
8. Hang Curtains.
Hanging curtains is another great way to decorate an adjustable bed. Curtains can provide privacy when you need them, and they can also help block out light when you're trying to sleep. Plus, they come in a wide variety of colors, patterns, and fabrics, so you're sure to find something that matches your bedroom's décor.
Before you hang curtains around your adjustable bed, measure the height and width of the space around it. Then purchase curtains that are slightly wider than the frame and long enough to reach the floor.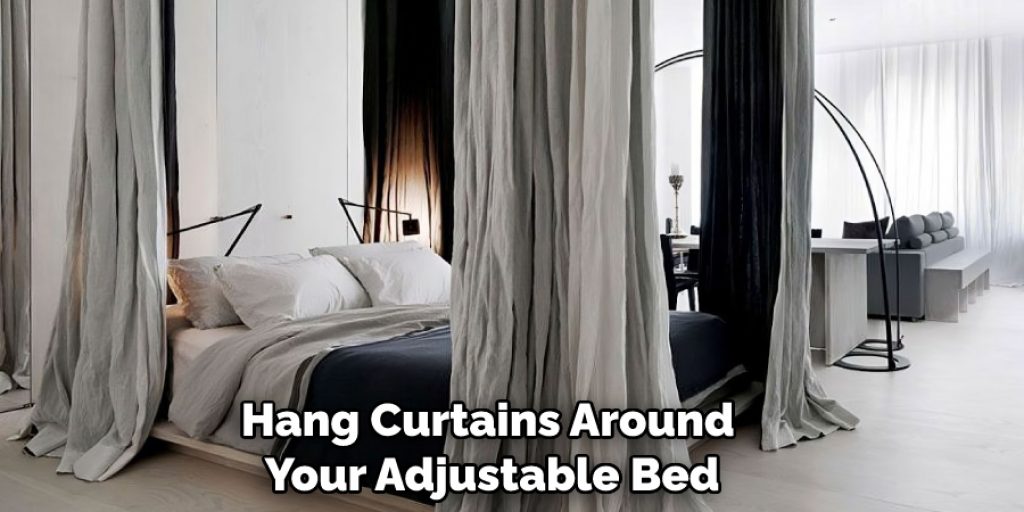 9. Place Plants Around the Room.
Placing plants around the room is not only aesthetically pleasing but also has many benefits for your health. Plants help purify the air, improve mental health, boost energy levels, and more. So, not only will they make your room look nicer, but they'll also make you feel better!
Conclusion
With these tips in mind, you're ready to transform your sleeping space into something you love. Don't be afraid to try out different designs or add pieces that show off your unique personality!
Start decorating today and enjoy a bedroom setup that will be sure to keep you in comfort for years to come. Have fun with it! Now that you know how to decorate an adjustable bed, take action now–You have the resources and the tools–so sit back, relax, and put together a room full of restful nights!