How to Make a Leprechaun Trap for a School Project
Is this St. Patrick's Day near, and your kid suddenly needs to finish their school project? And the project is nothing other than making a trap for leprechaun? Well, it's common to run out of ideas when it comes to these things. Here we will provide you with plans on how to make a leprechaun trap for a school project.
Let's Set The Plan
Before you start doing the whole project, you need to sit and think about what you are going to make. And according to the design you come up with, you will start looking for materials.
So, what do you need to create a trap for a leprechaun to get in?
Before anything, you need to know what does a leprechaun does.
A leprechaun loves gold. They love glamour.
They make shoes for a hobby.
And they hide their golds at the end of a rainbow.
Perfect! Now that you know all the secrets and weaknesses of them, you can easily make a plan to trap them.
But it is not as quick to catch a leprechaun as you may think. To do so, your trap has to be enchanting enough to grab their attention.
The perfect plan should include lots of gold or some lustful remarks of gold, a place to hide their gold, including rainbow, the right place for them to rest and make shoes, and lots of green surroundings.
Are you done making the design in your head? Let's get started with the project of how to make a leprechaun trap for a school project.
Materials You Will Need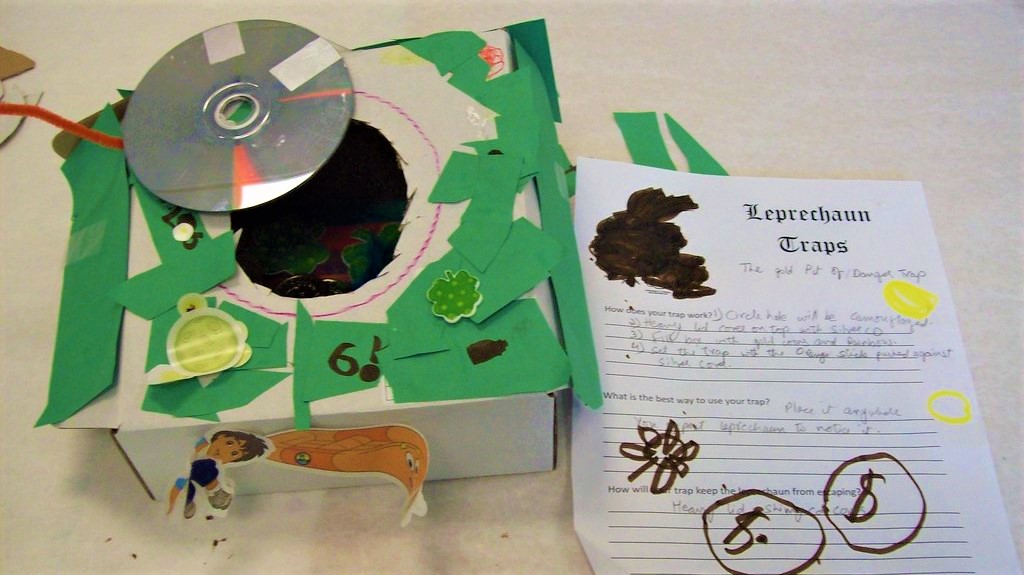 Before you can even touch anything, you will need to make sure you have everything you need, and that is when you will know you are ready to learn how to make a leprechaun trap for a school project. The things you need are-
A pringle box or any other round shape box
Paints
Papers
Glue
Cardboards
Fake coins
A toy ladders
Steps To Follow
Step 1
Assemble all the items you are going to use around you to get them quickly when you need them.
Step 2
Get the cardboard box and paint it green to look like it is a secret garden.
Step 3
Create a hole on the pringles box, paint it with green color, and stitch it to one side inside it. To paint the pringles box green, you can glue it with paper and paint on top of the paper.
Step 4
Draw rainbow road on a paper and lay it down from the cardboard box entrance to the pringles box hole.
Step 5
Put the fake gold coins all over the ground and inside and top of the pringles box.
Step 6
Put some other decoration to make it look like a garden. And you are done!
Final Thoughts
That is all you need to know how to make a leprechaun trap for a school project. We hope you will be successful in making the dream project with our help.
More School Projects: