How to Use Tracing Paper for Watercolor Painting
Tracing paper is an excellent tool for watercolor painting because it allows you to be messy without ruining your work. Tracing paper can allow you to create a preliminary sketch of what you want your final piece to look like before committing the design onto a more permanent surface such as canvas, wood panel board, or linen fabric.
It also protects your surface from getting dirty, which can save a lot of time when you are in the middle of working on something important. The following blog post will teach you how to use tracing paper for watercolor painting so that you get the best results possible!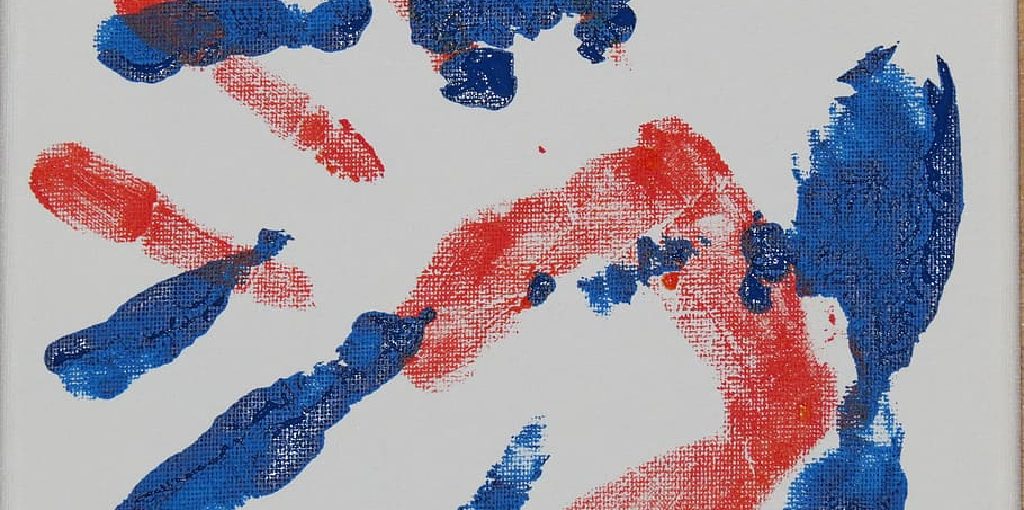 What is a Tracing Paper?
Tracing paper is a thin, translucent sheet that lets you see what lies beneath it. It's perfect for use with graphite or charcoal, but can also be used with many other mediums. Tones and colors show through the layer above the sheet, allowing you to create a sketch based on a reference photo without using extra tools like a lightbox.
Tracing paper is the perfect tool for drawing with graphite or charcoal. Its fine texture is similar to unsized paper and is translucent enough to allow you to see your reference photo or another sketch underneath it. But it's not so transparent that it becomes difficult to control.
Reasons Why Should You Use Tracing Paper for Watercolor Painting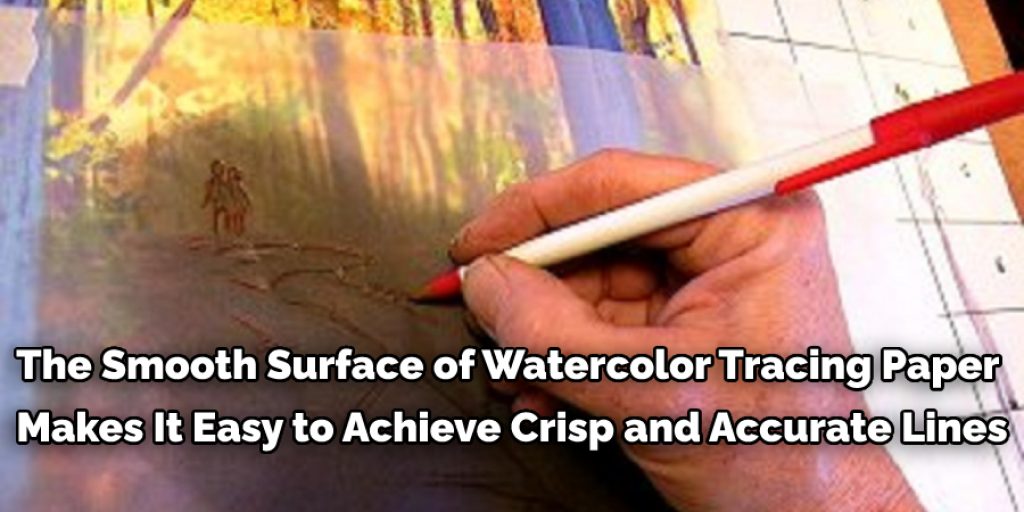 1. Watercolor Tracing Paper is Cheap
Watercolor tracing paper can be bought at a low price, at below $2 per sheet. This is much cheaper than using watercolor paper directly for your sketching/drawing.
2. Watercolor Tracing Paper Has Smooth Surface
The smooth surface of watercolor tracing paper makes it easy to achieve crisp and accurate lines, vital for sketching/drawing.
3. Watercolor Tracing Paper Has Even Thickness
Watercolor tracing paper is made to have an even thickness, eliminating any uneven spots that may cause problems when directly painting on the board.
4. Watercolor Tracing Paper is Translucent
Watercolor tracing paper is translucent, which makes it perfect for transferring a sketch onto a watercolor board/paper.
5. It Can Be Used With Lightboxes
Tracing papers can be used for light boxes. Although watercolor paper is slightly translucent, it works well with a lightbox too, which makes tracing onto the board much easier.
6. Suitable for Heavy Applications of Paint
With its smooth surface, watercolor tracing paper can retain the paint's wet quality for a long time, allowing it to be applied heavily.
7. Can Be Easily Cut into Larger Sheets
If you wish to change the size of your watercolor board/paper, you can cut out smaller pieces of tracing paper and paste them onto your watercolor board/paper. You can then trace and transfer the sketch onto it, making your work slightly more affordable.
6 Methods on How to Use Tracing Paper for Watercolor Painting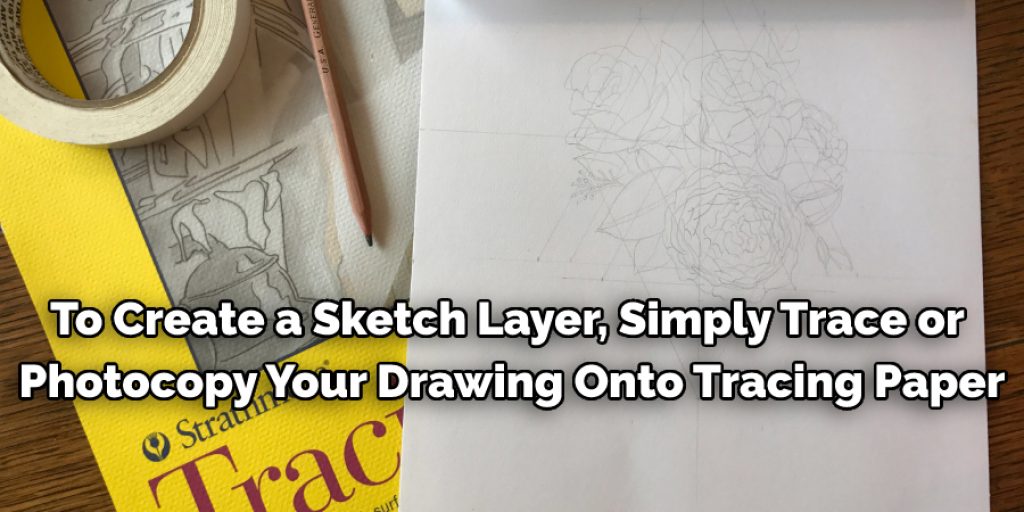 Tracing paper is commonly used for transferring outlines to the drawing surface, but it can also be useful in watercolor painting. Using tracing paper allows you to work out your ideas on a separate sheet of paper before committing to the final piece. Here are some ways to use your tracing paper with watercolor painting.
1) Create a sketch layer.
To create a sketch layer, simply trace or photocopy your drawing onto tracing paper. You can then go over the lines with a pen or marker to make them bolder and easier to see. If you don't want to use a pencil for this step, try making an ink rubbing first by running a ballpoint pen over your original drawing. The black ink will transfer to the tracing paper.
2) Make a practice sheet.
Make a practice sheet by drawing your final composition on tracing paper and then photocopying it onto watercolor paper or painting it on watercolor paper instead of in your sketchbook. Once you have painted your practice sheet, cut it up and use the pieces as under-painting.
3) Paint a color wash over a photocopy.
Photocopying your drawing allows you to try several colors without committing them to the final piece of paper. To create an under-painting, paint your photocopy with diluted washes of different colors or tones. You can then paint over this with a light wash of neutrals.
4) Trace a drawing on watercolor paper.
If you have a drawing that you'd like to paint on watercolor paper, trace it onto tracing paper and then transfer the image onto your watercolor paper using whatever method works best for you (tissue paper or graphite). You can then paint it as you would normally.
5) Trace a detailed line drawing.
To transfer a detailed line drawing onto watercolor paper, trace it on tracing paper and then paint over the lines with diluted washes of color. If you don't want to use your colored pencils for this step, try creating an ink rubbing by running a ballpoint pen over your original drawing; the black ink will transfer to the tracing paper.
6) Trace onto graphite paper.
When you trace onto graphite paper, the pencil marks don't show through when it's photocopied or transferred to watercolor paper. This allows you to work out your composition before painting and is especially helpful with intricate pieces.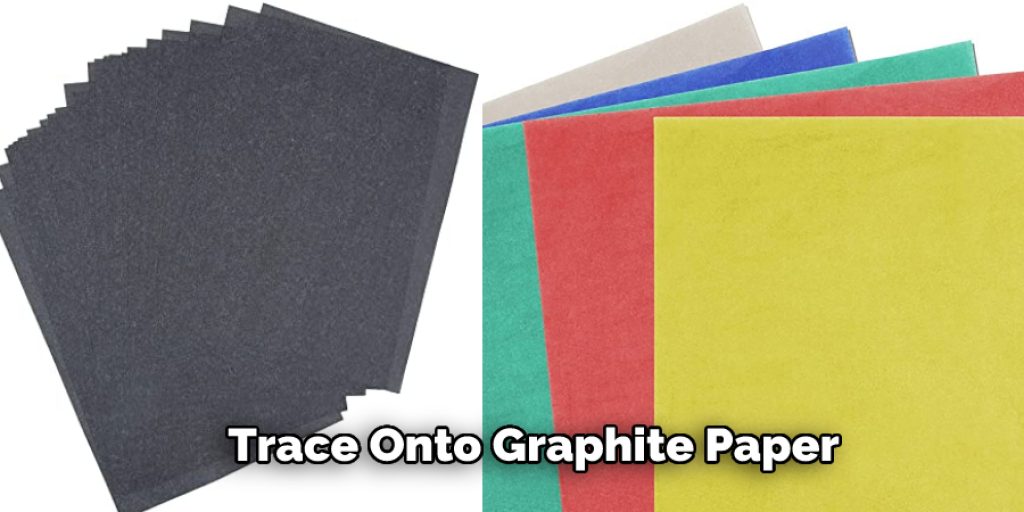 Few Tips Before Using Watercolor Tracing Paper
1. Most watercolor materials are used together with tracing paper to make a painting. This is because it works well with watercolors and can be reused afterward.
2. The tracing paper must be treated in advance when using watercolors.
3. Make sure not to use too much powder or oil-based mediums when treating the tracing paper because this will prevent it from absorbing the colors.
4. An option is to use rice paper (shiny) instead of tracing paper for making paintings if you are comfortable withdrawing. Rice paper has a better texture, is cheaper, and you will be able to achieve the same result as using tracing paper.
5. The best way to work with tracing paper is to start by thinking of what part of the paper should be painted first, then continue painting in this order.
Frequently Asked Question
What Can -?
There are several digital options available for recording and tracking your work. Some of the most popular include digital notebooks, task managers, and project management tools. Each of these platforms allows you to keep track of your work in a digital format, making it easier to access and manage. Additionally, these tools can be used to share your work with others and make revisions or changes as needed.
Digital notebooks are perfect for taking notes during classes or meetings. You can also use them to record ideas, thoughts, and sketches. As you take notes, the notebook will keep track of the time, date, and other relevant information. This makes it easy to organize your thoughts and coherently present your ideas.
Task managers can be used to manage multiple projects at once. They allow you to assign tasks, track deadlines, and monitor results. Additionally, they provide a platform for collaboration among team members.
What Tool Do We Use With Tracing Paper?
A tracer is a software tool that is used to track paper movements and transactions. Its primary purpose is to detect and prevent fraud and embezzlement. It can also be used to investigate and audit financial transactions.
Can You Use Parchment Paper to Trace?
Yes, parchment paper can be used to trace. This paper is made from plant-based material and is very tough. It is also non-toxic, so it is ideal for use with food. Tracing can be done with a pencil, but the ink will not last long, and the paper will become brittle. Parchment paper is also better for delicate foods as the ink does not rub off.
Is Tracing Paper the Same as Parchment Paper?
Tracing paper is a type of paper that is commonly used to create patterns or designs. It is often made from low-quality paper that is treated with a water-repelling agent to make it less likely to tear when being drawn or written on. Parchment paper, on the other hand, is a type of paper that is made from the animal skin of sheep and goats. It is highly durable and has a smooth surface that is ideal for drawing or writing on.
Can I Print on Tracing Paper?
Yes, tracing paper can be printed using a printer that is designed for this purpose. Some of the most popular printers for tracing paper printing include the HP Designjet Z3200, the Epson Stylus Photo R800, and the Canon MG6520.
To print on tracing paper, ensure your printer is set to the correct paper size. Next, load the tracing paper into the printer and align it correctly on the print area. Finally, hit the print button and enjoy your beautifully printed tracing paper!
Conclusion
Tracing paper is a great way to get a feel for watercolor painting without wasting too many supplies. If you are looking into starting your own watercolor paintings, or if you want to improve on the ones that you already have, the techniques mentioned on how to use tracing paper for watercolor painting can be very helpful!
It is also worth noting that tracing paper does not come in an infinite variety of colors so it may be necessary to buy several sheets with different shades to achieve desired results.
Read On Our Another Article – How Does Tattoo Transfer Paper Work