How to Decorate a Journal Cover
A cool and visual cover can make your boring journal look interesting. It can bring your mood back to the journal and make you use it more. Sooner or later, you will feel the importance of turning your boring book cover into an interesting one. This article will show you how to decorate a journal book cover with some interesting designs.
In this article, the author discusses different ways that you can decorate your journal cover. You can either use cool designs that are already created, or you can customize your own cover using DIY techniques. The author provides a guide on how to decorate your journal cover using different household items.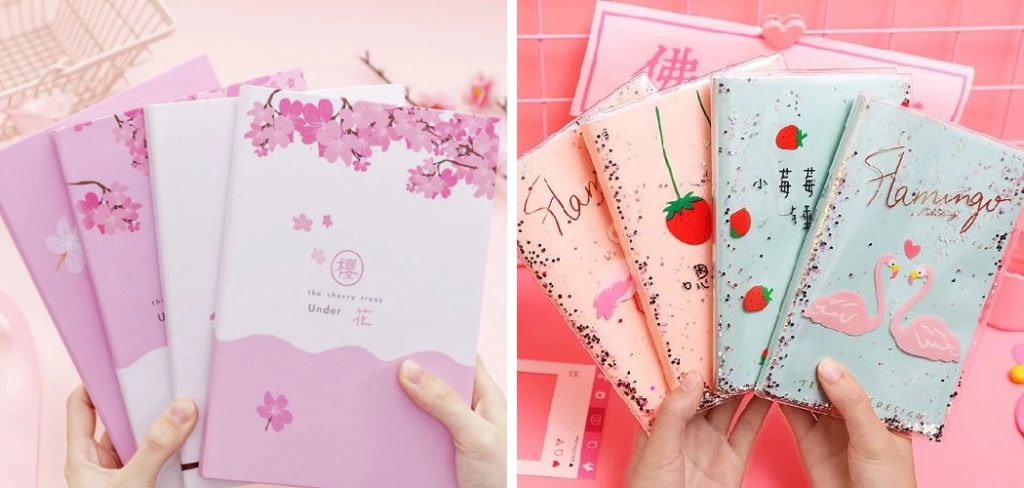 How to Decorate a Journal Cover
1. Using Washi Tape
Washi tape is a type of tape that can be used to decorate a journal cover. To use it, you first choose a design or color of washi tape that you like. Then, you use the tape to create a pattern on the cover of the journal. Washi tape is not very sticky, so it is easy to remove if you make a mistake.
2. Adding Stickers
Well, this is another easier way to decorate your journal cover. There are numerous stickers out there, and you can easily get them in stores. They offer a super-easy way to flair up your boring book cover. The best part of using the stickers is that you won't have to worry about doing anything wrong. When you are using small stickers, you can put as much as you want until you get the vintage look on your boring book cover. For this, you can use stars, dots, hearts, butterflies, birds, and much more. It depends on your preference.
3. Using Metallic Marker
If your journal cover is darker in color, then you can simply use your regular maker and pens to spice things up. So, check for these things; if you got them, you wouldn't have to spend additional money on buying some metallic marker. Okay, now take your regular marker or the metallic marker and draw some stars and swirls on the cover. This simple technique will take your journal to the next level. Just make sure you know how to draw; otherwise, let someone else do it for you.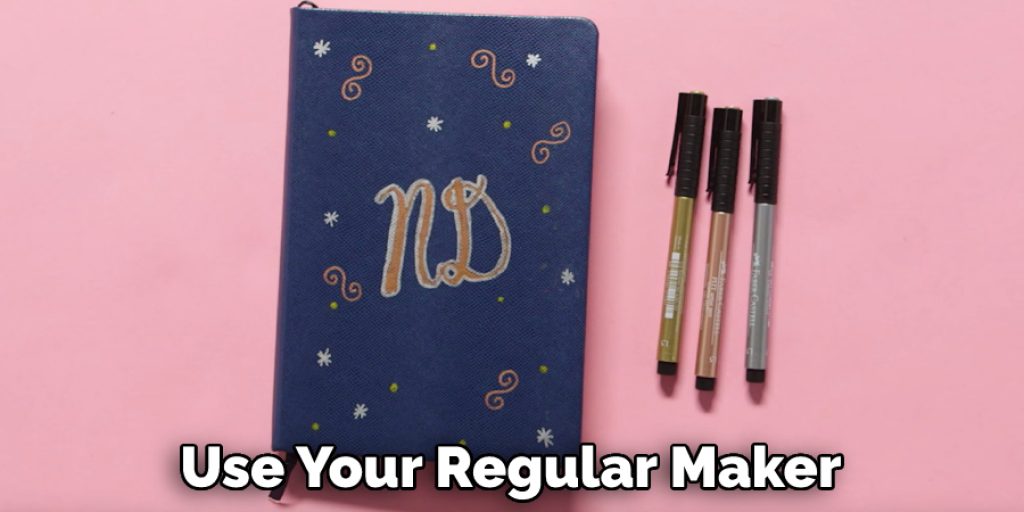 4. Add a New Book Cover
Maybe you are sick of looking at your year's old book cover. If that's the case, you can change your book cover completely to give it a new look. For this, you can use some scrap paper or a paper bag, some glue, and some crafting materials. If you have got all of these, follow the simple method below:
The Method
For this project, I have selected my 2020 journal book, which is a blue traveler's notebook with a grid insert. Inside of it, I am going to use a lot of scrapbook papers. Then I am going to pair it with some washi tapes, some stamping, and some ephemera as well. You can easily get them from your nearest shop; they are gonna cost a couple of bucks. I am using some speckle pale blue paper to kind of cover the spine and just break the old brown color. Okay, for the attachment, I am using some Elmer's craft bond glue.
Once I figured out the accurate measurement, I am using my Hello kitty box cutter to trim down the excess blue paper that I just have attached.
Next, I am going to use some more scrapper paper that has a little bit of text on it, and then I am going to attach some film strip on it. I am just going to play around the texture, so ripping the paper, crumpling it up, or using some more scrap paper is going to help me do that. It is up to you what you are going to do and how you will make the design.
I have brought a few more things like the stamps and stickers to add on the cover. Lastly, I am using my clear stamps to put 2020 on the cover. Once I figured all the placement, I am going to secure their place with the glue. I will do the same on the other portion too.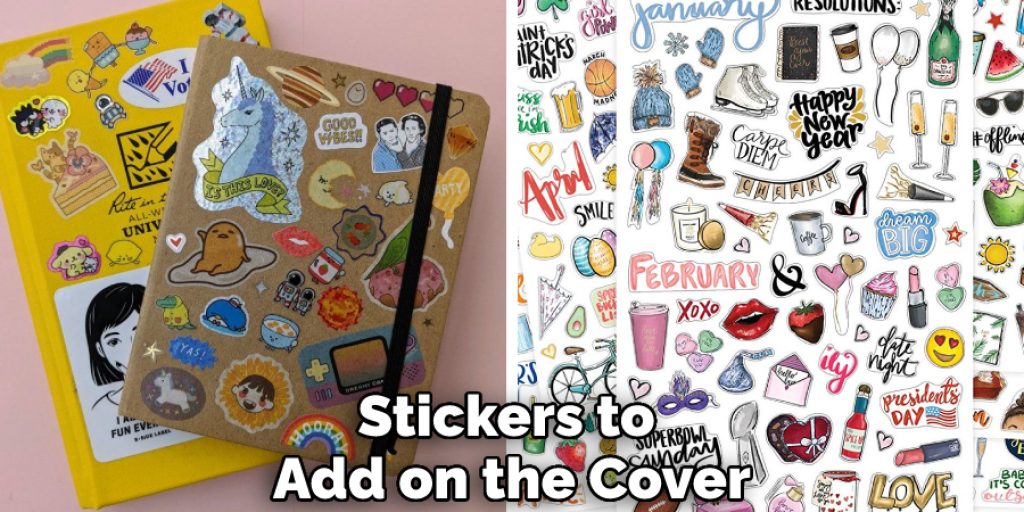 5. Sticky Vinyl
If you want a real notebook that's gonna have a real marble-like appearance on its surface, you can add some sticky vinyl on it. You can easily get this adhesive vinyl at your nearest shop. They are stunning and offer a great look when you are going to put them on your journal cover. Applying them is also super easy; the manufacturer will provide you a complete guide for that. After applying this vinyl, you will get a result like the one in the image below.
6. Using Gold Foils
You can use some lettering and embellishment on the cover by using some rub on gold foil. These are available on Amazon; you can easily bring them from there. These things are like two-sided stickers. So, you have to just put them on the accurate place and peel the top layer off from the film. Once you do that, take the sheet of gold foil and rub it over the sticker. Soon you will get your preferable gold foil letters and embellishments.
7. Readymade Journal Cover
Maybe you aren't much crafty and don't have time for doing all these things. If that's the case, you can simply bring some readymade book covers from the market. They are stylish and can change the older look of your journal. Moreover, you will get some essential pockets and pen holders with them. But before you move to buy one of them, make sure to check the size of your journal properly so that your investment doesn't go in vain.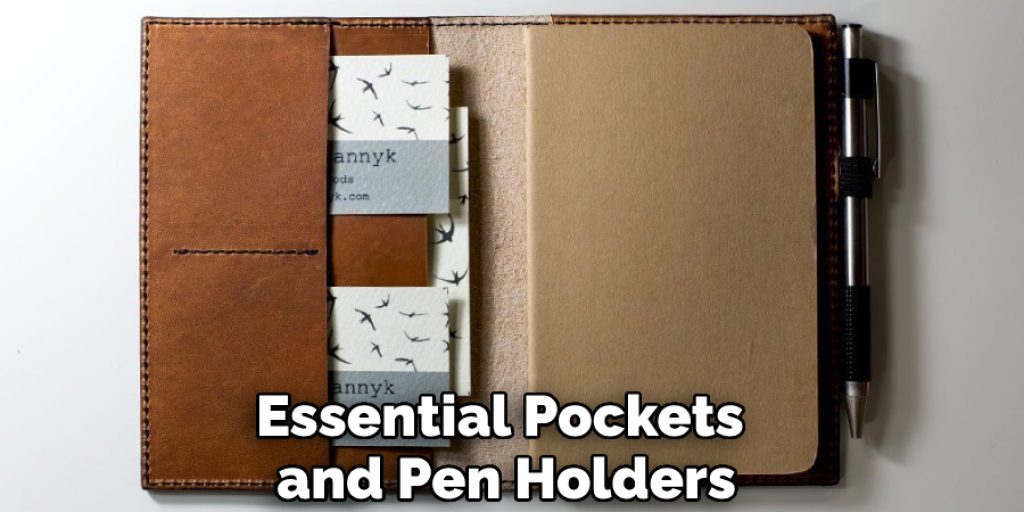 Final Thought
Hopefully, these tips are going to be helpful to turn your boring journal cover into an interesting one. If you can follow the exact technique, you won't have to ask anyone how to decorate a journal cover again. In case if you feel hesitation and need some assistance, feel free to let me know through the comment section below.
you may also read now
1.How to Make a Watercolor Travel Journal