How to Style Throw Blanket on Bed
Do you want to style your bed with a cozy throw blanket but don't know how? Look no further! This blog post will provide helpful styling tips for adding a throw blanket to your bed so that it looks chic yet comfortable.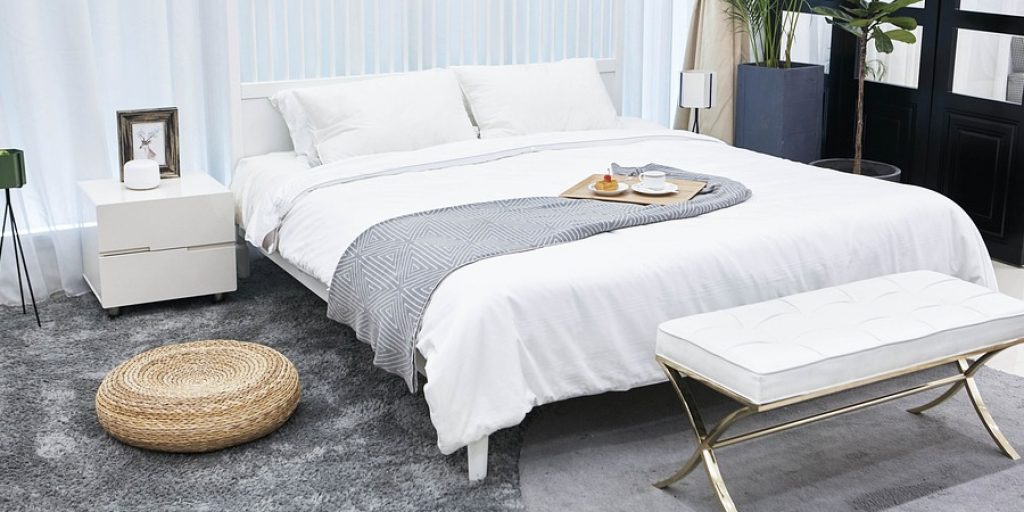 From using matching colors and textures to creating layers or draping techniques, there are plenty of ways you can decorate your bed by incorporating a soft and inviting throw blanket—all without sacrificing the overall look and feel of the room. Read on to learn more about how to style throw blanket on bed with thoughtful throws and blankets.
Do Throw Blankets Go on Beds?
Yes, throw blankets can make a great addition to your bed. Adding throw blankets to your bed is a simple way to make it look cozier and more inviting while also giving you an extra layer of warmth for those chilly nights. You can style throw blankets in multiple ways on beds, including folding them at the foot of the bed or draping them over the sides. While there are no hard-and-fast rules governing how you should use throw blankets on beds, here are a few tips to get started.
Start by selecting the right size throw blanket for your bed. For queen and king-sized beds, opt for a larger throw that is big enough to cover most of the mattress area when folded in half. For single or twin beds, choose a smaller throw that will be easier to fold up and place at the foot of the bed.
Choose complementary colors or patterns for your bedding set as well as your throw blankets. If you're using multiple throws on one bed, use ones with similar color palettes or patterns so they look like they go together.
Once you've selected your throws, there are several ways to style them on the bed. One option is to fold the throw into thirds and place it at the end of the bed like a runner. This will give your bed a more put-together look while also keeping your feet warm when you get out of bed in the morning.
Alternatively, you can drape one or more throws over the sides of your mattress for a cozy layered look. You can also tuck lighter throws underneath heavier blankets for an added layer of warmth and texture. Finally, try arranging a few smaller throws across the top of your bed for an effortless boho vibe.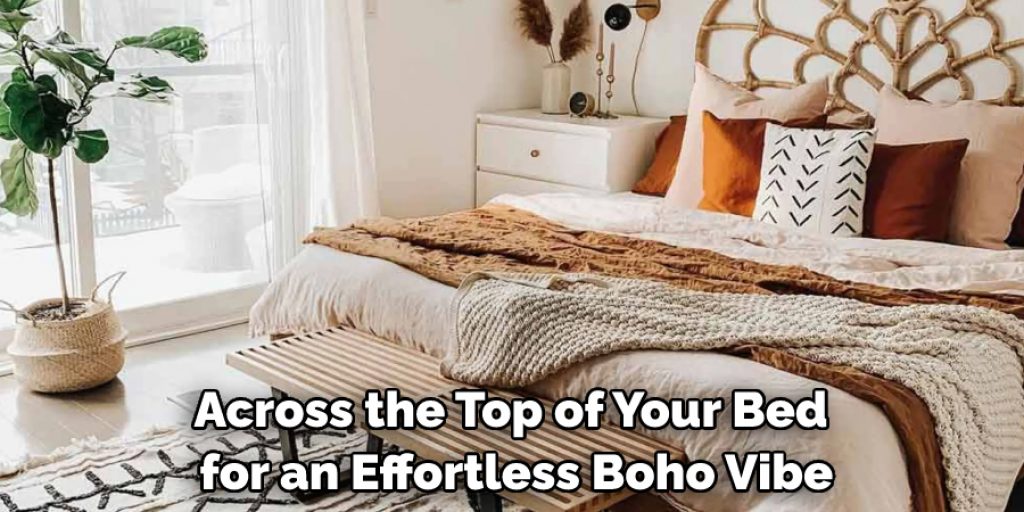 10 Methods How to Style Throw Blanket on Bed
1. Drape It Over the Foot of the Bed
One of the simplest ways to style a throw blanket is to simply drape it over the foot of the bed. This provides a pop of color or pattern and can be easily removed when not in use. Make sure the blanket is near the edge of the bed and not in the center to prevent tripping.
To create a layered look, you can use two blankets of different colors or textures. However, choose blankets of similar size and weight to create a cohesive look.
2. Fold It at the End of the Bed
Another easy way to style a throw blanket is to fold it at the end of the bed. This creates a neat and tidy look that can be easily removed when not in use. Start by laying the blanket flat on your bed and folding it in half lengthwise. Place the folded blanket horizontally at one end of your bed, tucking it under the mattress for a neat and clean look.
Be sure to adjust your blanket so that it is centered and evenly distributed. You can also experiment with different folding techniques to create a unique look that suits your space. Finish off the look by adding some coordinating accent pillows for an extra touch of luxury.
3. Hang It on a Wall Hook
If you want to keep your throw blanket within easy reach, consider hanging it on a wall hook. This also allows you to show off the blanket's design and can be easily removed when not in use. This is a great option for those who don't have the extra space to store a throw blanket in their bedroom.
To hang your blanket on a wall hook, simply drape it over the hook and secure it with a few pins. This will help keep the blanket in place and make sure it won't slide off when you go to grab it. Try to hang your throw blanket at eye-level so you can easily see its design and quickly access it when needed.
4. Lay It Across the Bottom of the Bed
For a more relaxed look, try laying your throw blanket across the bottom of the bed. This is also a great way to add extra warmth to your bedding during colder months. Start by laying the blanket across the foot of the bed, ensuring it is evenly draped. Adjust the sides and corners to create an even look. You can also fold it in half lengthwise for a thicker layer of warmth.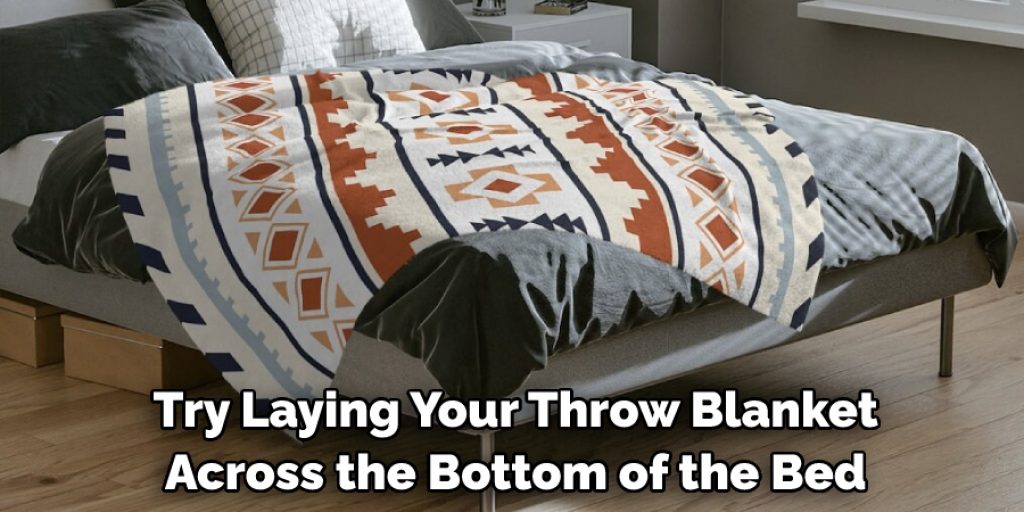 If you're looking to add more texture or color, try layering multiple throws at different angles on top of each other. For an added touch, fold the ends of the blanket back onto itself and tuck it into the sides of the mattress to secure it in place. This is a great way to give your bedding a tailored look with minimal effort.
5. Place It at the Top of the Bed
If you want your throw blanket to be more like a decorative element, try placing it at the top of the bed. This allows you to show off the blanket's design while still keeping it within easy reach. You can either choose to drape the blanket like a duvet or use it as an accent piece.
Either way, you'll be able to enjoy its unique style without sacrificing comfort. Although this option may be more difficult if you're working with a small bed, it's still worth considering. Make sure that the throw blanket's size is appropriate for your bed before you attempt this styling option.
6. Use It as a Bedspread
If you're looking for an alternative to a traditional bedspread, try using a throw blanket instead. This is a great way to add warmth and texture to your bedding without going overboard. Place the throw blanket on top of your existing comforter or duvet and tuck it in along the edges for a snug fit. Then, layer decorative pillows on top for extra color and comfort.
You can also drape the throw blanket across the foot of your bed or use it as a small accent rug to tie the room together. No matter how you style it, this look will be sure to add coziness and charm to any bedroom.
7. Wrap It Around Your Body
If you're looking for extra warmth, try wrapping your throw blanket around your body like a scarf. This is a great way to utilize the blanket and keep your body from getting too cold. You can also use this technique when trying to relax on the couch or in bed. Just wrap it around you and let the warmth of the fabric seep into every inch of your body. It's definitely one of the most comfortable ways to use a throw blanket.
8. Throw It Over Your Shoulders
Another way to add extra warmth to your outfit is to simply throw your blanket over your shoulders like a shawl. You can also drape it around your arms or tie it up at the waist, creating a cape-like effect. This is great for wearing indoors and outdoors alike, adding another layer of coziness to any outfit!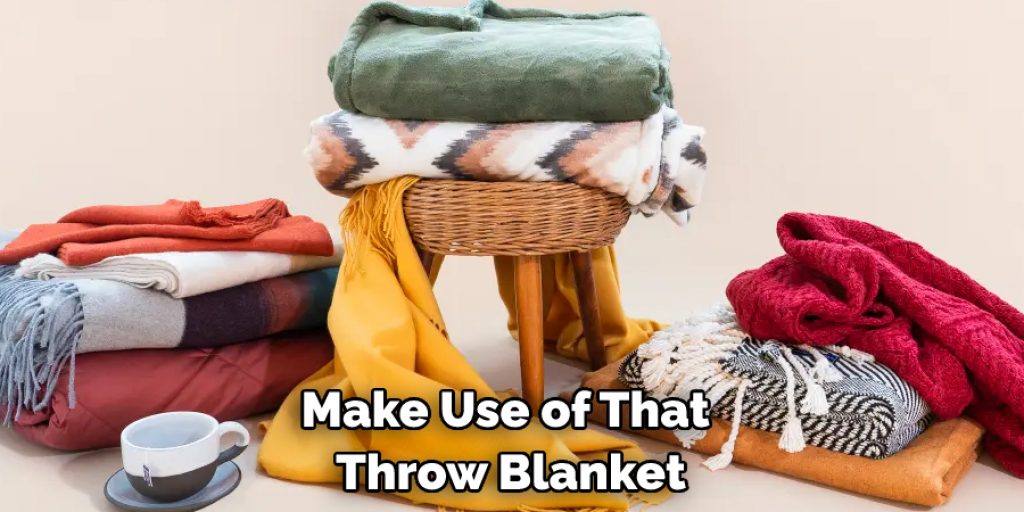 9. Create a Cosy Bespoke Bedspread
If you want to give your bed an extra special touch, why not make use of that throw blanket? Layer it over your existing bedspread – with or without cushions – to give the mattress a unique look. A chunky blanket gives off a fun boho vibe, while lighter throws lend themselves perfectly to shabby chic interiors. Whatever style you choose, this fresh take on bedding will add texture and personality to any bedroom!
10. Transform Your Sofa or Chair
If you want to add extra texture and comfort to your furniture, why not drape a throw blanket over your sofa or chair? This is a great way to reinvigorate an old piece of furniture, or add extra interest to an otherwise plain room. Plus, you can easily switch up the look with a different blanket to suit your mood!
Conclusion
From folding the blanket under the bed or strategically placing it on the comforter to using multiple throws of various sizes and heights, you truly can achieve whichever look you desire. Whichever method you select, your guests will be impressed with your overall design vision as well as your commitment to comfort and coziness.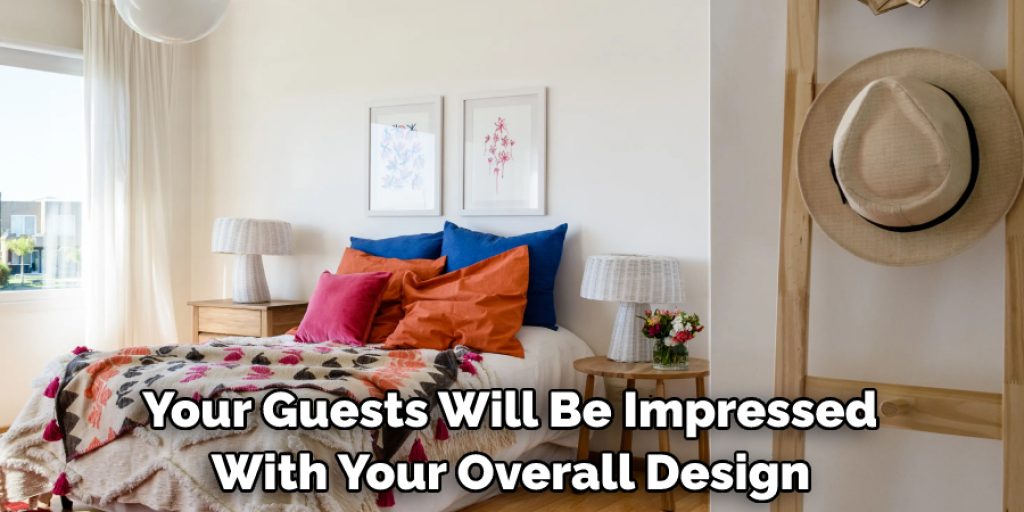 So take some time to gather various textures, colors, shapes, and sizes of blankets to create that perfect end look. With patience and practice, you too can master "How To Style Throw Blanket on Bed"