No one knows how important a wig is for you if you are a cosplayer. A simple dangle or broken wig quality can ruin your entire dress-up. Yes, you can obviously buy another one and throw the older one in your trash can. But think of a day when you have to dress up quickly and have no time to buy a new one. That's why you should learn how to fix a costume wig when it is detangled or broken. Don't worry; it is not that hard, and I have picked some of the easiest steps for you.
Every cosplayer's dream is to buy a quality wig. Even I cherish this dream. But the problem is that they are overpriced and really very expensive. We may afford one or two, but buying a new wig for our new look every month can cost a lot of money. That's why sometimes we have to go for the cheap versions. So, let's look at the steps that may work as a blessing for you.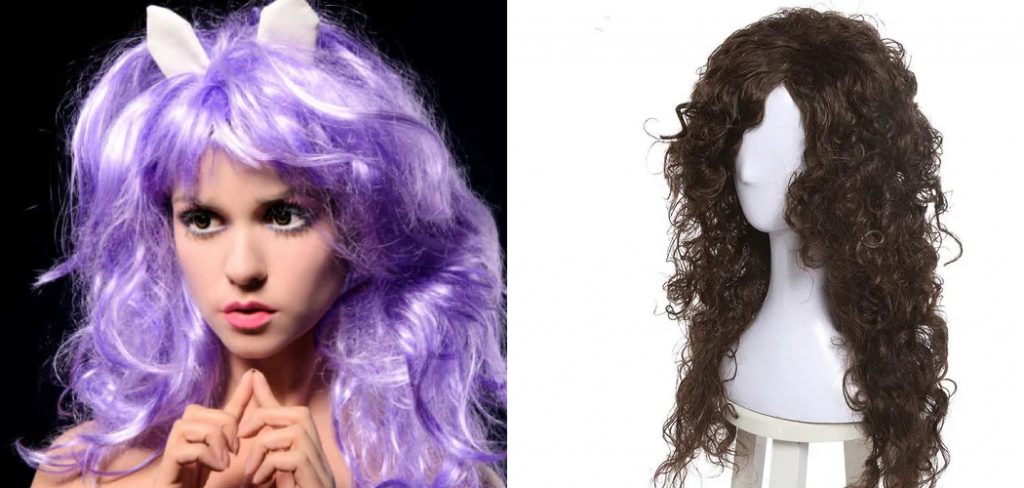 Supplies Needed
Wig
Fabric softener
Baby powder
Bucket
Wig head
Wig stand
How to Fix a Costume WigHow to Fix a Costume Wig
Step 1: Grab a Wig
To complete your costume, start by finding a wig that matches perfectly. Local Halloween stores are a great place to look for affordable wigs – we've noticed that they often have a bin of wigs in the back for only a few dollars each. This is an excellent way to spend a small amount of money and get a great, fun wig.
Step 2: Fill Some Fabric Softener
Take a clean bucket. You can use your old mop bucket for this if you can't find a fresh one. Put the wig inside the bucket and fill it with some fabric softener. After that, fill one-third of the bucket with cold water. Leave it overnight to soak.
Step 3: Rinse All of the Softeners
Once you have put that overnight, rinse all of the softeners out with cold water. Try to dry it up as much as possible with your towel or cloth. But make sure not to use a hairdryer. Cheap wigs won't be able to withstand the extreme heat of the hairdryer. Also, comb the wig from the bottom to the top; it will help you untangle the strands.
Step 4: Heating the Wigs
Now, it is time for some styling. Actually, I lied a bit about heating these wigs. The cheap wigs can withstand a little amount of heat but not much. So, take your hair straightener and set it at the lowest heat. Once the machine has heated up, switch it off. Wait for a minute, and then use it on your wig to straighten the hairs. It is recommended to ensure how much heat your wig can take and follow that heat accordingly.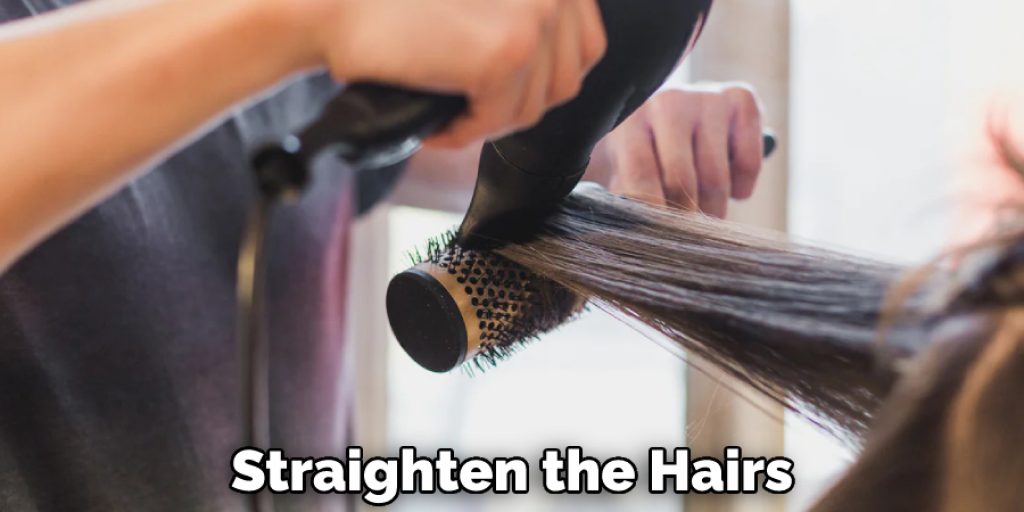 Step 5: Use Some Baby Powder
Last, of all, use some baby powder on the wig. There's no measurement for this; apply it until you get a nice and shinier look on the wig. That's it; you will get a nice and beautiful wig that will give you the desired look.
Some Helpful Tips and Suggestions:
1. If the wig is a synthetic hair wig, you can use a fabric softener to straighten it. This will ensure that you feel more comfortable in your costume by not having a stiff synthetic texture when you put it on your costume. It also will help to straighten out any frizz.
2. Also, if it is a short wig (however long you like), use hairspray to hold your style in place if the wig is a little too poofy for your liking.
3. If it's a long wig, don't bother spraying anything because it could make the wig tangle too much, and you will ruin your wig. Instead, braid or twist it into pigtails, then pin them to the sides of your head for a simple way to style a long wig.
4. If the wig is too curly, try straightening it out with a hair iron or wetting your fingers & running them through it to calm any frizz.
5. If the wig is too shiny, you can use a fabric softener to make it less shiny.
6. Make sure your wigs are curly; always brush them before putting on the wig cap. If not, there will be a noticeable difference in texture between your skin & hair.
7. Make sure you don't have any fly-away hairs after brushing out your wig; otherwise, it will look too messy.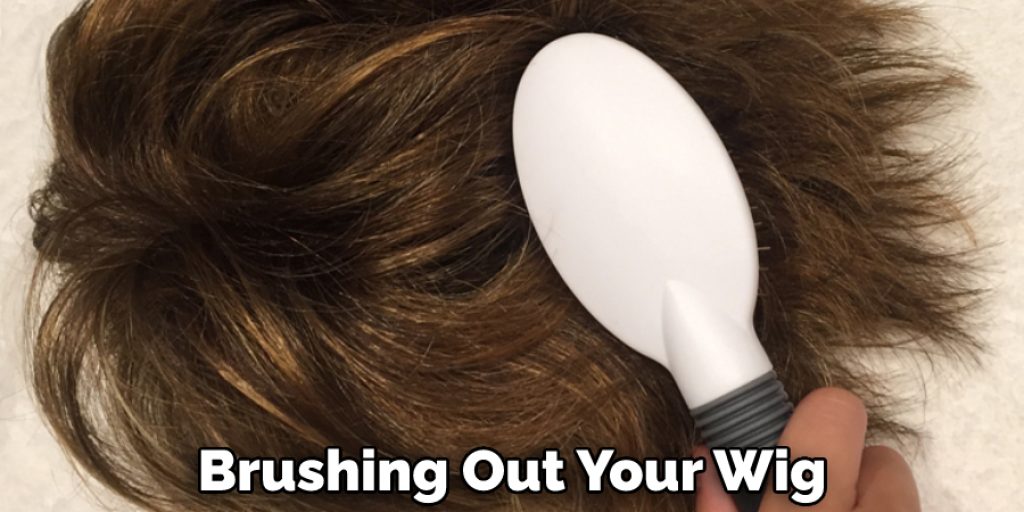 Frequently Asked Questions
Can You Brush a Fake Wig?
There is no definitive answer to this question as it depends on the type of wig you are trying to brush. However, if the wig is made from synthetic materials, brushing it will not cause any damage.
Can You Brush a Fake Wig?
Yes, you can brush a fake wig. However, it may be easier to brush it while it's still on the head of whoever is wearing it if it's someone you know or to do this in front of them, so they aren't surprised when their hair starts to change.
If you want to dye your synthetic hair, use fabric or hair dye meant for synthetic wigs. Fabric dye can change your fake hair color, while human hair dye cannot be used on synthetic wig fibers because they are different materials and will just bead off your wig.
What Causes Hair Loss?
If a wig is pulled too tightly, the wearer will have a headache, and sections of their natural hair being pulled and tugged. In addition, the hair can become frizzy and tangled from wear and tear, especially if made from synthetic fibers.
Human hair wigs must be cut and trimmed to maintain their style. A wig can wear down or become tangled if it is not cared for properly. In addition, if too much heat is applied, the wig's fibers can become dry and break.
What Can You Do If a Wig Is Too Short?
Many costumes require a wig to create part of their look. However, sometimes wigs come too short and do not reach the shoulders as they should. This can be an issue with some styles, such as longer in the front than in the back (many anime characters' hairstyles fall into this category). You can usually fix a wig that is too short by adding some length to it yourself without buying a new wig.
Start by running your fingers through the hair of the wig until it is loosened completely. Next, take some thread and tie it around the base of the ponytail so that it is snug but not too tight. Make sure to leave at least an inch or two between where you tie the string and where you will cut the wig. Next, cut about an inch off the string below where you tied it around the ponytail.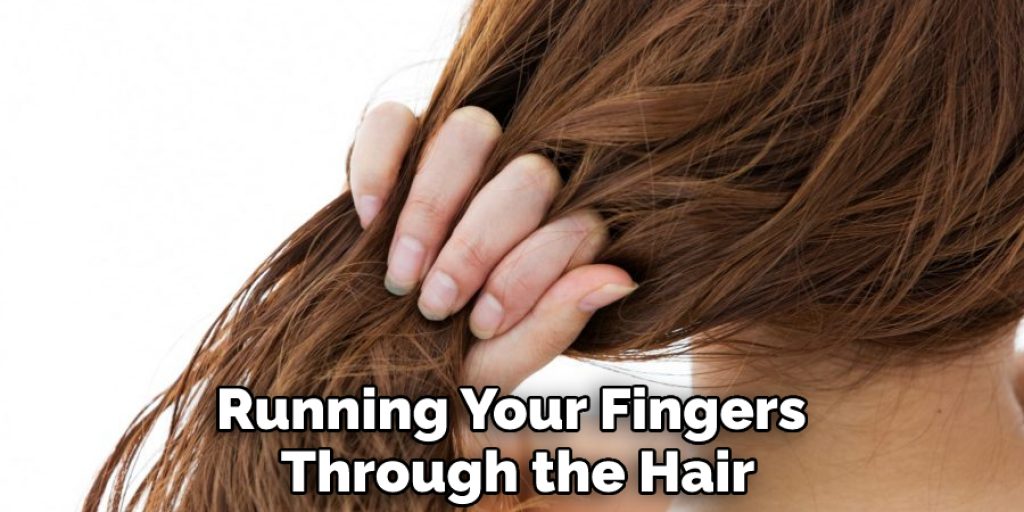 Conclusion:
A few methods can be used when it comes to fixing a costume wig. Each method has pros and cons, so choosing the right one for the situation is important. Following these simple steps, you can fix your costume wig in no time!
If you are experiencing bald patches, tangles, or just a bad overall look to your wig, there are ways to fix a costume wig. By following the simple steps in this article, you can have your costume wig looking new again in no time. Have any other tips for fixing wigs? Let us know in the comments!
you may also read now
1. How to Make Candy Leis With Netting