How to Make Barbie Furniture Out of Recycled Items
There is always something special about the dolls and miniature versions. It rejoices us to the fullest, and that's why we all love to play with dolls. In fact, dolls can boost the imagination power, and with that, kids tend to try too many new things. They are also a loveable item for the adults, and I also love to play with the dolls, to be honest. However, you may have brought several barbie dolls for your kid, but there isn't any dollhouse furniture for them.
Well, that's going to be a great problem. But before you go out and buy a newer one, I have got good news for you. Do you know you can simply make beautiful dollhouse furniture with the recycled items around your home? Yes, you have heard that right, your sweet little baby won't even notice the difference. Wanna learn how to make barbie furniture out of recycled items? Let's show you the exact ways.
One of the key benefits of making the dollhouses and its furniture at home is that you can customize them in many ways. But when you are going to buy them from the market, you have to be satisfied with what they are gonna provide you. Your little one may not understand and insist on more.
That's why it is crucial to learn these DIY techniques. You can simply provide them with their very own dollhouse furniture whenever she wants. Anyway, we have talked much; now it is time to take you the steps where I am going to show you how to make barbie furniture out of recycled items.
How to Make Barbie Furniture Out of Recycled Items
"One person's trash is another person's treasure," I learned that from my grandfather when I was young. Every trash item has money involved. So, below you will get some simple steps to turn the trashed items into beautiful dollhouse furniture.
Tip 1 – Making a Sofa Out of tissue box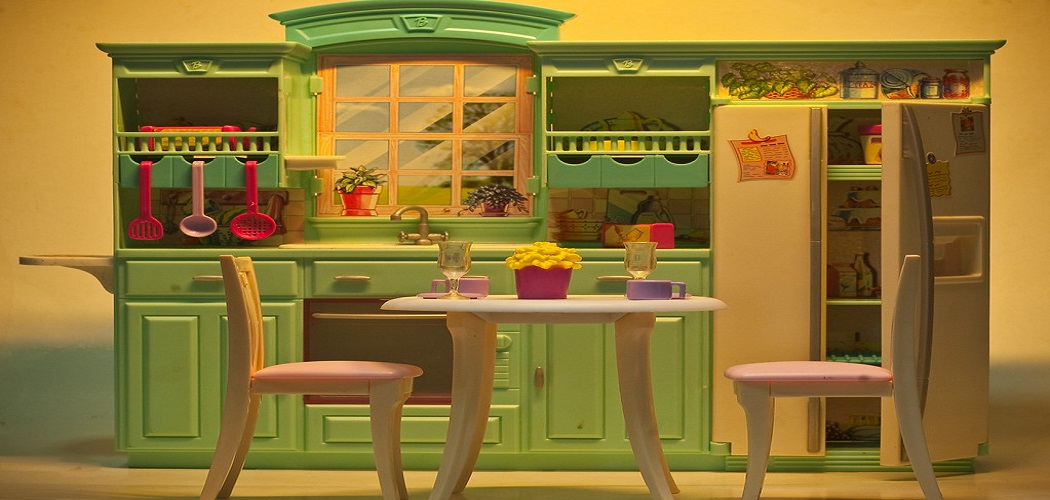 For this, you have to take a regular sized tissue box, acquire the perfect measurement, and then mark two squares. It should be done on the opposite sides of the tissue box, and make sure to draw the squares near the bottom because you have to cut that place with a knife. In this case, you are going to need an Exacto knife.
Once you have cut the place, fold the sides down so that it takes a form of a little sofa. Next, find a piece of a worn fabric and cover the tissue box with it. Then glue it to the base and tuck the fabric by keeping it folded. Make sure not to burn yourself. Now take four wooden beads and glue them under the sofa; that's a sofa is ready for the barbie doll.
Oh, wait! Let's make some cushions too. Cut a strip of white duct tape and cut out a square of cotton batting. Stick the batting to the tape and then fold it over around the edges. After that, cut the extras and embellish it with a rhinestone in the center. It will then look like a real pillow.
Tip 2 – Breakfast Table
At first, paint a jar lid and turn it into white color. In this case, you will needAt first, paint a jar lid and turn it into white color. In this case, you will need Two plastic forks A piece of fabric Some cotton batting   A couple of water bottle cap
Once you have, you got them, follow these simple techniques.
First of all, glue the batting under the bottle caps. Then fold the fabric in half and cut a curve following the edges.
This is the simplest technique of getting the shape of a circle. Now, place the fabric at the bottom of the bottle cap and glue them up. Next, take the fork and cut the prongs from it. These are going to be turned into the legs of the table.
Once you get them, glue them under the bottle caps, the breakfast table's chair will be ready then.
Now glue two small plastic cups together from bottom to bottom and paint them with white color. Take a jar lid and glue them up at the bottom. It will form a table. Next, set the table, and that's it. Your breakfast table is completely ready.
Tip 3 – Decorative Lamps
Plastic jewels will be a wonderful item for creating some wonderful decorative lamps. First, take some buttons and glue them with the jewel. Make sure to do that from the bottom; it will then allow them to stand.
Now, glue some sewing pins on the top. Cupcake holders are great for creating lampshades so you can use them for making the lamp. You may have to cut them from the sides for the attachment and glue them together again to acquire a perfect look. Pay proper attention to the sharp points while placing them on so that they won't tear off.
Tip 4 – Ottoman/Pouf
Now, I am going to show you making some cute little Ottomans from the fuzzy socks. First, pull the sock over your hand and roll it down from your arm. Keep rolling until it takes a form of ottoman. It is super simple. Roll almost all the way to the edge and flip of the toe. Now take a strand to gather ends together.
You have to do the same for the pouf. First, roll them of an then take it out from your hand. Once you complete that, put some knots to secure the attachments properly. After that, roll it back fully in the center.
Conclusion
Hopefully, this DIY furniture making method is going to help you a lot and save your money in huge amount. Probably, you won't have to ask how to make barbie furniture out of recycled items but if you have, then ask me directly through the comment section below.
You May Also Read –